COVID-19
Our Permanente physicians are using their expertise and person- and family-centered approach to care to address the current COVID-19 pandemic. Learn more about what we're doing and find resources that we're sharing with the health care community. If you're a Kaiser Permanente member, visit kp.org to get more information about patient care.
Playbooks
The Permanente Medical Groups are providing these COVID-19 playbooks as a resource to help guide other health systems in their coronavirus response. Read our summaries and download the playbooks.
Also available for patients and consumers is this helpful "Return to Sports" Playbook:
Our national infectious disease leader
Stephen M. Parodi, MD, is an infectious disease physician with The Permanente Medical Group and an executive vice president of The Permanente Federation. He is the physician leader guiding Kaiser Permanente's response to the coronavirus outbreak.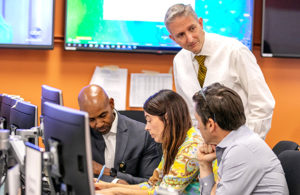 Dr. Parodi in the news
From the front lines
This is a series of perspective pieces from physicians who are among the hundreds of thousands providing care during the coronavirus pandemic. And watch doctors chat about the COVID-19 vaccines in our JustTheVaxx chat series.

Additional reading
Tune in to an episode of the Permanente Medicine Podcast on charting a course for COVID-19 vaccination.