Stephen Parodi, MD, tells CNN that future COVID-19 outbreaks could be managed like seasonal flu
Permanente physician leader Stephen Parodi, MD, said in a CNN story that health care organizations may eventually monitor and prepare for COVID-19 outbreaks as they do for influenza.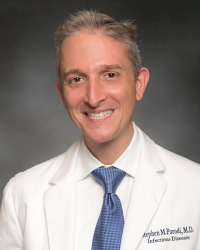 "We could handle the cases just like we do with seasonal flu — where we're able to say we know we're going to see a number of cases in the winter season, and we can have the right staffing, we can have the right supplies ready and we're ready to handle it, as opposed to the surges that we've been dealing with here," said Dr. Parodi, Kaiser Permanente's national infectious disease leader.
Dr. Parodi said it may take another year before the pandemic transitions into an "endemic" phase, meaning that the disease is present in a population but does not affect large numbers of people.
"I'm still on phone calls talking about what's our ICU bed capacity? What's our supplies chains that we need to provide care to patients? Do we have enough medication? Do we have enough monoclonal antibodies?" he said. "We have a lot more work to still do to get to where we want to be, and I think we're going to see this transition over year 2022. But for some locales, where there's less immunity, it's going to be a longer run."
Note: To read the entire article, visit the CNN website.