Kaiser Permanente combines health plan coverage with coordinated medical services to provide high-quality, affordable, and seamless health care to our patients and the communities we serve. Specifically, Permanente Medical Groups provide the care, Kaiser Foundation Health Plan provides the coverage, and Kaiser Foundation Hospitals provide the medical facilities. Together, we are Kaiser Permanente, an award-winning health care organization that's uniquely connected to deliver Permanente Medicine to more than 12.6 million Kaiser Permanente members.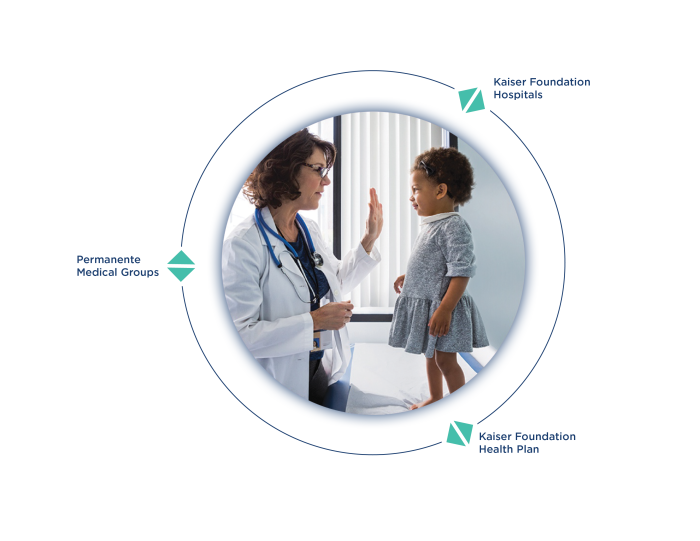 Permanente Medicine is the belief system that provides the foundation of the care practiced by our medical groups at Kaiser Permanente. This approach is based on a philosophy that calls for a complete focus on our patients and their loved ones through compassionate, culturally responsive care, delivered by physician-led care teams, supported by medical evidence and advanced clinical technologies.
Proof of the success and effectiveness of our care model
Over the decades, our integrated health care model has empowered Permanente physicians to prevent illness, treat chronic and acute illnesses, control health costs, and create a smooth and convenient care experience. To this day, Kaiser Permanente's care remains among the highest performing in the nation. The proof is in the numerous recognitions and quality accolades from third-party health rating institutions and organizations.
Outstanding care across the continuum
The care that we provide starts with a commitment to primary care, prevention, and mental health. Our specialists provide a coordinated approach to excellence in specialized care, complex conditions, hospital-based care, and virtual care. Our integrated model of care encourages clinical innovation and wisely stewarded resources.
Committed to primary care as the foundation for total health
Primary care teams play a vital role in prevention, chronic condition management, addressing social determinants of health, and coordinating testing and specialty care. As of 2021, nearly 300 Kaiser Permanente medical offices and hospitals — representing over 7,500 physicians and clinicians across 7 Permanente Medical Groups — are certified as Patient-Centered Medical Homes by the NCQA (National Committee for Quality Assurance). This honor recognizes primary care medical practices that embrace a patient-centered approach to care and are committed to continuous quality improvement. In Oregon, Kaiser Permanente has 17 patient-centered medical homes that are accredited by the Oregon Health Authority.
Excellence in prevention and early detection keeps our patients healthy
Permanente physicians are longtime leaders in preventive care services such as screenings and immunizations, which help detect and prevent illnesses in their earlier stages. Since 2014, we've demonstrated high performance on key preventive care measures tracked by HEDIS® (Healthcare Effectiveness Data and Information Set), often rating in the top 5 to 10% nationally.*
These effectiveness-of-care measures include:
Breast cancer screening
Cervical cancer screening
Colorectal cancer screening
Controlling high blood pressure
Comprehensive diabetes care, including retinal eye exams, and blood sugar and blood pressure control
Kaiser Permanente rates among the nation's leaders for colorectal cancer screening. We achieved this result in part by automating outreach with fecal immunochemical testing, or "FIT," a screening for patients with average risk of colorectal cancer.
Our specialists across the practice support all aspects of prevention by following up on gaps in care noted in our electronic health record system and scheduling recommended screenings while a patient is onsite.
We are also proactive with preventing illness through vaccination. For example, Kaiser Permanente has achieved the 95th percentile nationally in immunization of adolescents for HPV (human papillomavirus) to prevent cervical cancer.
Permanente Medicine embraces mental health as a part of total health
We have a strong commitment to addressing our patients' needs for mental health support and treatment. Services are embedded all along the continuum of care, ranging from multiple self-care options to therapists, psychiatrists, and group classes, with primary care physicians supported by specialists on call for advice. Our advanced connectivity and digital infrastructure support a high level of coordination of care for these patients.
According to the NCQA's Quality Compass 2022, Kaiser Permanente is in the top 5 to 10% of providers nationally for following up with our patients:
After an emergency department visit for alcohol or other drug dependence
After hospitalization for mental illness
After prescribing ADHD medication for children
For metabolic monitoring of children and adolescents on antipsychotics
We deliver excellent specialized care and outcomes
Helping patients to manage their chronic illnesses successfully is a key focus of our medical groups. For many years, our excellent results for high blood pressure and diabetes control have frequently placed us above the 75th percentile of health systems measured by NCQA for commercially insured patients.
We also achieve outstanding results in asthma management. We are in the top 25% of care systems nationally for asthma medication ratios that indicate the percentage of time when an asthma patient requires emergency drugs.
Cancer is becoming increasingly prevalent and is one of the leading causes of death in the United States. In addition to a focus on prevention, which is critical to early detection, Kaiser Permanente is a leader in cancer treatment. A cohort analysis of almost 165,000 California-insured adults diagnosed with 8 types of common cancers demonstrated that, among patients in Southern California, those whose cancer was detected at Kaiser Permanente had lower overall mortality compared with other health systems. In fact, these results were even more pronounced among Black and Hispanic patients.
Superior care for patients with complex conditions – ESRD
Recently, Kaiser Permanente proposed a new national measure to the Centers for Medicare & Medicaid Services called Optimal ESRD Starts. This approach quantifies the ability to prepare patients for end-stage renal disease by identifying high-risk patients, educating them and their families proactively about the need for dialysis or kidney transplant, helping them make appropriate and informed choices, and then successfully transitioning to dialysis or transplantation as kidney function declines to the level of ESRD.
Based on our own estimated calculation, which uses information from the U.S. Renal Data System, Kaiser Permanente's Optimal ESRD Starts rate was 59% in 2018 (and above that every subsequent year), almost double the national rate of 30.4%.
Permanente physicians lead outstanding hospital performance
Under the leadership of Permanente physicians, Kaiser Permanente hospitals also achieve remarkable results. For example, our 39 hospitals were recipients of the 2021 Gold Plus Stroke Achievement Award from "Get with The Guidelines®–Stroke" (a program of the American Heart Association/American Stroke Association) for their consistent adherence to the latest scientific treatment guidelines for stroke.
Our medical centers are frequently awarded accolades from a wide range of national companies measuring hospital performance. In 2022, US News and World Report rated all Kaiser Permanente hospitals as "high performing," Newsweek listed the majority of our medical centers among the nation's best for maternity care, and our medical facilities are recognized as among the safest for patients in the nation.
Leading in telehealth
Kaiser Permanente was a pioneer in using telehealth to promote convenience and access for patients, and this early investment in technology has proven invaluable. With the onset of the pandemic, we were able to scale quickly to respond to patient needs, growing from 2.5 million virtual visits monthly in March 2020 to a high of 3.2 million telehealth visits in July 2020.
As of October 2022, total telehealth appointments are about 2.1 million per month, representing 35% of total visits. Patients can get telehealth services from specialists in many clinical fields, including allergy, cardiology, dermatology, endocrinology, gastroenterology, general surgery, head and neck surgery, infectious diseases, nephrology, neurology, ob-gyn, oncology, ophthalmology, orthopedics, pain management, pediatric specialty, physical medicine, podiatry, pulmonology, rheumatology, sleep, specialty surgery, sports medicine, and urology
Mental health wellness telehealth visits similarly expanded and remain at about 380,000 visits as of October 2022, representing 90% of such visits.
Additionally, in 2021, we had 15.9 million e-visits, 72.1 million secure email threads, and recorded a total of 44,564 active users for remote patient monitoring. All regions that Kaiser Permanente serves have offered urgent virtual care visits since late 2021. We also offer online physical therapy, remote patient monitoring for diabetes, hypertension, pregnancy, and other conditions, as well as TeleCritical care in ICU settings.
Our coordinated and integrated approach encourages medical innovation
Access to funding and our ability to align incentives with a health plan lets Permanente Medical Groups proactively deliver innovative solutions that foster the health of patients, increase their comfort, and make effective care more efficient and convenient.
For example, for mild and moderate psoriasis, patients can choose to take medications that have the potential for side effects, or they can see a dermatologist for weekly UV (ultraviolet) exposure. To avoid the potential discomfort of drugs and to provide more convenient care at home, Permanente physicians sought and identified portable UV units, available commercially, that patients could use at home. The physicians then worked with Kaiser Permanente health plans to add the units to our members' benefit coverage. This solution provides safe and high-quality home treatment that is easy to implement, supports patient adherence and comfort, and saves everyone time and costs.
Permanente physicians also collaborated closely with pharmacists and researchers to evaluate available evidence for the use of new medications. Because our physicians are an integral part of these data-driven decisions, our adoption rates are higher than the rest of the health care industry. Our biosimilar launches of bevacizumab, trastuzumab, and rituximab achieved utilization rates of more than 90% after 2 months and more than 97% after 2 years, compared with 60% for the national market after 2 years.
Permanente Medicine strives to manage resources responsibly
We take our commitment to provide the right care seriously by avoiding the use of low-value tests and treatment. For 2021, NCQA's HEDIS® measures for commercial health plans found that Kaiser Permanente achieved the 75th percentile or better in imaging use for lower back pain, appropriate treatment for upper respiratory infections, and avoiding the unnecessary use of antibiotics.
We also look for opportunities to deliver the same high-quality care in safe, lower-acuity settings. For example, 78% of our joint-replacement patients now go home the same day — compared to the national average of about 32% — which provides similar or better outcomes as inpatient care and achieves significant savings that can be invested into further care delivery efforts.
Kaiser Permanente is also leading in the development of advanced care at home, which allows qualifying patients in need of certain acute-level care to receive it in the safety and comfort of their own homes, close to family and friends. Enabled by a robust technology platform, Kaiser Permanente's Care at Home program provides 24/7 patient care through home visits, telehealth encounters, and remote monitoring. Care is overseen by specialized command centers as well as an onsite and virtual team of health care professionals led and directed by Permanente physicians.
Our integrated model makes Kaiser Permanente's high-quality care possible
The proven success of our care delivery depends on the expertise of the professionals who work in our independent medical groups, health plans, and medical facilities. By working collaboratively in an integrated environment, they're able to care for millions of Americans in the most effective, efficient, respectful, and compassionate way possible — and stay completely focused on the needs of our patients and our communities.
* Kaiser Permanente 2014–2022 HEDIS® scores. Benchmarks provided by the National Committee for Quality Assurance (NCQA) Quality Compass® and represent all lines of business. Kaiser Permanente combined region scores were provided by the Kaiser Permanente Department of Care and Service Quality. The source for data contained in this publication is Quality Compass 2014–2022 and is used with the permission of NCQA. Any data display, analysis, interpretation, or conclusion based on these data is solely that of the authors, and NCQA specifically disclaims responsibility for any such display, analysis, interpretation, or conclusion. Quality Compass® and HEDIS® are registered trademarks of NCQA.
Care that sets the bar
The Kaiser Foundation Health Plans have No. 1 ratings in 34 care measures ranked by the National Committee for Quality Assurance – the most of any health plan in the country.
Star power
All Kaiser Permanente regions earned the highest 5 stars for excellent care from the Centers for Medical & Medicaid Services.
Hospitals that excel
All 38 of Kaiser Permanente's eligible hospitals received the "Get With the Guidelines" award* for hospitals demonstrating a high commitment to improving patient outcomes in stroke care.
* Presented by the American Heart Association/American Stroke Association