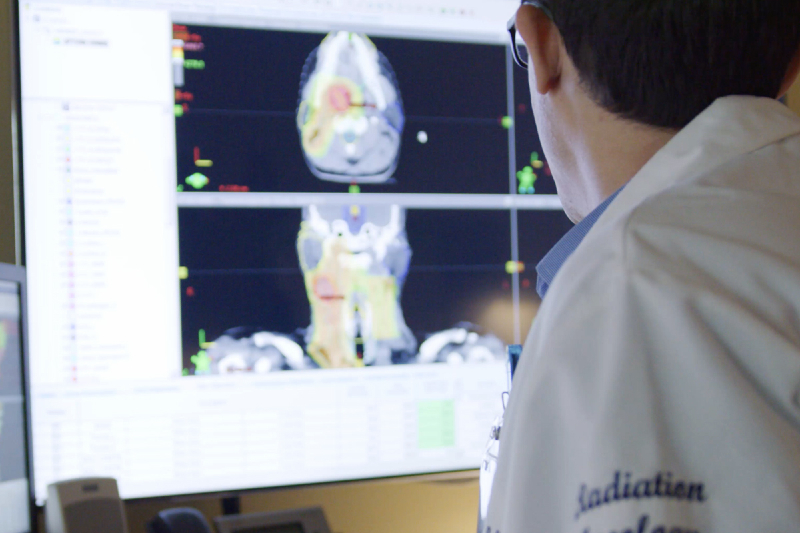 Physicians and cancer patients embrace virtual care in a pandemic
Online visits, case conferences, and treatment tools speed cancer care transformation
By Janet Byron
The Permanente Federation
As a Permanente oncologist and hematologist with a self-proclaimed "special desire" to treat every aspect of patients rather than just their diagnoses, Christine M. Barnett, MD, noticed something interesting when the COVID-19 pandemic forced her to begin consulting with cancer patients almost exclusively with virtual tools.
"With a lot of patients, I actually can have a better connection on video than I do in person," says Dr. Barnett, medical director of Northwest Permanente's cancer service line. "I've noticed this especially with patients who have never met me before and they've only seen me with a face mask and face shield, and older patients who can hardly hear me with all the PPE on.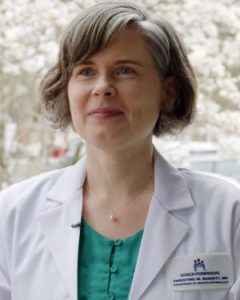 "I've had a lot of my patients say, 'I almost forgot what you looked like'," she says. "I can actually smile at them on video, and they know I'm smiling."
Dr. Barnett is at the forefront of a significant transition in how Kaiser Permanente cares for cancer patients. Over the past year — as the pandemic has driven the organization to quickly pivot to conducting more than 90% of all care via telehealth — cancer care has undergone a digital revolution.
"Some of our patients have been really scared to leave their homes. They start to really like virtual visits," Dr. Barnett says. "I think of virtual visits as a tool in the toolbox. It's not necessarily the right thing for every patient. But overall, virtual care has been widely adopted by our patients, and it's a very good way for us to keep good tabs and connections with them."
Nancy Gin, MD, executive vice president and chief quality officer for The Permanente Federation, says: "The pandemic has provided the opportunity for us to reimagine how telehealth can help bring Permanente oncologists even closer to their patients, while allowing the physicians to work together seamlessly across all the Kaiser Permanente regions."
Excellence in virtual cancer care
Launched in 2020, Kaiser Permanente's Excellence in Cancer Care quality initiative seeks to strengthen collaboration and coordination among Permanente cancer experts and other care team members; streamline most cancer treatments into multidisciplinary, expert-based care; create integrated, comprehensive cancer pathways to guide evidence-based care for cancer patients throughout Kaiser Permanente; and transform digital resources for cancer patients and their physicians and care teams.
"With 12.4 million members across the United States and more than 550,000 patients being monitored or treated for cancer, Kaiser Permanente is delivering top-notch cancer care on par with major cancer centers, with the type of one-of-a-kind coordination that's only possible in a large, integrated health care system like ours," Dr. Gin says.
The Excellence in Cancer Care program is being developed by a multidisciplinary team that includes the Permanente interregional oncology chiefs and includes more than 30 disciplines involved in complex cancer care management. A major focus has been the establishment of a virtual center of excellence for cancer care to spearhead the digital transformation of prevention, diagnostics, treatment, survivorship, and research.
A 'perfect storm' for innovation
Tatjana Kolevska, MD, national medical director of the Excellence in Cancer Care program, says that the pandemic has fundamentally changed the thinking about how to best deliver care to cancer patients.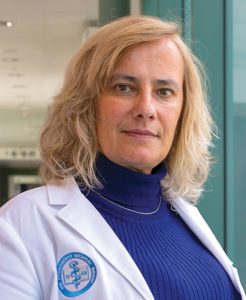 "When we were all trained in medical school, we learned that patients and family members really want to come in person to see an oncologist because of the heaviness of the conversation," says Dr. Kolevska, an oncologist and hematologist with The Permanente Medical Group.
"With COVID, we realized that this is not really the case. Before COVID, we were doing 15% of our consultations virtually. While our cancer patients can come in whenever they want to, we're seeing that 60% to 80% of patients are now requesting to do consultations by video."
Detailed previsit preparation by medical assistants and care navigators, and the assistance of new gadgets and wearables, enables oncologists to conduct the vast majority of physical exams by video, Dr. Kolevska says. "All of these changes have created the perfect storm for the virtual transformation of cancer care."
Northwest Permanente's Dr. Barnett says the Excellence in Cancer Care program has provided critical support for care changes that were already underway in her area. In concert with the move toward subspecialization, for example, the pandemic expedited the deployment of virtual interregional and local case conferences for major and most rare cancers. These conferences bring together regional Permanente experts and specialists from across the country to collaborate on the best cancer care options for our patients.
"As difficult as COVID has been, it has accelerated collaboration across the Permanente Medical Groups to achieve innovations in cancer care," Dr. Barnett says.