The Kaiser Permanente Bernard J. Tyson School of Medicine opened in summer 2020 with a faculty that includes Permanente physicians and a curriculum reflecting the integrated care approach embodied by Permanente Medicine.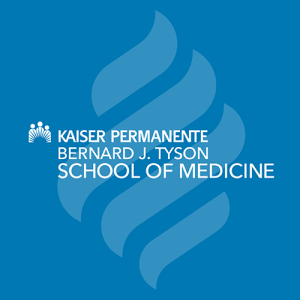 The School of Medicine, based in Pasadena, California, was designed with an eye toward the future, ready to embrace the latest technologies, facilitate student collaboration and well-being, and embrace evolving best practices in medical education.
The school provides small class sizes, opportunities for hands-on clinical training early in the first year, cutting-edge technology, a perspective of health beyond the walls of a medical facility, and support such as academic advising and tutoring, physician mentorship, and opportunities to develop self-care skills.
Currently, the school is provisionally approved by the Bureau for Private Postsecondary Education to offer degree programs and has preliminary accreditation from the Liaison Committee on Medical Education. The school is the most competitive school in the country, receiving over 11,000 applications in 2021 for 50 student spots, and was named among the most diverse medical schools for 2023 by U.S. News & World Report.
Beginnings of the medical school
It has always been our opinion that a medical care program worthy of perpetuation, in addition to being economically sound, must provide teaching, training, and research, also necessary for the maintenance of high-quality care.

— Sidney Garfield, MD
The following is a look at the early days of the Kaiser Permanente Bernard J. Tyson School of Medicine from 2 leaders instrumental in the school's creation: Marc Klau, MD, MBA, and Nancy H. Spiegel, MA. Dr. Klau serves as director of Clinical Integration at Kaiser Permanente Bernard J. Tyson School of Medicine and partner emeritus, Southern California Permanente Medical Group; and Spiegel serves as director of the school's Department of Clinical Sciences Operations and is executive leader for Medical Education, Wellness, and Leadership Development at SCPMG.
How do you start a medical school? For Kaiser Permanente, it was a simple comment at a graduation ceremony that inspired the creation of a unique, world-class medical education program. It was the fulfillment of the professional challenge of a lifetime to educate future generations of physicians. The following is a recounting of our journey to help the creation of the Kaiser Permanente Bernard J. Tyson School of Medicine.
An opportunity born from challenge
"You have a great health care organization that is renowned across the country, and you have respected residency programs. But with all of this in place, why have you not built your own medical school?" This was the challenge delivered by the dean of education at the University of California, Davis, at a dinner for graduating residents at the Kaiser Permanente Los Angeles Medical Center. The year was 2008, and it marked the beginning of a journey to create a medical school that would teach the value-based, high-quality care that is the hallmark of Permanente Medicine.
At the time, Kaiser Permanente was already providing education to hundreds of third- and fourth-year students from other medical schools. However, a Kaiser Permanente medical school had the potential to make the academic community aware of the organization's exceptional quality outcomes, integrated processes, and equitable care to the communities it serves. It was an opportunity to create a different kind of medical school that would leverage our core strengths of physician leadership, teamwork, high-quality care, and health equity.
2008: Setting the vision
We understood the importance of sponsorship in a major organization and contacted key leaders to set the direction for the journey, including:
Michael Kanter, MD, then regional medical director for Quality and Clinical Analysis, Southern California Permanente Medical Group
Paul Minardi, MD, then regional medical director for Operations, SCPMG
Jeffrey Weisz, MD, then executive medical director, SCPMG
Dr. Weisz immediately envisioned the school contributing to the Kaiser Permanente program in many ways, including fostering the practice of Permanente Medicine for the benefit of physicians and members. As the next step, he advised presenting to Kaiser Foundation Health Plan and Hospital leaders in Southern California, specifically Ben Chu, MD, president of Kaiser Permanente in Southern California. Dr. Chu, who had served in senior dean positions at Columbia University's and New York University's medical schools, suggested forming an exploratory team. In addition, he asked that Ray Baxter, who was the national leader of research and community benefit of Kaiser Foundation Health Plan/Hospitals, be a co-sponsor.
2009-10: Exploring the possibilities
Encouraged by SCPMG leadership, an exploratory team was formed to study medical schools that had opened in the last 5 years. The team organized a site visit to observe the medical school run by the Mayo Clinic — an organization long admired by Kaiser Permanente for its similar culture of idealism and doing the right thing.
The team's 2009 trip to the Mayo Clinic Alix School of Medicine provided the background information needed to create a medical school proposal for Kaiser Permanente. The dean at the time, Keith Lindor, MD, and the faculty were welcoming and explained key elements of their approach.
"We are very proud of the Mayo Clinic and our medical school," said Dr. Lindor. "Kaiser Permanente has something unique to share with the world. By starting a medical school, you can share the best of what Kaiser Permanente has to offer, as we have done for the Mayo Clinic."
In fall 2010, the exploratory team presented a formal proposal to the senior leaders of Southern California, Dr. Chu and Dr. Weisz. The medical school would be a new kind of learning institution, one that would graduate a community of compassionate healers, lifelong learners, and courageous leaders of change within the profession and society. Although Dr. Chu and Dr. Weisz supported the exploratory effort, the project did not get official Kaiser Permanente approval.
The team was asked to gather more information about accreditation, costs, and timelines for implementation. Voluminous reports and lengthy PowerPoint decks were created, all the while gaining deeper knowledge and greater confidence in Kaiser Permanente's ability to build a new type of medical school. Through collective strength and perseverance, the team continued to push the project forward.
2011: Facing adversity
In the following months, the team had multiple conversations with Dr. Chu. He believed that the next step was to present this idea to George Halvorson, then-CEO and chairman of Kaiser Foundation Health Plan and Hospitals, and eventually to their board of directors.
A presentation to the board's community benefit committee generated interest in understanding more about the cost, benefits, and the risk of opening a school. Mr. Halverson ultimately requested more research before moving forward with the effort.
Many of the board members warmed up to the idea but a vocal minority remained with deep reservations. Ultimately, the proposal was shelved.
2012-14: New leadership, new hope
A year later, Southern California Permanente Medical Group named Edward Ellison, MD, as its new executive medical director. After some lobbying to bring back the medical school proposal, Dr. Ellison expressed support for the idea. He recommended reaching out to Halverson's successor, Bernard J. Tyson, CEO of Kaiser Foundation Health Plan and Hospitals.
Tyson was scheduled to be in Southern California for a series of meetings. At one of these meetings, Dr. Ellison explained the background of the idea, the reasons to build a Kaiser Permanente medical school, and benefits to members, physicians, the broader medical community, and the organization. Tyson listened intently. At the conclusion, he said, "Everyone should have an equal right to a medical education. This is God's work."
2015: Vision becomes reality
In December 2015, it was Tyson who delivered the good news: "As CEO of KFH/HP, and in consultation with my board of directors, we are approving the funding and full support for a Kaiser Permanente school of medicine."
The medical school had finally been approved after 7 long years.
A school of medicine board was formed and Mark Schuster, MD, PhD, was selected as the founding dean and CEO.
Tyson may not have realized how important his early support was to the founding of the School of Medicine, which uniquely incorporates innovation in teaching and a focus on instilling wellness in tomorrow's doctors. It's chilling to think that 7 years after Tyson gave that vital endorsement, he died prematurely at age 60. The School of Medicine was renamed the Kaiser Permanente Bernard J. Tyson School of Medicine to honor his devotion to this vision.
Both Dr. Sidney Garfield and Henry J. Kaiser would have had big smiles knowing that Kaiser Permanente is still innovating and reaching for the stars.