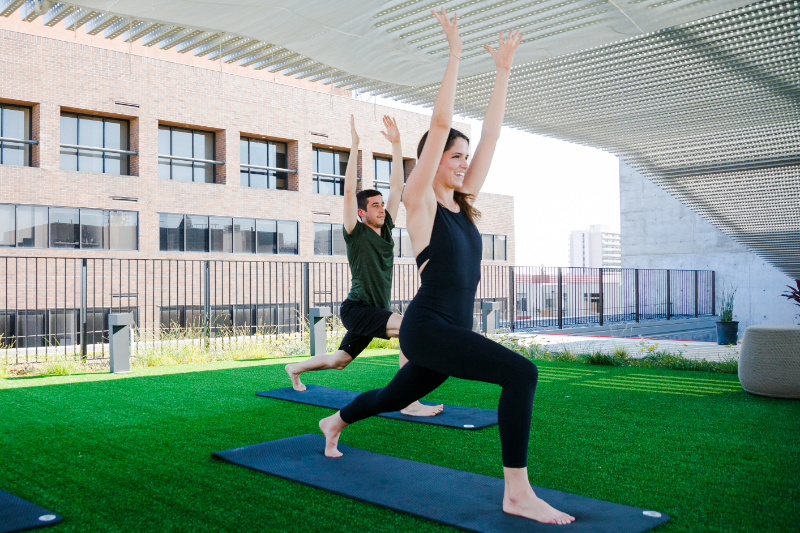 Programs focus on health and well-being for medical students
Kaiser Permanente medical school offerings aid students in preventing burnout, stress while prioritizing wellness
The last 2 years have been a challenge for everyone, and medical students are no exception. Long work and study hours and stressful environments, where subjects of disease and death are studied regularly, can lead to burnout, anxiety, depression, or suicidal thoughts. In addition to the uncertainty associated with the pandemic, many have also been deeply affected by incidents of racial injustice in the United States and around the globe.
"The pandemic has challenged all of us, especially students, like never before," says Juan Carlos Zuberbuhler, MD, Kaiser Permanente Bernard J. Tyson School of Medicine assistant professor of Clinical Science and REACH course director, Phase 1 and 2. "You have to be particularly brave to choose to attend a new medical school during a global period of extreme uncertainty. It has been evident to us that the students … bring with them a tremendous amount of resiliency and grit. The challenge has mostly been to prevent the erosion of their resiliency and well-being, which can impact their professional identity formation."
The medical school makes many health and wellness opportunities available to students, including its REACH (Reflection, Education, Assessment, Coaching, and Health and well-being) program. The course has a 4-year developmental arc and is designed with an important curricular message: students must prioritize their personal well-being to be effective change agents who can improve the health of patients and their communities. It was created to help future physicians prevent burnout for themselves and thrive in their new environment.
Students are paired with a REACH coach at the beginning of their first year and continue to meet with their coach one-on-one throughout the year. REACH coaches also oversee small, 6-person student groups that convene for REACH week to build community, increase a sense of inclusion and belonging, and explore issues related to equity, inclusion, and diversity (EID), and advocacy.
REACH provides exercise, nutrition options
During REACH week, students address both their well-being and professional identity formation. Well-being activities range from cooking classes in the school's teaching kitchen, local tours, well-being discussions with a weekly theme, EID sessions by guest faculty, a Narrative Medicine session in which participants explore the arts and humanities in medicine, and more.
REACH's wellness component was designed to give students exposure to new exercise and nutrition options. "We have designed programs that show that exercise and nutrition can be about fun and social connections in addition to health," says the school's fitness program manager, Andrew Gallardo. In addition to the private fitness consultations Gallardo offers students, he also leads the wellness initiatives that are taught during REACH week. Under Gallardo's supervision, students can access non-invasive body composition testing in the medical school's wellness space, which measures and tracks muscle mass, body fat, and water levels.
Anne Eacker, MD, Kaiser Permanente School of Medicine senior associate dean for Student Affairs, says school leaders, faculty, and staff aim to destigmatize all kinds of help-seeking behavior for counseling, academic and peer support, coaching, and more. "We don't expect students to navigate life by themselves. We expect them to do it as part of a community and we want to create an inclusive community where everyone feels like they can reach out for help … whether students are first-generation, underrepresented, or [from other] backgrounds," says Dr. Eacker.
We don't expect students to navigate life by themselves. We expect them to do it as part of a community.

— Anne Eacker, MD, senior associate dean for Student Affairs
In addition to the REACH course, the school's campus has fitness equipment, a yoga studio, meditation space, student lounge, healthy food options, and indoor/outdoor dining areas. Workshops on stress management and test anxiety are held regularly and students are also paired with a physician coach to set attainable goals and help navigate the challenges of medical school. Student, faculty, and staff well-being committees also plan and organize activities and initiatives that help encourage a healthy community, such as student-led Zumba classes and monthly faculty and staff committee-sponsored Finding Meaning in Medical Education sessions.
Students can also meet with the medical school's lead clinical psychologist, Ashwini Lal, PsyD, and director of Academic Support and Advising, Michelle Juarez, EdD, who works with all students and has a special interest in working with first-generation students. Mental health support is available through Student Psychological Services, and according to Dr. Lal, many students have utilized the school's therapy services.
Related story: U.S. News ranks Kaiser Permanente School of Medicine among most diverse in U.S.
Increased risk for burnout, depression
"It is widely known that physicians and medical students are at increased risk for burnout, depression, and suicide [compared with] the general population," Dr. Lal says. "Studies have identified 10% to 11% of medical students [have] self-reported suicidal ideation and 30% [have] identified symptoms of depression."
Dr. Lal organized and led a panel on physician suicide in February 2022. The event, which was held to normalize challenges experienced by physicians and help students feel more at ease reaching out for support, featured 2 physician panelists who shared their personal struggles with depression, alcohol dependence, suicidal ideation, and suicide attempt.
"Because physicians are in the role of helping others, it can be difficult for [them] to be in the role of needing help," Dr. Lal says. "Hearing from current physicians who have experienced mental health struggles, reached out for support, and are now thriving as a result, can set a good example for help-seeking."
The Kaiser Permanente Bernard J. Tyson School of Medicine community, including faculty members who worked on the front lines during the height of the pandemic, has had to support one another through a difficult time. "We're not 'teaching' well-being, we are 'discovering' it together and building upon the wisdom of each other," says Dr. Zuberbuhler.
This is reprinted from the Kaiser Permanente Bernard J. Tyson School of Medicine website.