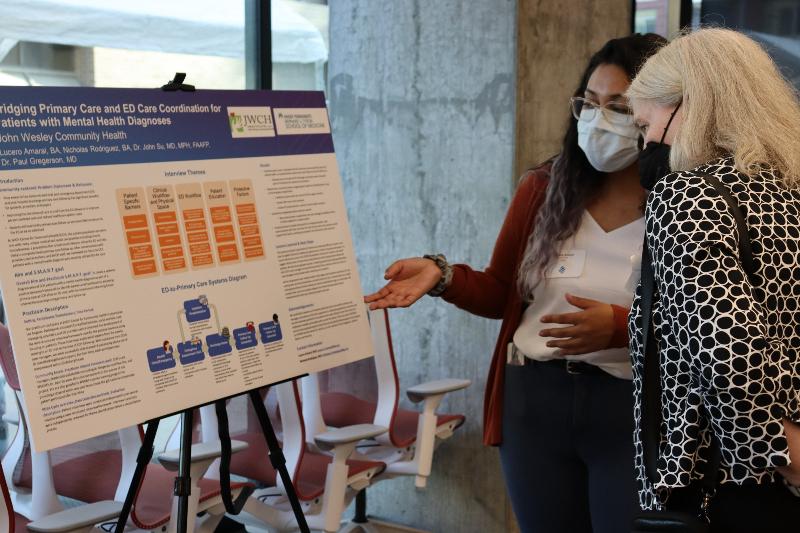 Community-based learning a focus for medical students
Kaiser Permanente medical school's first class completes 2-year course on community health
The Kaiser Permanente Bernard J. Tyson School of Medicine, based in Pasadena, California, recently celebrated the Class of 2024's completion of a community-based learning experience. Over the past 2 years, students have worked with partner agencies to address and learn more about the upstream drivers of health that are impacting communities.
It's the school's first class to undergo and complete this service-learning course since the school opened its doors in July 2020.
"We are thrilled to celebrate our very first cohort of students who have had an opportunity to take part in a program aimed at improving the health of communities," says Lori Carter-Edwards, the school's assistant dean for Community Engagement. "Through interactions with our community partners, students have become more knowledgeable, credible, and trusted partners to the patients, communities, and community partners with whom they are working.
"Their deep engagement at these facilities has hopefully equipped them with skills necessary to be more well-rounded medical students, capable of understanding both barriers and facilitators to health and health equity in the communities they serve."
Related story: "Advancing health care in our communities"
Hands-on experience in the community
Through the service-learning course, students engaged in practicum projects at their assigned federally qualified health centers (FQHCs) across the Southern California region. Projects designed to reduce health inequities and advance community engagement ranged from improving preventive health screening rates to providing art-based healing in Skid Row to increasing awareness for transgender health programs, and more.
Practicum participation at the FQHCs also helped students learn relevant information about population and community health, critical consciousness (study of systems and structures that create inequities followed by action to mitigate these inequities), and social accountability (commitment to activities aimed at addressing social and structural factors to reduce health-related inequities).
Their deep engagement at these facilities has hopefully equipped them with skills necessary to be more well-rounded medical students.

– Lori Carter-Edwards, assistant dean for Community Engagement
"The service-learning course is a unique opportunity for our students to go beyond the health care delivery systems and immerse themselves in the local community," says Jung Kim, co-course director. "Through a community-based curriculum that focuses on dissecting the structural and social determinants of health, our students and faculty collaborate with their community partners to become systems change agents together and help address health disparities."
Isabel Chen, MD, co-course director, explained that the culmination of the 2-year service-learning course is a testament to the countless community partners who supported the spirit of the course, which she says is designed to "open the hearts and minds of learners to the expertise of [the course's] community partners" and allow student participants to collaborate in activities that advance health and justice.
Related story: "U.S. News ranks Kaiser Permanente School of Medicine among most diverse in U.S."
Collaborating with partner agencies
Medical students collaborated with mentors and community partners that included Family Health Care Centers of Greater Los Angeles; JWCH Center for Community Health in Downey; JWCH Center for Community Health in Los Angeles; ParkTree Community Health Center; South Bay Family Health Care, part of Venice Family Clinic; St. John's Well Child and Family Center; UMMA Community Clinic; and Valley Community Healthcare.
"The extent to which community partners opened their doors and our learners opened their minds to advance collaborative health equity activities has been nothing short of inspiring," says Dr. Chen. "To navigate new relationships and projects amidst a pandemic is an enormous undertaking and we are so deeply appreciative of the gift of patience and inclusion from our community partners.
"We hope," she says, "that the relationships and memories made over the last few years will inform and inspire the careers of our future physicians and ignite an unwavering commitment to the greater communities in which they live, practice, and serve."