Kaiser Permanente Care at Home
The COVID-19 pandemic has accelerated the possibility, and necessity, of acute-level care at home. At the same time, studies have shown that most Americans prefer receiving care in the familiar surroundings of their homes, where they feel dignity, comfort, and respect. Advanced care at home programs, referred to by some people as "hospital at home," offer certain patients who qualify for hospital admission the opportunity to have their acute care needs met in the safety and comfort of their own homes, close to family and friends.
Patient at the center of care
Advanced care at home demonstrates person-centered care by treating patients at the right time and right place, based on their choice. Several prominent health care organizations, including Kaiser Permanente, have provided this model of patient-centered care over the last decade.
Enabled by a robust technology platform, the Kaiser Permanente Care at Home program provides 24/7 patient care through home visits, virtual encounters, and remote monitoring. Care is managed through specialized command centers overseen by physician-led teams that virtually direct patient care, supported by in-home visits. The program brings hospital services and supplies into the home and seamlessly coordinates care with transitions and follow-up by the patient's primary care team.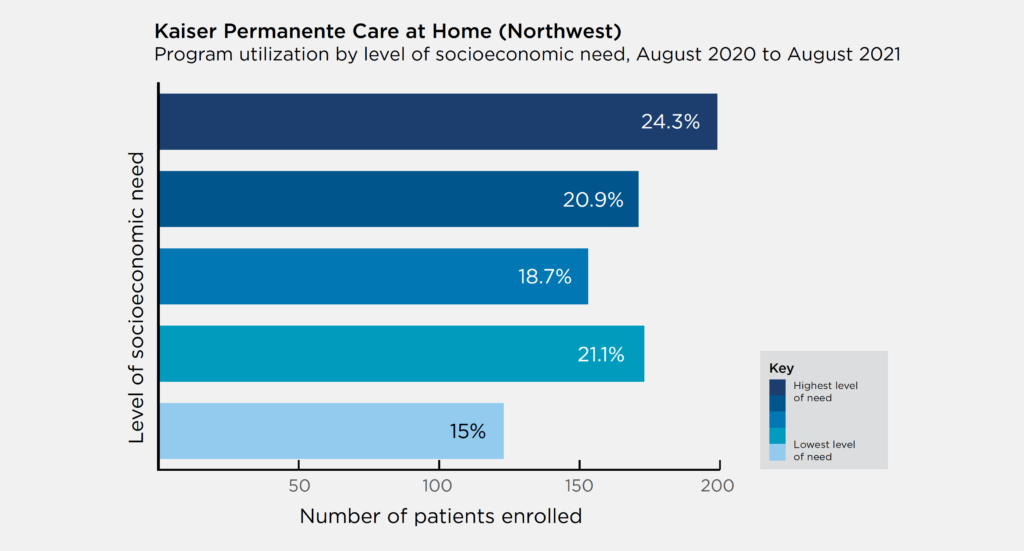 Our advanced care at home program upholds Kaiser Permanente's commitment to provide safe, high quality, accessible, and equitable care. If a patient needs additional social health support, we can use tools such as Kaiser Permanente's Thrive Local directory to connect patients with community-based resources such as food, medical equipment, and transportation assistance.
A Kaiser Permanente analysis found that the highest percentage of patients enrolled in the Kaiser Permanente Care at Home program are also the most socioeconomically disadvantaged, demonstrating how this model of care may reach underserved groups and can help reduce health care disparities. 
Advanced Care at Home Coalition
In 2021 Kaiser Permanente cofounded the Advanced Care at Home Coalition, which brings together industry leaders in home and hospital care to advocate for all patients treated in U.S. hospitals who could safely receive care in their homes. Visit the coalition's website to learn more about our advocacy efforts.