Stephen Parodi, MD, tells CNN International vaccine mandates effectively increase rates among employees
In a recent interview with CNN International, Stephen Parodi, MD, said that Kaiser Permanente has experienced an "incredible response" from employees in California who chose to comply with the Biden administration's 50-state vaccine mandate for health care workers.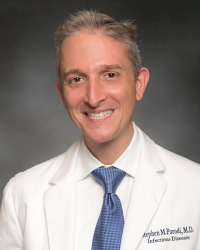 On August 2, Kaiser Permanente called on all its employees and physicians to be vaccinated or apply for a medical or religious exemption by September 30.
"Before the mandate we were at about 78% vaccination rates," said Dr. Parodi, associate executive director for The Permanente Medical Group in Northern California. "In California, now we're up above 96% for employees and 98% for physicians."
He attributed the successful response from Kaiser Permanente employees to 3 factors.
"One, there's nothing like a requirement," Dr. Parodi said. "Two, it incurs these critical conversations with employees about disinformation, and I have to call out our managers and our labor organizations that have leaned in to dispel that disinformation. And the third thing is, you can't really dismiss the delta effect. I think delta, that variant, really galvanized people. It scared people, too. So, all those things put together led to the incredibly high percentages of vaccinations."
While most employees have opted to get vaccinated, he added, a few people have declined to get an exemption or get vaccinated, and those individuals have been put on administrative leave.
Note: Watch the full interview with CNN International below.