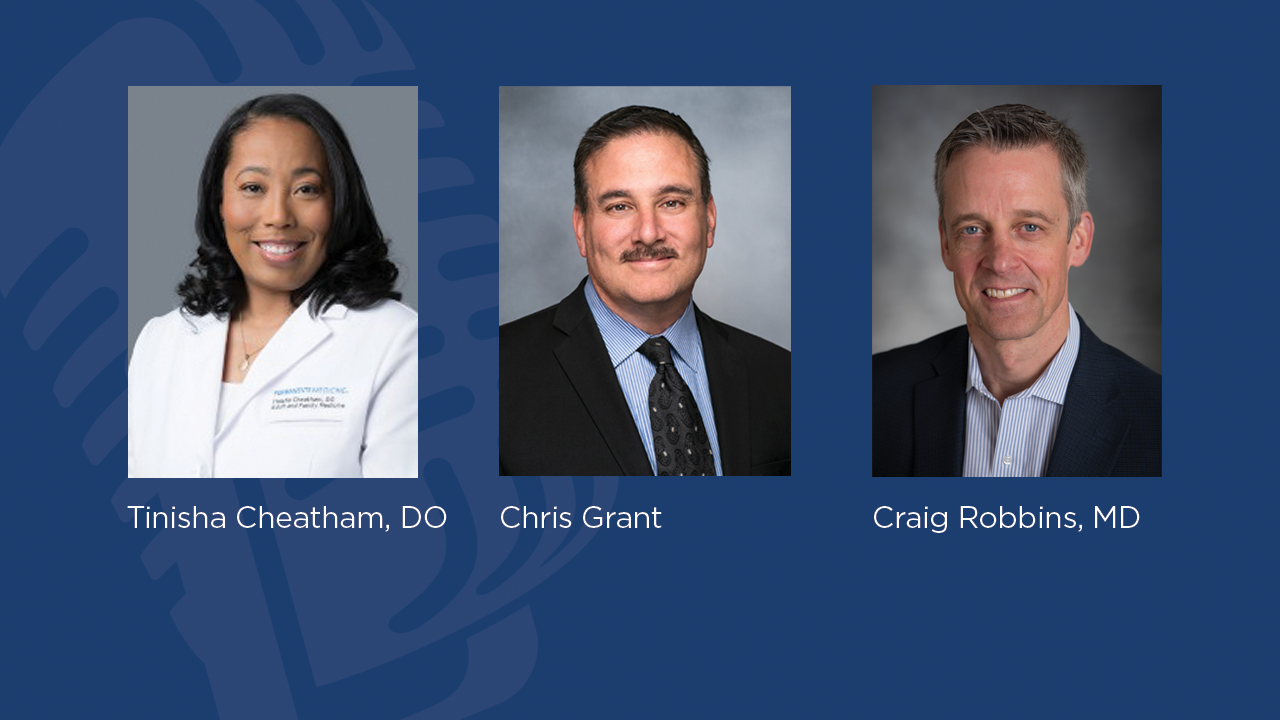 Podcast: Charting a course for COVID-19 vaccination
Tinisha Cheatham, DO, and Craig Robbins, MD, share learnings and a vision for vaccinating Americans
As the country moves toward reopening and dropping public health restrictions, health care organizations accelerate efforts to vaccinate more people against COVID-19.  The latest episode of the Permanente Medicine Podcast with host Chris Grant discusses COVID-19 vaccine distribution – key learnings, significant milestones, and the path ahead to reach herd immunity.
Tinisha Cheatham, DO, physician in chief of the Kaiser Permanente Baltimore service area, and Craig Robbins, national co-leader of Kaiser Permanente's vaccination program, join Grant to share their experience around raising vaccine awareness, developing partnerships with health agencies and community groups, and increasing advocacy among fellow physicians.
Dr. Cheatham, who also serves as family medicine physician with Mid-Atlantic Permanente Medical Group, delves into how COVID-19 is disproportionately impacting communities of color and offers insights into what the medical community can do to build trust among underrepresented groups. Dr. Robbins, a family medicine physician with the Colorado Permanente Medical Group, discusses what he believes it will take for the country to reach herd immunity and how to leverage takeaways from recent efforts to build better processes moving forward.
Kaiser Permanente has been at the forefront of vaccination efforts, standing up mass vaccination sites across the country, ensuring adequate supply is available for patients and members, and recently joining the White House for its National Month of Action to work toward ensuring that 7 out of 10 Americans have received at least one shot by July 4. To date, Kaiser Permanente has given more than 6 million vaccine shots to individuals across the United States.
"We tried to meet our patients where they are and find the best ways to get the information to them about the vaccine."

— Tinisha Cheatham, DO
"We're at a point where we need to keep pushing for us to get as many people vaccinated as possible."

— Craig Robbins, MD
Listen to the podcast above, watch on YouTube, or download on iTunes. Connect with Dr. Cheatham on Twitter at @TinishaCheatham , Dr. Robbins at @CraigWRobbinsMD , and Grant at @cmgrant.