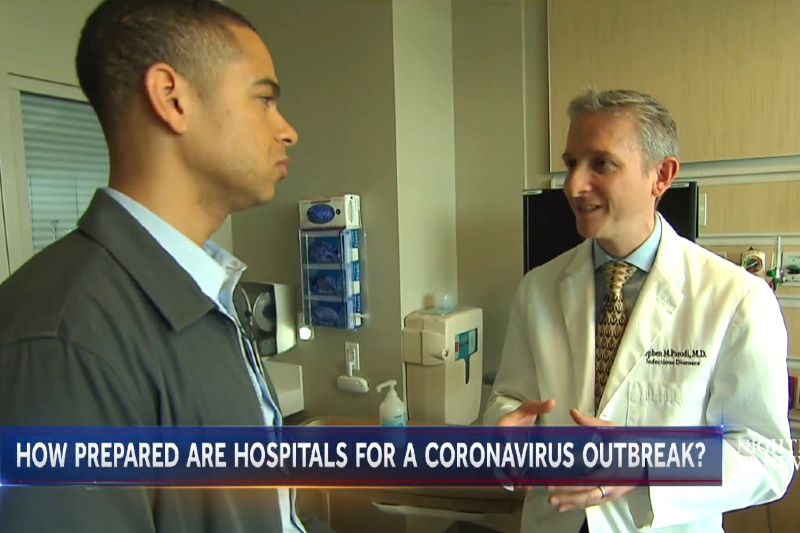 Permanente physicians highlight Kaiser Permanente's coronavirus preparedness on NBC Nightly News
As more cases of coronavirus are confirmed in the United States and officials declare a public health crisis, NBC Nightly News put the spotlight on whether U.S. hospitals are prepared for potential outbreaks. In the Saturday night segment, NBC News correspondent Steve Patterson interviewed Permanente physicians Stephen Parodi, MD, and Mary Meyer, MD, about how Kaiser Permanente is preparing.
The segment showcased an entire floor at the Kaiser Permanente Oakland Medical Center that is dedicated to training for the management and containment of infections such as the new coronavirus, which causes the respiratory disease COVID-19. While the dedicated floor is not currently being used, Kaiser Permanente care teams have been preparing and training for 5 years to manage and provide care during an infectious disease outbreak.
"We have teams that are working right now to take care of patients to make sure that we're getting it right," said Dr. Parodi, a national infectious disease leader and associate executive director with The Permanente Medical Group (TPMG) in Northern California.
Patterson took a tour of an isolation room and discussed Kaiser Permanente's monitoring, treatment, and safety process with Dr. Meyer, a TPMG emergency medicine physician. Dr. Meyer emphasized the role of Kaiser Permanente's integrated care teams and advance planning.
"If you admit even one patient," she told Patterson, "there's multiple shifts often over multiple days and multiple specialties. So at all of our hospitals we're really pushing to have a significant portion of our clinical staff trained."
Watch the segment on the NBC News site.