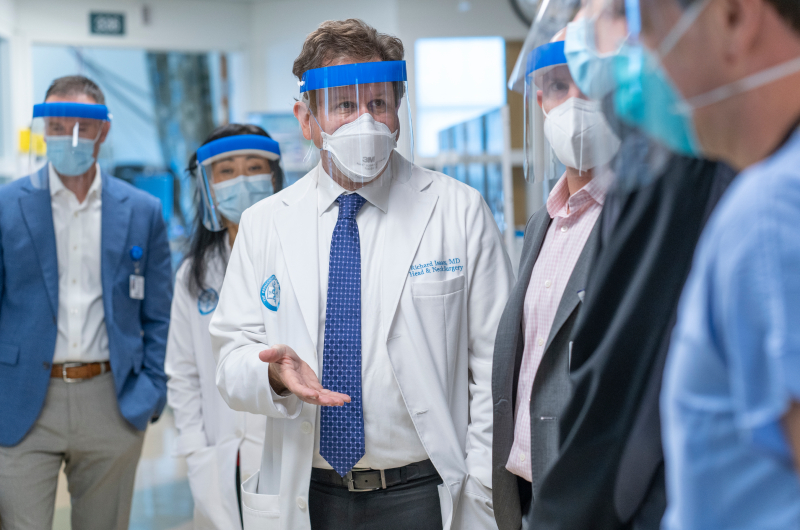 Lessons learned: a look back at the pandemic
Physicians, employees at Kaiser Permanente reflect on how the COVID-19 pandemic changed their work and lives
More than a year has passed since the World Health Organization officially declared the novel coronavirus a pandemic. The world we knew then is not the world we live in now. It's changed. And all of us have changed with it — becoming part of the history of the COVID-19 pandemic.
"This has been the hardest, most intense, most profound thing I've ever done in my life," says Scott Young, MD, senior medical director for quality at The Permanente Federation. And he is no stranger to traumatic events. He was deployed to a conflict zone when he served in the Navy. He was working in Washington, D.C., on 9/11, and saw firsthand the aftermath of the terrorist attacks. And he went to New Orleans to help after Hurricane Katrina struck. Still, the experience of battling the pandemic with his colleagues has been life-altering.
"It has left me with a newfound appreciation for the men and women I serve with — just utter respect and pride," explains Dr. Young. "It's changed me forever in ways that I don't even understand. It's been that kind of an experience."
The strength of integrated care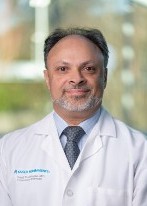 "This model of care was built for this kind of problem," says Paul Thottingal, MD, Kaiser Permanente's national infectious disease leader and chief medical officer of the national command center. He credits Kaiser Permanente's integrated approach to health care as something that served the organization well as it provided safe care for members and the community over the past year.
"I think we learned that our systems were agile enough to respond to the pandemic," explains Dr. Thottingal, an infectious disease physician with Washington Permanente Medical Group. "And that we as a team, whether it's in Washington, or Georgia, or Oregon, are very strong and flexible in the face of this huge, ongoing challenge."
It's something many across the organization pointed to as a real asset.
"I think we took full advantage of our strengths," says Lisa Jackson, MD, senior investigator at Kaiser Permanente Washington Health Research Institute. "We're a large organization with different people in charge of different aspects, from policy to pharmacy to clinical work, human resources, and communications — and everyone worked together."
Kaiser Permanente's practice of crisis response planning and training meant teams came together quickly. "I haven't seen anything like this in my lifetime," says Teresa Mixon, a pharmacy area operations manager in Georgia. "Knowing that the organization is truly prepared for any type of disaster, that's a good feeling."
Working together on common goals
Larry Rick, a physician assistant specializing in infectious diseases and a member of the United Nurses Associations of California/Union of Health Care Professionals, saw the best of the partnership between Kaiser Permanente and its unions in action.
"I saw the front-line management team really working with us as we were trying to solve problems," says Rick. "We truly leaned in, we truly bent to the needs of the patient, and we got busy getting down to the job of taking care of them."
That often meant making quick decisions that before the pandemic might have taken months. "Some of the things that we made happen quickly, like increasing our bed capacity to care for patients, happened overnight," says Karen Strauman, RN, a chief nursing executive in Fresno, California. "That sort of rapid decision-making is a lesson that we shouldn't lose."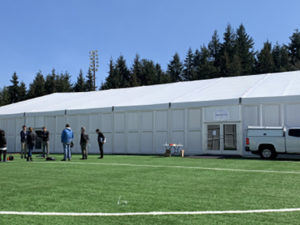 Finding the best ways to safely treat the influx of patients led to several innovative solutions: Using portable structures outside emergency rooms to separate COVID-19 patients from those with other emergent situations. Turning offices and conference rooms into hospital bed space. Shifting care to nontraditional care facilities — the U.S. Navy hospital ship Mercy in Los Angeles, and tents set up on soccer fields in Washington State — and expanding our telehealth capacity to treat people in their own homes. And, in partnership with the state of California, Los Angeles County, and Dignity Health, turning a shuttered L.A. hospital into a dedicated COVID-19 treatment facility in record time.
"Anything was possible," says Skip Skivington, vice president of health care continuity and support services at Kaiser Permanente. "And not just anything was possible, but anything was possible in such a short period of time."
While the immediacy of the situation often called for quick action, the decisions made were always based on evidence, something Linda Knodel, senior vice president and chief nursing executive, appreciated. "The thing that still resonates with me today is the fact that we have experts within Kaiser Permanente guiding us, and they've guided us every step of the way."
Getting to this moment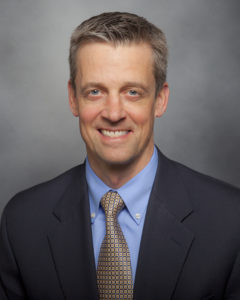 Craig Robbins, MD, is excited by the momentum around vaccinations. The medical director for the Kaiser Permanente Care Management Institute's Center for Clinical Information Services and Education, he also co-leads Kaiser Permanente's national COVID-19 vaccination program, along with senior director for continuum strategy and operations Angela Wahleithner. "I'm impressed with the way all of our regions have attacked this and been ready to go," says Dr. Robbins. "It's always dependent on the supply we receive, but what we've heard is 'Get us the vaccine, we'll get it into arms.'"
Wahleithner believes the work has brought a singular focus. "Let's get over this pandemic and do the right thing."
What stands out to Dr. Jackson is how quickly the complex process of vaccine creation was accomplished. "Having vaccines that can be made based on only the genetic sequence of the virus, without the actual virus, and having clinical material to use in a trial about a month after that, and then having vaccines that are saving lives now," says Dr. Jackson, "the pace of it, and the science, and the massive nationwide vaccination efforts are what I'll remember."
Kaiser Permanente administered its first vaccine doses on December 14, 2020. "Within weeks we were able to stand up vaccine hubs and create a playbook so we could know exactly what we would need to do to stand up more hubs," says Mary Beth Lang, vice president, chief supply chain and procurement officer. The playbook model, which Kaiser Permanente has employed throughout the pandemic, documents evidence-based strategies developed and used by the organization. The playbooks are then shared with health systems, care organizations, and public health departments.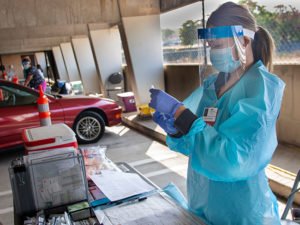 Since that first vaccination, Kaiser Permanente has administered millions of doses in its facilities, as well as hundreds of thousands of doses at mass vaccination sites set up in partnership with state and local health officials.
Getting vaccinated was an emotional moment for Rick. "I'm not a big fan of selfies or that kind of thing, but getting a picture taken with my vaccinator was pretty monumental. It was sort of like, wow, I survived."
Preparing for what's ahead
While the past year has been challenging, there is more to do. The pandemic is not over. Kaiser Permanente infectious disease experts are keeping a close eye on emerging virus variants and the possibility of more case surges.
"We can't expect it's going away," Rick says. That means healthy behaviors — wearing a quality, well-fitting mask; washing hands often; staying at least 6 feet apart; and avoiding crowds — will continue to be an important part of everyone's lives.
Expanding access to the COVID-19 vaccine, especially in communities hardest hit by the pandemic, is also an ongoing focus. "We learned a lot about how to better serve our members who are furthest away from care," says Dr. Thottingal. "Understanding how to keep all people healthy, that needs to be a continuous process."
One lesson learned over and over again during the pandemic is, for Strauman, both simple and profound. "People are your biggest asset. That was front and center during all of this," she says. "Recognizing that, without our employees and physicians, we wouldn't have gotten through it. Not in Fresno. And I don't think anywhere."
This is reprinted from the AboutKP site.