Clinical research drives health care innovation and quality
Clinical research is vital to continually improve the clinical effectiveness of medicine and public health measures. Nearly every diagnostic test, drug, medical device, treatment, and technology used in health care today was developed with the support of clinical research studies and trials.
Notable clinical research advancements include vaccines that saved millions of lives by eradicating or controlling diseases such as polio, measles, and the flu. The COVID-19 vaccine is an example of a clinical research breakthrough that was developed, tested, and distributed in record time to slow an escalating pandemic.
Other successes include cancer treatments, anesthesia, medical imaging, and antibiotics. One example: a Journal of Clinical Oncology analysis found that therapies administered in publicly funded clinical trials generated more than 14 million additional life-years for patients with cancer between 1980 and 2020.
What clinical research is and how it leads to higher-quality care
Clinical research involves designing and conducting studies that include human participants, collecting and analyzing data, and interpreting results to draw conclusions about the safety and efficacy of medical treatments, drugs, diagnostic tests, and devices.
There are 2 main types of clinical research:
Observational studies, which aim to identify patterns in medical data or samples provided by study participants.
Clinical trials, which test the safety and effectiveness of medications, procedures, and devices on people.
Both types can help identify innovations in health care delivery and best practices in medicine that improve both individual lives as well as entire populations.
In addition to advancing medical knowledge and improving patient care, clinical research attempts to achieve the following:
Protect patients by providing a rigorous and systematic approach to evaluating the safety of new medical interventions.
Help find, diagnose, and treat health conditions, as well as prevent and manage disease.
Fulfill requirements for regulatory approval of new drugs and medical devices, which is essential for making them available to patients.
Improve how drugs and medical devices are used.
Generate evidence allowing medical treatment to be customized for individual patients based on their risk factors and condition.
The current state of clinical research
Most clinical research today involves a complex network of pharmaceutical companies, funding sponsors, academic research institutions, medical centers, and affiliated research study sites. Public- and private-sector funding sponsors include pharmaceutical companies, medical device manufacturers, biotech firms, universities, private foundations, and government agencies.
It's important to note that many research studies are done in "single site" or academic settings. While these type of studies have their place and purpose, they also have inherent limitations, including a lack of involvement by community physicians and limited participant diversity, which makes it difficult to apply results across different demographics.
An analysis of larger, multisite studies found that they are more likely to have access to diverse participants and datasets, with input from community physicians, providing real-world data and evidence that better reflect the population. These studies can yield more comprehensive results that are more likely to be adopted by practicing physicians, benefiting more patients and communities. That said, the same analysis found that variability across sites can make multisite studies susceptible to data entry mistakes and data integration difficulties.
How clinical research works — and improves care delivery — at Kaiser Permanente
Kaiser Permanente, one of the nation's leading integrated health care systems, is known for delivering quality care by expert physicians at its highly rated medical facilities. Less well-known is that it's one of the nation's leading health research institutions, with 9 regional research centers that includes the Kaiser Permanente Bernard J. Tyson School of Medicine, where medical students conduct scholarly research projects as part of the curriculum.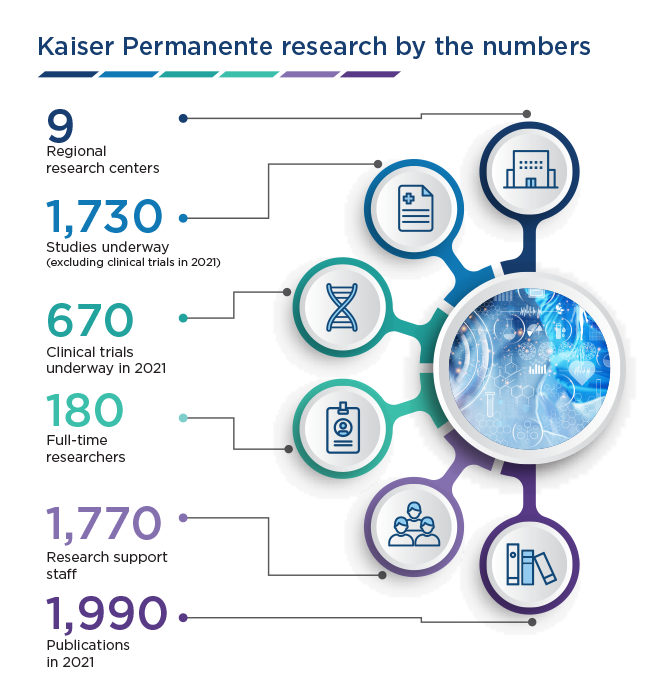 Like its care delivery model, Kaiser Permanente's research and clinical practice are integrated. This means research investigators, Permanente physician researchers, and operational staff work hand in hand, collaborating on areas of focus, methods, and implementation. This approach has many advantages, including helping to accelerate the time it takes to go from research to clinical best practice — sometimes in 2 or 3 years compared to the industry average of 17 years. The E-SCOPE program (Evidence Scanning for Clinical, Operational, and Practice Efficiencies), developed in Kaiser Permanente Southern California, uses a systematic method to accelerate the identification, review, and implementation of new evidence-based practices.
Kaiser Permanente's ability to rapidly move discoveries from the clinical study or trial phase to the patient's bedside and the community — called translational research — bring evidence-based medicine to patients sooner and establish best practices in medicine faster. Kaiser Permanente shares their findings broadly, making it a leader in implementation science, which is the study of methods and strategies to promote the systematic uptake of evidence-based practice and research into routine use to improve the clinical effectiveness and quality of care.
To address a lack of data amid diverse populations, Kaiser Permanente researchers have access to health information gathered from their health record system — the largest civilian system in the country — following processes for consent and institutional review board approvals or waivers.
This extensive, longitudinal medical database houses 50-plus years of records, reflecting the health histories of tens of millions of Kaiser Permanente members and patients. The diversity of health data helps researchers tackle health disparities and improve health equity by identifying patterns across multiple demographics, while the length and breadth of medical information enables large-scale studies with high statistical significance.
The rich dataset also includes pharmacy data, clinical policies and procedures, lifestyle information, and health outcomes. This gives researchers a fuller picture of research participants that can be tracked and analyzed over time, facilitating use of "real world evidence" and exploration of complex, "post-market" questions about interventions' clinical effectiveness.
Examples of research breakthroughs and health care innovations
Clinical research at Kaiser Permanente has contributed to the development of more effective, safer treatments for diseases such as COVID-19, HIV/AIDS, colon cancer, cardiovascular disease, mental health, and more.
The following innovations in health care highlight some of our areas of focus and related medical advancements:
Breast cancer — Researchers have evaluated numerous interventions for preventing breast cancer, including identifying and referring women at high risk to genetic counseling, and exploring different strategies to improve mammography screening rates and outcomes such as eliminating cost-sharing and tailoring outreach efforts to racial or ethnic minorities. Patients with breast cancer can also access cutting-edge medicine through participation in clinical trials, and be involved in research that examines the clinical effectiveness of chemotherapy and surgery. As a learning health care organization, Kaiser Permanente enables clinicians to tailor more effective cancer care pathways. Compared to nonintegrated health care systems, patients diagnosed and treated for cancer at Kaiser Permanente achieve better outcomes — 15% lower overall mortality rates across many common types of cancer, including breast cancer.
Cardiovascular disease — Research data questioning the benefits of beta blockers for blood pressure management ultimately led to replacing these as recommended treatments with a combination of ACE inhibitors and thiazide diuretics in a single pill. Research also led to the implementation of effective telestroke programs with an on-call neurologist available via telemedicine technology to emergency department physicians in our Northern and Southern California regions. And research published in Stroke showed that Kaiser Permanente hospitals in Northern California deliver the clot-busting medication r-tPA twice as fast as the national average.
COVID-19 — Phase 1 safety trials led by Permanente physicians and researchers for a COVID vaccine developed by Moderna and the National Institute of Allergy and Infectious Diseases helped bring an effective, evidence-based treatment to the world. By April 2021, Kaiser Permanente had initiated or taken part in more than 90 clinical trials and research projects on the novel coronavirus.
HIV/AIDS — Kaiser Permanente is an established national and international leader in the field of HIV/AIDS research. Our researchers and clinicians are actively investigating the use and effectiveness of HIV pre-exposure prophylaxis, or "PrEP." One study in our Northern California population found no new cases of HIV infection from 2012 through early 2015 among members enrolled in a PrEP protocol, despite high rates of sexually transmitted infections and decreased condom usage.
Adolescent health — The landmark adverse childhood experiences study led by a Permanente physician found a direct link between childhood trauma and higher likelihood of negative health and behavioral outcomes in adult life. More recently, Kaiser Permanente researchers have studied many treatment strategies for adolescent health problems, including mindfulness-based therapy, cognitive behavioral therapy with or without medications, and insulin for pediatric diabetes. Researchers have also identified a variety of disparities in mental health among Black and Latino youths; more work is needed to identify ways to improve services for these teens.
These examples help illustrate the impact of physician-led or physician-involved research on clinical quality, where physicians can inform studies with what they see in the clinic. The result is a circle of continuous improvement — a "virtuous cycle" that advances quality of care while helping shorten the time it takes for breakthroughs in evidence-based medicine to go from the research phase to clinical practice.
Learn more: Research published in diamond, open-access The Permanente Journal
Physicians at the forefront of clinical research
Delivering on the promise of clinical research requires bringing together multidisciplinary teams of research scientists, physicians, and operational staff who bridge the gap between clinical research and clinical practice.
Their access to a broad, diverse set of health data and a multicultural patient population and contribution to the nation's clinical research efforts helps not only Kaiser Permanente patients, but other health organizations, to identify opportunities for pursuing health equity, eliminating health disparities, and broadening real-world application of findings.
Using the examples of Permanente physician-led research, an integrated approach maximizes quality, safety, and efficiency, which benefits health care and society at large.
Clinical research fast facts about Kaiser Permanente
Kaiser Permanente is among the largest enrolling sites in the nation for National Cancer Institute clinical trials.
Our researchers have published more than 1,400 articles related to cardiovascular disease since 2007.
Kaiser Permanente partakes in the Vaccine Safety Datalink, a collaboration between the Centers for Disease Control and Prevention and 9 healthcare systems.
The Kaiser Permanente Research Bank is a collection of health information and blood samples which help physicians and researchers make discoveries and find treatments.
The Permanente Medical Group launched a new research grant program focused on the implementation of artificial intelligence and machine learning algorithms to augment diagnostic decision-making.