'Virtuous cycle' between research and clinical quality promoted by Nancy Gin, MD, in new commentary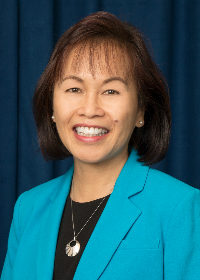 The circle of continuous improvement created by the impact of research on clinical quality, followed by the day-to-day experiences of physicians furthering research was highlighted in a recent commentary from Nancy Gin, MD, FACP, executive vice president and chief quality officer of The Permanente Federation.
Published online in The Permanente Journal, Dr. Gin's commentary calls this circle "the virtuous cycle" – just one element in the intersection of quality and research.
The commentary also looks at how the COVID-19 pandemic demonstrated that physician-led research could help advance care at a much faster pace than the average of 17 years it takes to put research into practice. "During the pandemic, quality teams implemented rapid changes with quality improvement in mind, whether collaborating with research colleagues or monitoring their scientific data that were being investigated at an accelerated pace," Dr. Gin writes.
Two examples that Dr. Gin cites is how the Mayo Clinic shared online results of its convalescent plasma studies early in the pandemic, and how Kaiser Permanente's Division of Research in Northern California used machine learning and artificial intelligence to create predictive models to identify hotspots or COVID surges. The model was the subject of a study that published last year.
Related story: "New tool for early identification of COVID-19 surges"
While the pandemic accelerated many improvements in health care, Dr. Gin notes that Kaiser Permanente has long been working to shorten the time it takes to go from research to clinical practice. She describes the Evidence Scanning for Clinical, Operational, and Practice Efficiencies (E-SCOPE) program, which started in Southern California. The program helps identify relevant high-quality studies that a team can then develop steps for putting them into practice. Since E-SCOPE started in 2015, the team has developed 71 initiatives based on studies that are either in active implementation or on their way. Examples include using probiotics for prevention of necrotizing enterocolitis in preterm infants and using atraumatic needles for preventing post-dural puncture headache.
Dr. Gin also emphasizes the importance of physician-led research, which, while encouraged at the Permanente Medical Groups, is less common across the industry. "Physician-led research and physician participation in quality and research promote critical thinking gleaned from patient experience and interactions while reinforcing life-long learning and focus on evidence-based practice," she writes.
Note: Read the full commentary online in The Permanente Journal. Watch this interview with AMA News where Dr. Gin expands on her commentary about the intersection of quality and research.
Related story: "Physician-led research reviews guide health care decision-making"