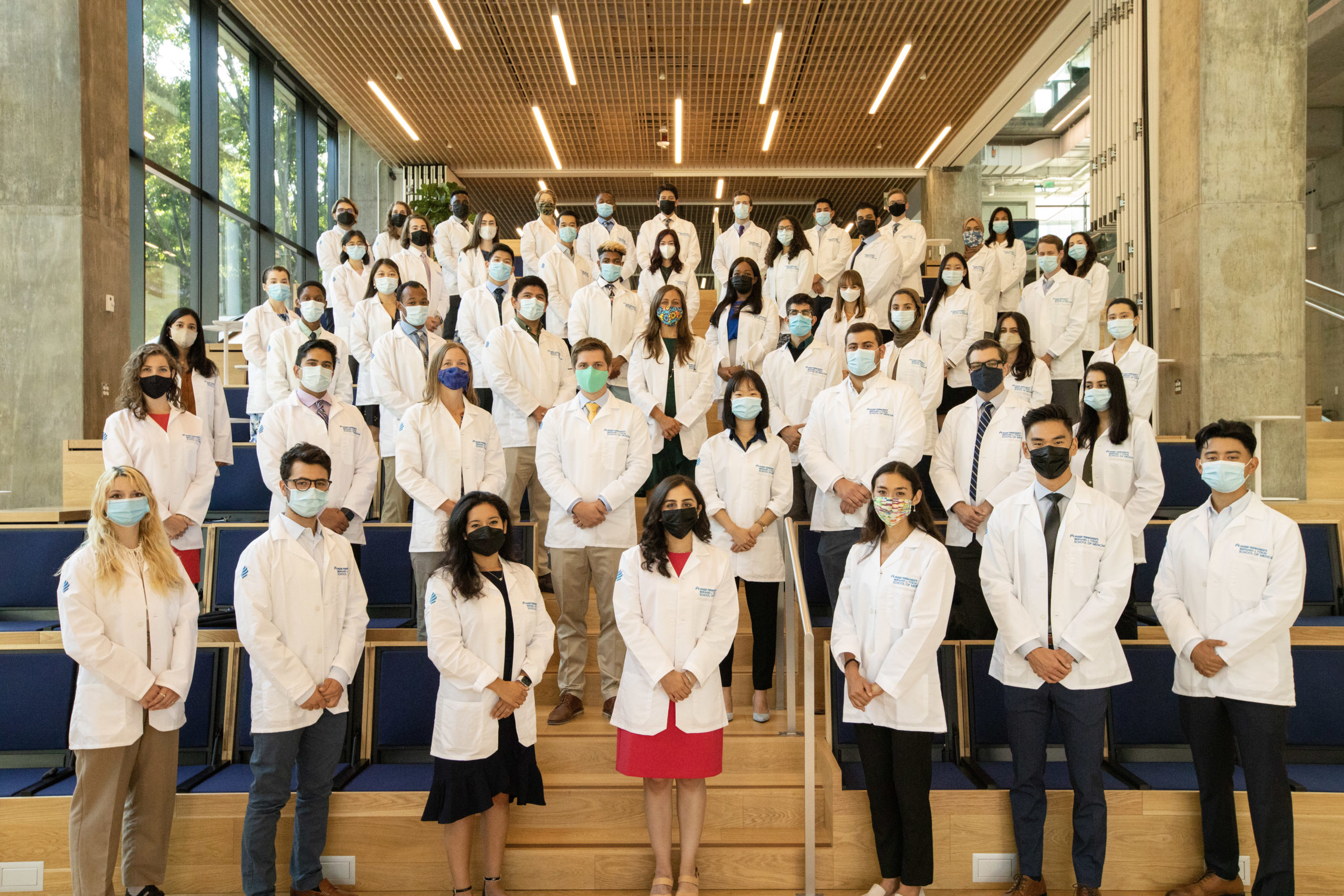 Today's white coats set out to become tomorrow's physician leaders
Kaiser Permanente's school of medicine ceremony begins journey on the path to medical excellence for class of 2025
The Kaiser Permanente Bernard J. Tyson School of Medicine held a white coat ceremony for its second student class on September 10. During the event, a short white coat is traditionally placed on each student's shoulders and an oath is read, signifying the beginning of their journey to becoming physicians. The ceremony, created by the Arnold P. Gold Foundation in 1993, is a rite of passage for medical students that allows them to recognize the significant responsibility they are taking on and to thank those who have helped them along the way.
The global pandemic has highlighted the demands of a medical career and the pressing need for skilled and compassionate health care workers committed to addressing health care inequities, giving the ceremony an added significance.
"Across the country and the world, and closer to home in our clinics, doctors are on the front lines of many, many crises ─ not just a global pandemic, but persistent inequities, too," said Mark A. Schuster, MD, PhD, the school's founding dean and chief executive officer, during the ceremony. "You will be ready for such crises, and ones we can't even predict at present. You have the talent, and you will have the training, to be able to take on the challenges of today and tomorrow … We are honored to be by your side as you take these first steps into your medical career."
Due to COVID-19, the ceremony was a virtual event open to the entire school community. The livestream presentation featured pre-recorded remarks from Kaiser Permanente leaders, including Greg A. Adams, chair and CEO of Kaiser Foundation Health Plan and Hospitals, who presented the students with their commemorative class pin. Ramin Davidoff, MD, co-CEO of The Permanente Federation and school of medicine board member, and Holly J. Humphrey, MD, president of the Josiah Macy Jr. Foundation and chair of the school of medicine's board of directors, also shared words of encouragement and praise with the new student class.
"I'm so delighted that you have decided to join our profession, and I can't wait to see how the future unfolds for you. The world will be a better place because you are physicians in it," said Dr. Davidoff. "I welcome you to the start of a beautiful, meaningful, lifelong journey."
After the reading of the physician oath and the community agreement ─ a set of living principles that illuminates how students wish to work together during their time at the school ─ each student spoke about what receiving their white coat meant to them and those who supported them on their journey to medical school.
"Receiving my white coat is symbolic of the beginning of the next step in my journey in trying to address health care equity," said first-year student Cortez Johnson. "It's a significant milestone in my own life and in my family, where we come from and where we are in our journey as a collective."
First-year student Jacqueline Xu said the white coat is a sign of progress on her way to becoming a physician.
"This is a hallmark of how far I've come, but also how much more there is to go. I'm the first physician in my family so it feels like a privilege to be here," said Xu.
Fellow classmate Ariel Silverman mentioned maternal forbearers who inspired her to pursue medicine, including her grandmother, an ob-gyn in China who advocated for the reproductive rights of her patients.
"Wearing this white coat puts me one step closer to becoming a fourth-generation female doctor in my family, dating back to my great grandma in the early 1900s," Silverman said. "I hope to carry on the legacy of strong women who have overcome steep barriers and use my current position to keep driving towards health equity."
Reprinted from the Kaiser Permanente Bernard J. Tyson School of Medicine website. Photo courtesy of the school of medicine.