Kaiser Permanente earns 100 percent score from Human Rights Campaign Foundation
Top score demonstrates commitment to equality in practicing Permanente Medicine.
For the 13th consecutive year, Kaiser Permanente has earned a 100 percent score in the 2019 Corporate Equality Index, a survey administered by the Human Rights Campaign Foundation. As part of this national benchmarking survey and report, which evaluates corporate policies and practices related to lesbian, gay, bisexual, transgender, and queer workplace policies, HRC named Kaiser Permanente a Best Place to Work for LGBTQ Equality.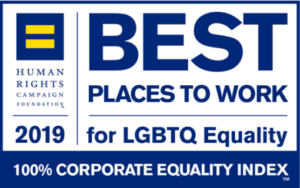 "We are honored that the Human Rights Campaign Foundation has recognized Kaiser Permanente's ongoing commitment to workplace equality with this distinction," said Edward M. Ellison, MD, co-CEO, The Permanente Federation. "At the core of Permanente Medicine, we celebrate equity, inclusion, diversity and respect and how we apply this to everyone and everything around us – patients, physicians, staff, our communities, and our environment."
Now in its 17th year, the Corporate Equality Index report scores businesses on their LGBTQ-related policies and practices, including non-discrimination workplace protections, employment benefits, competency programs, public engagement on LGBTQ equity, and responsible citizenship.
"Equity, inclusion, and diversity are core principles of Permanente Medicine — our physicians and clinicians proudly represent these ideals with the care they provide every day for the members and patients of Kaiser Permanente and the communities they serve," said Richard S. Isaacs, MD, FACS, co-CEO of The Permanente Federation.
By inspiring and engaging all Americans, the HRC strives to end discrimination against LGBTQ people. It is America's largest civil rights organization working to achieve lesbian, gay, bisexual, transgender, and queer equality.