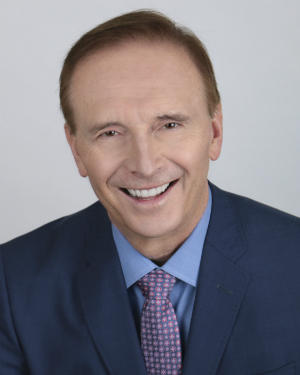 Edward M. Ellison, MD
Executive Medical Director and Chairman
Southern California Permanente Medical Group (SCPMG)

Chairman and Chief Executive Officer
The Southeast Permanente Medical Group (TSPMG)
Chairman and Chief Executive Officer
Hawaii Permanente Medical Group (HPMG)

Co-Chief Executive Officer
The Permanente Federation LLC
Board member, Kaiser Permanente School of Medicine
Ed Ellison, MD, serves as executive medical director and chairman of the board for the Southern California Permanente Medical Group (SCPMG), one of the largest self-governing medical groups in the country, consisting of more than 7,800 physicians caring for more than 4.6 million Kaiser Permanente members in 231 medical offices and 15 hospitals across Southern California.
In this role since January 2012, Dr. Ellison sets the strategic direction and has accountability for all aspects of care that impact quality, the patient experience, and financial performance at SCPMG. Under his leadership, SCPMG has navigated successfully through the Affordable Care Act and historic membership growth, while earning numerous awards and recognition for quality, safety, innovation, inclusion, and reducing care disparities among ethnically diverse patient populations.
His leadership has led to a strong culture of collaboration, communication, collegiality, interdependence, innovation, and being the best at getting better.
In 2015, in addition to leading SCPMG, Dr. Ellison was named chairman of the board and chief executive officer of The Southeast Permanente Medical Group of Georgia (TSPMG), with responsibility for TSPMG's overall performance. One of the largest multi-specialty medical groups in Georgia, TSPMG has more than 600 physicians caring for more than 310,000 members at more than 26 metro Atlanta facilities and partner hospitals.
Dr. Ellison is also co-chief executive officer of The Permanente Federation, a consortium of all the Permanente Medical Groups in the nation, supporting the work of more than 23,000 Permanente physicians in the eight Kaiser Permanente regions across the country. In this role, Dr. Ellison and co-CEO Richard Isaacs, MD, provide leadership and strategic direction to all the Permanente Medical Groups, and to the national Kaiser Permanente Program.
A recent addition to his responsibilities is serving as an executive sponsor and founding board member of the Kaiser Permanente School of Medicine. Leveraging Kaiser Permanente's innovative and integrated approach to patient health and care, the school will redesign physician education around strategic pillars that include providing high-quality care beyond traditional medical settings, acknowledging the central importance of collaboration and teamwork to inform treatment decisions, and addressing disparities in health.
In 2014 and 2015, Dr. Ellison was privileged to serve on the board of directors of the 2015 Special Olympics World Games, working with more than 650 SCPMG physicians and thousands of Kaiser Permanente employees who volunteered to provide care and support to more than 6,300 athletes, thus furthering the Special Olympics mission of inclusion and support for those with intellectual and developmental disabilities, and contributing to one of the most successful World Games in Special Olympics history.
Dr. Ellison joined SCPMG in 1984 as a family medicine physician. He served in multiple roles, including president of the Professional Staff, chief of staff, physician director of the Performance Improvement Committee, physician director Primary Care Services, founding faculty of Orange County's Family Medicine Residency Program, and assistant area medical director. In 2002, Dr. Ellison was appointed area medical director for Orange County and joined SCPMG's Board of Directors. He is a past recipient of Orange County's Family Medicine Physician of the Year.
After completing his undergraduate degree at Duke University, Dr. Ellison received his medical degree from the University of Virginia. He completed his residency training in Family Medicine at Halifax Hospital Medical Center, University of South Florida, where he served as chief resident.
Dr. Ellison is board certified in Family Medicine and is a diplomate of the American Academy of Family Physicians. He has attended the Advanced Leadership Program at the University of North Carolina at Chapel Hill and Harvard's Advanced Management Program.
Recognized for its high-quality outcomes, an emphasis on disease prevention, and affordable health care, Dr. Ellison believes Permanente Medicine and Kaiser Permanente's coordinated, integrated model provides an answer to health and health care in America, and that the people of Kaiser Permanente are its peerless advantage. In 2019, he was named one of the "100 Most Influential People in Healthcare" by Modern Healthcare.
In his spare time, Dr. Ellison is an avid skier and traveler, enjoys time with family, favors a plant-based diet, tries to get enough sleep, and always takes the stairs.
Follow Dr. Ellison on Twitter at @edellisonmd.