Inside Perspective: Lisa Montes, MD
Celebrating future physicians' non-traditional paths to medicine
This is a series of first-person pieces from the Permanente physicians, clinicians, and educators on the ground floor of creating the new Kaiser Permanente School of Medicine.
Who am I?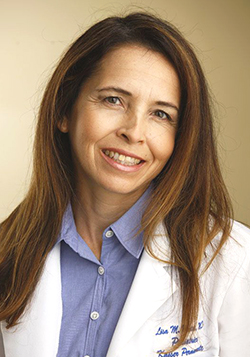 My grandmother wanted to become a nurse but never had an opportunity in her 102 years. My mother, who worked in the fields, grabbed her chance by becoming the first in her family to go to college. I have combined their resilience into becoming the first medical doctor in my family.
My leadership skills began in the heart of East Los Angeles alongside my mother registering people to vote and starting The Children of the World club, where we mentored children in the community projects. I attended Francisco Bravo Medical Magnet High School and the Los Angeles County High School for the Arts. Both fueled my desired to become a doctor while keeping my artistic side alive. The University of California, Los Angeles Chicanos/Latinos for Community Medicine helped me direct my activism and community giving, and introduced me to medical students who looked like me.
The University of California, San Diego School of Medicine threw me a curveball. I loved the material, cherished my opportunity, and connected with patients and colleagues. But what was missing was a confidence in test-taking. As a young scholar, I wasted energy battling standardized testing and this fueled impostor syndrome, which almost redirected my career away from my first choice of pediatrics. Resilience is the capacity to recover quickly from difficulties, and I am grateful to my mother and abuelita (grandmother) for their teachings.
I continue my mentoring of students underrepresented in medicine. Currently I serve as president and chief executive officer of Alliance in Mentorship, a nonprofit that supports MiMentor – an online and personal experience that connects aspiring health professional students with mentors though innovative mentoring programming. Our free app keeps the students engaged and connected to opportunities.
I am now a 17-year partner with Southern California Permanente Medical Group (SCPMG) and practice general pediatrics with hospitalist duty at the Kaiser Permanente South Bay Medical Center. My contributions to Kaiser Permanente include serving as Reach Out and Read regional team contributor, and I currently serve as the physician champion for Hippocrates Circle Program, as a Health Connect Essentials trainer, and as a member of Diversity and Inclusion at the South Bay Medical Center. I am married to Michael Tan, MD, a pediatrician at the Kaiser Permanente Cudahy Medical Offices, who is the creator and instructor of an SCPMG medical Spanish immersion course called "KPasa" that is offered to Permanente physicians twice a year. We have one child named Jacobo, who is 12 years old, fluent in Spanish, and doing very well in school and volleyball.
What am I doing for the School of Medicine?
I am a regular, hard-working, compassionate, non-administrator physician who wishes to make our partnership stronger. Diversity adds to our strengths. It is the work that I do behind the scenes that has received recognition and attention. Connie Casillas, MD, and I wrote a Kaiser Permanente Community Medicine grant that will support the ongoing MiMentor programming called "Medical School Ready!" for the next two years. This program takes students of underrepresented communities through the medical school application cycle. You would be surprised about how much mentoring is needed to prepare these students for this 9-month task. We prepare them to improve their MCAT scores, activities of experiences, personal statement, secondaries, and interview skills, and we emphasize that they bring diversity with their story.
Fifty-five percent of the students that apply with the MSR program get into medical school, which improves their chances by 15 percent based on a national rate of acceptance of students from underrepresented communities. In the last 6 years that MiMentor has been mentoring, 30 students have entered medical or osteopathic medical schools.
How is it going?
Walter Conwell, MD, associate dean for Equity, Inclusion, and Diversity, is excited about the work I am doing with MiMentor and I hope he allows me to help students and engage with other physicians who want to mentor students underrepresented in medicine. I am one of two physicians at Kaiser Permanente South Bay Medical Center to be invited as an appointed instructor for the Kaiser Permanente School of Medicine and I am gearing up to share my story.
I hope to exemplify equity, inclusion, and diversity for the Kaiser Permanente School of Medicine with my journey and experiences. I hope to be the voice that can add an element of perspective regarding the non-traditional journey that can make an excellent physician.
Lisa Montes, MD, is a pediatrician with the Southern California Permanente Medical Group, caring for patients at the Kaiser Permanente South Bay Medical Center. She will be one of the appointed instructors at the new Kaiser Permanente School of Medicine. Follow her on Twitter @TaninLA.