Board of Directors Announced for New Kaiser Permanente School of Medicine
Diverse Group of Experts Will Help Reimagine Medical Education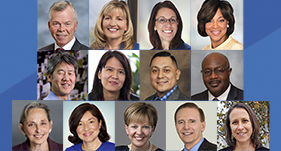 OAKLAND, Calif. – Kaiser Permanente announced today that the Kaiser Foundation Health Plan, Inc. and Kaiser Foundation Hospitals boards of directors have appointed a diverse group of leaders to govern the Kaiser Permanente School of Medicine.
The school's board of directors represent the fields of medicine, technology, business, health coverage, and care delivery and will guide the development of the new medical school located in Pasadena, Calif. The Kaiser Permanente School of Medicine will take an innovative approach to physician education, preparing students to lead the transformation of health care by immersing them in one of the nation's highest-performing health care organizations.
"Having national leaders from health care and medical education, as well as highly successful entrepreneurial leaders — joining leaders from Kaiser Permanente's Health Plan, Hospitals, and Permanente Medical Groups on our medical school board — will be invaluable as we launch this new approach to medical education," said Bernard J. Tyson, chairman and CEO, Kaiser Foundation Health Plan and Hospitals. "Their vast experience and knowledge will ensure the school fulfills its mission of reinvigorating health care with a new generation of physicians whose approach to medicine reflects the hallmarks of Kaiser Permanente's medical care and total health model."
Edward M. Ellison, MD, executive medical director and chairman of the board of the Southern California Permanente Medical Group said, "The board of directors will guide the school of medicine as it develops a new model for physician education — one that recognizes the vital impact that behavioral, social, economic, and environmental factors have on health."
Dr. Ellison, who shares leadership as co-CEO of The Permanente Federation (the organization that brings together eight medical groups and the thousands of Permanente physicians as part of the Kaiser Permanente system of care), added: "Through unprecedented access to our patients, our Permanente physicians, data and technology — starting in the very first year — our students will learn to provide excellent care. They'll work to increase access to care, improve prevention, and reduce racial and ethnic disparities in health outcomes. By training in a culture that values wellness, they'll learn to take better care of themselves and their patients."
The Kaiser Permanente School of Medicine's board includes 13 leaders from both inside and outside of Kaiser Permanente. (See the full list below.) Holly J. Humphrey, MD, dean for Medical Education at the University of Chicago, will serve as board chair.
"I'm honored to participate in this important endeavor and I'm thrilled to be selected to serve as chair of the board of directors. We will play an important role in preparing future doctors to address the challenges facing the American health care system and the patients it serves," said Dr. Humphrey. "Students at the school will learn medicine using cutting-edge technology in state-of-the-art facilities. Most importantly, our diverse students will learn side-by-side with Kaiser Permanente health care professionals and gain knowledge from nearly 22,000 Permanente Medical Group physicians who represent the diversity of both members and communities served."
Kaiser Permanente School of Medicine Board of Directors
Ronald L. Copeland, MD, FACS
Senior Vice President, National Diversity and Inclusion Strategy and Policy
Chief Diversity and Inclusion Officer
Kaiser Foundation Health Plan, Inc. and Hospitals
Patrick T. Courneya, MD
Executive Vice President, National Health Plan and Hospital Quality
Chief Medical Officer, Medicare Advantage, Cost, and Prescription Drug Plans
Kaiser Foundation Health Plan, Inc. and Hospitals
Imelda Dacones, MD
President and Chief Executive Officer, Northwest Permanente Medical Group
Edward M. Ellison, MD
Executive Medical Director and Chairman of the Board, Southern California Permanente Medical Group
Chairman of the Board, The Southeast Permanente Medical Group
Co-CEO, The Permanente Federation
Mary Hentges
Retired Chief Financial Officer, PayPal, CBS Interactive and YapStone
Holly J. Humphrey, MD
Dean for Medical Education, the University of Chicago
Peter Lee, PhD
Corporate Vice President, Microsoft Research
Sharon Levine, MD
Director and Senior Advisor, The Permanente Medical Group
Julie Miller-Phipps
President, Southern California Region
Kaiser Foundation Health Plan, Inc. and Hospitals
Valerie Montgomery Rice, MD
President and Dean, Morehouse School of Medicine
Gilbert Salinas
Chief Clinical Officer, Rancho Los Amigos National Rehabilitation Center
Maria S. Salinas
President, Salinas Consulting
Anne Wojcicki
CEO and Co-Founder, 23andMe
About the Kaiser Permanente School of Medicine
The Kaiser Permanente School of Medicine will offer more than a conventional medical education; it will provide students with the unique opportunity to be taught by the physicians of Kaiser Permanente and immersed in one the nation's highest-performing health care organizations. Students will gain real-world experience in an environment that embraces diversity of thought, experience and culture, and values their wellness and total health. This approach will create physicians who have the knowledge, skills and passion to lead the transformation of health care in our nation and help diverse communities thrive. Learn more at schoolofmedicine.kp.org.
About Kaiser Permanente
Kaiser Permanente is committed to helping shape the future of health care. We are recognized as one of America's leading health care providers and not-for-profit health plans. Founded in 1945, Kaiser Permanente has a mission to provide high-quality, affordable health care services and to improve the health of our members and the communities we serve. We currently serve more than 11.8 million members in eight states and the District of Columbia. Care for members and patients is focused on their total health and guided by their personal Permanente Medical Group physicians, specialists, and team of caregivers. Our expert and caring medical teams are empowered and supported by industry-leading technology advances and tools for health promotion, disease prevention, state-of-the-art care delivery and world-class chronic disease management. Kaiser Permanente is dedicated to care innovations, clinical research, health education and the support of community health. For more information, go to: kp.org/share.