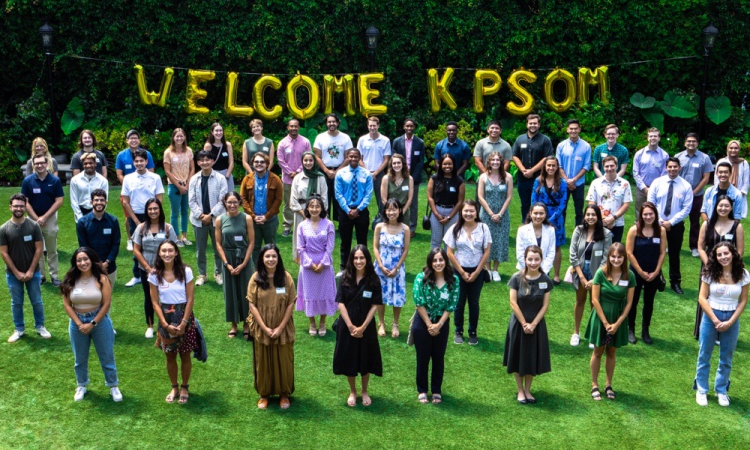 Kaiser Permanente medical school welcomes diverse class of 2025
The Kaiser Permanente Bernard J. Tyson School of Medicine officially welcomed its second 50-member student class to campus this summer.
"The class of 2025, like our inaugural class, is deeply compassionate, diverse, and intellectually curious," says Mark Schuster, MD, PhD, the school's founding dean and CEO. "We are thrilled to welcome them as they embark upon their medical school journey."
The medical school waived tuition for its first 5 classes entering 2020 through 2024, for all 4 years of their education, to help ease the financial burden of attending medical school and encourage students to choose career paths unencumbered by significant debt loads incurred in medical school. This also enabled the school to recruit and admit a diverse student body, including those who may have previously thought medical school to be beyond their financial means.
Among the 50-member class, 40% come from groups underrepresented in medicine; 2 students are in the Deferred Action for Childhood Arrivals program; 30% self-identify as members of the LGBTQ community; and more than 26% come from socioeconomically disadvantaged backgrounds.
"We are looking forward to what the next year holds for the school as we continue to build a radically inclusive community for students, staff, and faculty," says Anne Eacker, MD, senior associate dean for Student Affairs. "We strive to create a community where everyone can show up as their authentic selves, and where our students can continue to integrate their social identities into their evolving professional identity as a future physician."
The school's focus on addressing health care disparities, which the pandemic has made even more apparent, was a major draw for Olivia Goodman, a member of the new class.
"The school's mission to work at the intersection of public health and medicine spoke to me and my goals. The promotion of health equity through quality patient care is of the utmost importance. I want to dedicate my career to this aspiration," she says.
Competitive admissions year
Getting into medical school this year was even more challenging than usual given a nationwide surge in applicants inspired, in part, by the COVID-19 pandemic. According to data from the Association of American Medical Colleges, nearly two dozen medical schools saw applications jump by at least 25% in 2020. The Kaiser Permanente School of Medicine had the highest ratio of applicants to available spots for the first year of recruitment, yielding an admission rate that was the lowest among allopathic medical schools at just 0.5%.
The second class began their formal studies with the 3-week Early Immersive Experience course, which introduces students to the school's INSPIRE curriculum, support services, and their REACH (Reflection, Education, Assessment, Coaching, and Health and well-being) coaches, who help students set and pursue professional goals and build resilience skills throughout their time at the school. Students are also taught foundational patient care skills to prepare them for early clinical experiences at Kaiser Permanente medical sites beginning in the third week of their medical education.
"I'm excited to start on the doctoring course and interact with Kaiser Permanente physicians and patients through my longitudinal, integrated clerkship site," says May Let Wah, a member of the new class. "I am looking forward to community building and making connections with my classmates."