Kaiser Permanente Attains Perfect Score on 2018 Corporate Equality Index
Human Rights Campaign Foundation gives organization top rating on LGBTQ Workplace Equality Scorecard
For the 12th consecutive year, Kaiser Permanente has earned a 100 percent score in the 2018 Corporate Equality Index survey, which is administered by the Human Rights Campaign Foundation. As part of this national benchmarking survey and report, which evaluates corporate policies and practices related to lesbian, gay, bisexual, transgender, and queer workplace policies, HRC named Kaiser Permanente a Best Place to Work for LGBTQ Equality.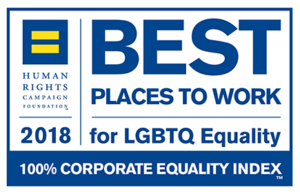 "We are proud of our long history of diversity and inclusion, and we are grateful for the HRC's recognition of our continuing work to provide the highest levels of opportunity and support to the LGBTQ community," said Ronald L. Copeland, MD, FACS, senior vice president and chief diversity and inclusion officer. We recognize the value of diversity, inclusion and equity in allowing us to best serve and meet the needs of our employees, patients and communities. Kaiser Permanente stands strong in our commitment to equity and inclusion for all."
Now in its 16th year, the Corporate Equality Index report scores businesses on their LGBTQ-related policies and practices, including non-discrimination workplace protections, employment benefits, competency programs, public engagement on LGBTQ equity, and responsible citizenship. The HRC also recognized Kaiser Permanente earlier this year for its efforts around LGBTQ health care equality, awarding the organization leadership status in the HRC's Healthcare Equality Index 2017 report.
"Recognition by the HRC is a reflection of Kaiser Permanente's core values," said Edward Ellison, MD, co-CEO of The Permanente Federation and executive medical director and chairman of the Southern California Permanente Medical Group. "As physicians, we are privileged to serve our LGBTQ patients and families to address their comprehensive health care needs. We aspire to create a compassionate, accepting, sensitive, and caring work environment where LGBTQ nurses, physicians, and staff can provide best-in-class care. This designation as a Best Place to Work is truly an honor."
By inspiring and engaging all Americans, the HRC strives to end discrimination against LGBTQ people. It is America's largest civil rights organization working to achieve lesbian, gay, bisexual, transgender, and queer equality.