Inside Perspective: Walter Conwell, MD, MBA
Equity, Inclusion and Diversity Leadership in Medical Education
This is a series of first-person pieces from the Permanente physicians, clinicians, and educators on the ground floor of creating the new Kaiser Permanente School of Medicine.
By Walter Conwell, MD, MBA
Who am I?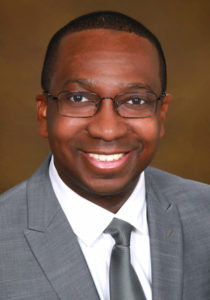 I'm a proud product of the under-represented minority (URM) education pipeline. I was born and raised in a single parent home in Gary, Indiana – a predominately black community marked by a history of social and economic exclusion. I was the first member of my family –  and one of few graduates from my high school class – to go on to college, despite being a teenage parent and having a significant lack of resources. I attended Florida A&M University (FAMU), a historically black college, where I established numerous academic support programs for my fellow pre-med students.
After graduating from FAMU in 2003, I matriculated to the University of Chicago-Pritzker School of Medicine, where I was allotted an incredible platform from which to develop my leadership ability. While at Pritzker, I led numerous URM pipeline efforts including the Chicago site for the Robert Wood Johnson Foundation Summer Medical Education Program (SMEP), now Summer Health Professions Education Program (SHPEP).  Through this program I had the opportunity to help hundreds of participants to achieve their goals of becoming physicians. I graduated with honors from The University of Chicago in 2007 and became the first African-American male Pritzker student to be selected to the Alpha Omega Alpha Honor Society.
In 2011, after completing residency and becoming one of the first minority chief residents at the University of Chicago Medical Center, I began my Pulmonary, Critical Care, and Sleep Medicine Fellowships at the University of Colorado and National Jewish Health. During my fellowship training I received numerous awards for my clinical service and teaching ability, including the inaugural "Fellow of the Year" award.
Because I desired additional skills and training to facilitate organizational change, I went on to pursue my MBA in Healthcare Administration at the University of Colorado Denver Business School and concurrently completed a two-year Administrative Fellowship in the University of Colorado Office of Diversity and Inclusion in 2016. I was then recruited to the Colorado Permanente Medical Group (CPMG) in 2016 and quickly became a part of the Kaiser Permanente School of Medicine Equity, Inclusion, and Diversity Advisory Committee.  In 2016, I was appointed the physician director of Equity, Inclusion, and Diversity for CPMG, where I was given many opportunities to increase the value of care for our patients. Finally, in 2018 I was honored to be appointed the associate dean for Equity, Inclusion, and Diversity for the Kaiser Permanente School of Medicine.
What am I doing for the School of Medicine?
As the associate dean for Equity, Inclusion, and Diversity (EI&D) for the Kaiser Permanente School of Medicine, I lead the development of the School's EI&D strategy and oversee its implementation. This strategy includes several initiatives: (1) partnering with community stakeholders to increase the diversity of the health profession workforce, (2) inspiring a collaborative community in and around the School, (3) embedding EI&D themes throughout the School and its curriculum, and (4) helping to create a learning environment that promotes optimal medical student performance.
How's it going?
Things are going incredibly well! The School of Medicine team has already accomplished so much, and the pace of development is increasing to an even greater rate thanks to the multitude of new leaders and staff members who have recently joined the School. I feel very privileged to be a part of such an incredible endeavor. I can't wait until we can share the product of this important work with the rest of the world.
Walter D. Conwell, MD, MBA, is associate dean for Equity, Inclusion, and Diversity at the Kaiser Permanente School of Medicine.