Inside Perspective: Sumam Abraham, MD
Focusing on Medical Students as Unique Individuals
This is a series of first-person pieces from the Permanente physicians, clinicians, and educators on the ground floor of creating the new Kaiser Permanente School of Medicine.
By Sumam Abraham, MD
Who am I?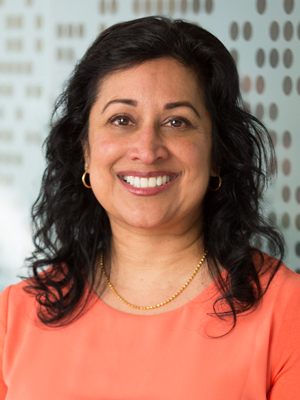 I am a family practice physician of East Indian origin, a recent empty nester, and wife to an Afrikaner. My parents came to Seattle in 1959. There were only a handful of Indians in Seattle at that time. It was pre-civil rights era, so my formative years were rough. "Born and raised in Seattle" was my external mantra to establish that I belonged and couldn't be dismissed that easily. Though, often it did happen.
I was intent on becoming a doctor and decided to leave the University of Washington to attend a small medical school in India at the urging of a relative. I started medical school at the ripe old age of 19. Most of my classmates were younger. I will say that I looked the part of being Indian, and as long as I didn't open my mouth or move, I was fine. Needless to say, I had cultural bumps (too numerous to count) during those grueling years of training. I met and married a resident who became faculty while he waited for me to finish medical school. We returned to Seattle and started the arduous process of taking the Educational Commission for Foreign Medical Graduates (ECFMG) exams and applying for residency positions. The reality of being a foreign medical graduate at that time was that you weren't treated equally. It didn't matter that I was from the USA.
I ended up doing two internships in internal medicine. The first one was at the Jamaica Plain Veterans Administration in Boston. Most of my internship years were in the ICU. I didn't get paid because I was still taking my exams. After this, I had the opportunity to be a second-year resident in a rural area of Massachusetts. However, I declined the offer because I wanted to practice in an urban, underserved area. I spent one year doing bench work in infectious disease for Boston University working with chimpanzee scat (feces). After this I completed my second internship at Carney Hospital in Boston. I moved across the country back to Seattle for my husband's fellowship and started as a second-year resident at the University of Washington-Tacoma Family Medicine Residency Program. In spite of being offered a very lucrative position at the hospital where I trained, I held out for my dream job at an underserved community clinic. More than half the visits were communicated through an interpreter. I considered it a privilege to give the best care possible to this diverse and vulnerable population of patients.
I joined University of Washington (UW) Medicine to have the opportunity to reach and mentor residents. I joined WPMG 10 years ago. During my time here at the Renton Clinic, I was the medical director for diversity and inclusion for two years and chief of staff at my clinic. I have been practicing for more than 20 years and championing diversity work along the way. Now, I am one of Washington Permanente Medical Group's (WPMG) gender health champions. I have the privilege of providing care for transgender patients.
Being the outsider has been a constant theme in my life and it has guided my professional and personal choices. I am grateful to have experienced this feeling at such an early age because I instinctively reach out to my patients in a way that conveys, "you are safe, I hear you and I care."
What am I doing for the School of Medicine?
I am representing the WPMG on the Equity, Inclusion & Diversity Advisory Committee. It is very inspiring to be part of this amazing group of creative people. The discussions are rich with hope for a progressive medical school.
The curriculum is rounded out by its emphasis on health and well-being. Many students are coming from backgrounds where the message they receive, be it subliminal or overt, has been that they are not what a doctor looks like, or that they are not "enough." I look forward to guiding the narrative. Focusing on students as unique individuals will help them to bring out the best in each of them. What can make or break a student is how they feel about themselves. This is their truth. To be relevant and supportive of students we will need to truly listen. I believe that an important part of our mission is more than just teaching: it's healing.
How's it going?
I feel the momentum is building and we are well on our way to starting a radically new and progressive medical school. I am preparing myself to support the well-being of the medical students. As we move forward and identify the needs of the students, we will be better able to support them in the way that they need. I believe that modeling a love for learning and a dedication to education is embedded in our mission. I am incredibly grateful for the opportunity to serve on the Equity, Inclusion & Diversity Advisory Committee.
Sumam Abraham, MD, serves on the Equity, Inclusion & Diversity Advisory Committee at the Kaiser Permanente School of Medicine in her role as Gender Champion, Washington Permanente Medical Group.