Inside Perspective: John Su, MD, MPH, FAAFP
Bringing Community Experiences Into Medical Education
This is a series of first-person pieces from the Permanente physicians on the ground floor of creating the new Kaiser Permanente School of Medicine.
Who am I?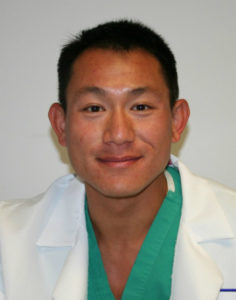 Hi! I've been a Family and Sports Medicine physician at Kaiser Permanente Los Angeles Medical Center for the past 10 years. An immigrant, I grew up in the San Francisco Bay Area, went to University of California, Berkeley, for college, got my medical and public health degrees at Boston University, residency training at Kaiser Permanente Los Angeles Family Medicine (under the tutelage of the esteemed Jimmy Hara, MD), and Sports Medicine Fellowship at University of California, Los Angeles.
In medical school I was selected as a Boston Albert Schweitzer Fellow and have since started a Los Angeles chapter of the fellowship – an inter-professional program to support graduate students' development into "Leaders in Service," addressing health care disparities in underserved communities all over Los Angeles.
I have served as the regional program director for the Kaiser Permanente Community Medicine Fellowship, assistant fellowship director for the Kaiser Permanente Los Angeles Sports Medicine Fellowship Program, and assistant program director of the Family Medicine Residency Program. For the last five years I have been the assistant chief of the Department of Family Medicine at the Kaiser Permanente Los Angeles Medical Center and the last four years the program director of the Family Medicine Residency Program. I still practice both inpatient and outpatient medicine, and have a panel of patients I love.
My mom worked as a scheduler at Kaiser Permanente Oakland Medical Center for years. My wife is a family physician at Kaiser Permanente Panorama City. We are so fortunate to have two great kids (7-year-old twins) and live just a few minutes from the planned medical school. I run (marathons mostly) and bike whenever my wife will let me.
What am I doing for the School of Medicine?
I serve on the Curriculum and Admissions Committees along with some amazing individuals (profiled here) who I have had the incredible privilege to get to work with or know. I help lead the Clinical Experience Sub-Committee, where we are helping to shape medical education the way we all wished we could have experienced it – which is to say, clinical experiences from day 1 (actually before "day 1" since we will have an Early Immersion period). As a residency program director, I also provide context to what program directors look for in students and what experiences and assessments might help differentiate our students from others.
Our students will be role models and mentors to underrepresented minority students at local elementary, junior high, and high schools as well as colleges and universities.
Besides medical education, my other major passion is community service and educational pipelines. As I did with our Community Medicine Fellowship, my hope is to embed valuable community experiences into the Kaiser Permanente School of Medicine curriculum so our diverse students will have the deepest of understandings around social determinants of health, be leaders that think "upstream," and gain cultural humility and empathy while nurturing the ideals that brought them to medicine.
Just as Kaiser Permanente is a mission-driven organization with a commitment to the communities where our members live, so too is the Kaiser Permanente School of Medicine. We have a responsibility to recruit graduate students from underserved communities, to help provide our communities physicians who are not only steeped in the secret sauce of Permanente medicine, but look like and speak the languages of the patients they care for, and have a shared understanding of each other's cultural and socioeconomic backgrounds.
Our students will be role models and mentors to underrepresented minority students at local elementary, junior high, and high schools as well as colleges and universities. It is my dream that the Kaiser Permanente School of Medicine will be intimately embedded in the community, led by our Director for Community Engagement Rose Rodriguez.
How's it going?
Incredible! I marvel at not only the "products" we have created – everything from the curriculum maps, clinical/content competencies, reporting diagrams, site selection rubrics and dozens of necessary accreditation documents – but also the process.
The leadership of Marc Klau, MD, Nancy Spiegel, MS, Chris Cassel, MD, and other "founders" has been awe-inspiring, in taking something that was just a "crazy idea" to fruition. Our Curriculum Committee is a great example. Coming from all over the country, we spent the necessary time to understand our goals, but also to bond and get to know each other so when we needed to work through difficult decision points, everyone was comfortable and trusted each other enough to be totally honest. These whole-hearted and respectful debates have made the curriculum and School stronger.
Is it challenging? Of course. Hundreds of projects and parts of the school are being worked on in parallel constantly. Thanks to our incredible administrative team, they bring us together for various conference calls throughout the week. Approximately monthly, we have in-person two-day sessions where the multiple teams re-connect and come to conclusions on decision points. We are designing the medical school of the future, so not only do we get to be futurists on where medicine will be, but what technologies will be used both in clinical and educational spaces, and what learning styles and education techniques will work best with future learners.
Even building design and layout need to anticipate a rapidly changing ecological and transportation world. No one's really done this before. And all of us still have day jobs – seeing patients, teaching student and residents, and running departments. But it invigorates us all! I certainly appreciate this as an incredibly rare opportunity to be part of a unique and ground-breaking endeavor.