Inside Perspective: Craig Robbins, MD, MPH
Looking at Medical Education Through the Health Systems Science Lens
This is a series of first-person pieces from the Permanente physicians on the ground floor of creating the new Kaiser Permanente School of Medicine.
By Craig Robbins, MD, MPH
Who am I?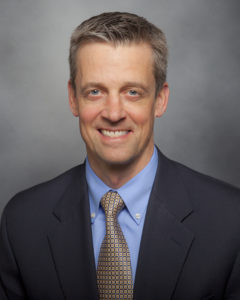 I am a family physician with the Colorado Permanente Medical Group in Denver and I see patients around our region as a member of our primary care support team. Kaiser Permanente's ethics-and values-based system of organizing and delivering high-quality, evidence-based health care drew me to the group originally and our dedication to this mission has motivated me since. For the last several years, I have also spent a fair amount of time working with The Permanente Federation and the Care Management Institute in the general area of integrating clinical knowledge into practice. I have been the physician lead for the Kaiser Permanente's National Guideline Program since early 2009 and the physician lead for the national version of the organization's Clinical Library since late 2012.
For the past few years, I have also served as the physician lead for the Federation's Maintenance of Certification Part IV Portfolio Program. The Federation serves as the national voice for the Permanente Medical Groups, which provide care to Kaiser Permanente members, and this program was started as a way for physicians across the PMGs to attain performance improvement in practice credit with their specialty boards for quality improvement and patient safety efforts they were already performing in their daily work. In this role, I have served on the National Clinical Education Committee—a group of clinical education leaders who have a strong interest in supporting Kaiser Permanente medical students, residents, and practicing clinicians across the undergraduate, graduate, and continuing medical education spectrum.
What am I doing for the School of Medicine?
I have been a member of the Kaiser Permanente School of Medicine Curriculum Committee since February 2016. In addition to being a primary care physician, the particular interest and experience I bring to the curriculum work is enhancing system support along the clinical knowledge continuum—from research, to evidence synthesis, to clinical recommendation and guideline development, to clinical education, to clinical decision support, to addressing health outcomes at the individual patient and population levels. This is complex work we and it requires effective integration of people, processes, and technology. Embedding the School in our delivery system creates a unique opportunity to influence the training and practice of future physicians in this direction.
In several of these Inside Perspective pieces, my School of Medicine Curriculum Committee colleagues have detailed various aspects of the School's curriculum. Within the overall framework, I am helping to co-lead, facilitate, and develop the Health Systems Science (HSS) department and course, and the Program Evaluation, Assessment and Improvement (PEAI) Committee and its policies. In each of these areas, we are busy developing and refining competencies, milestones, learning objectives, instructional methods and activities, and assessment methods that will serve to shape our future medical students into the 21st century doctors the United States and the world need.
How's it going?
Great! As others have mentioned, we have a fabulous team throughout—from our leaders, to physicians, health plan, and IT team members, to our experienced external consultants and stellar project management support. We spent the first half of 2017 preparing documentation to submit to the American Association of Medical College's Liaison Committee on Medical Education (LCME) for consideration of our initial accreditation. We have just been informed that our application was viewed favorably and the LCME will be setting up a site visit in 2018. Assuming this goes well, when we receive the formal initial accreditation from the LCME, we will be able to start advertising the Kaiser Permanente School of Medicine to potential students and put an admissions process in place. These are exciting steps in the process!
Our School of Medicine students will learn to apply improvement science through a variety of educational activities woven across all phases of the curriculum.
Again, our unique contribution to the community of medical schools will be our ability to engage students in Kaiser Permanente's high quality, high value, integrated delivery system from the moment they walk through our doors. The Flexner model of undergraduate medical education—two years of basic sciences followed by two years of clinical sciences—has been outdated for some time and needs to be modified to include an emphasis on Health Systems Science. From the Kaiser Permanente School of Medicine viewpoint, Health Systems Science is the scientific approach to health systems and policy, population and community health, patient safety and quality improvement, the continuum of care, and discovery, inquiry, and research in the practice of medicine. Health Systems Science is implemented at multiple levels from the individual patient and provider to the care delivery system to the community and society. Our School of Medicine students will learn to apply improvement science through a variety of educational activities woven across all phases of the curriculum.
Our conceptualization of health systems science as a crucial component of our curriculum aligns well with current thought leaders in undergraduate medical education. For example, last December, the American Medical Association's (AMA) Education Consortium released a textbook on Health Systems Science. The authors argue that health systems science should synergize, complement, and be integrated with the core content and concepts of basic and clinical sciences.
As our Health Systems Science (HSS) curriculum development group has reviewed the AMA Education Consortioum's work, we've recognized our opportunity to jump to the front of the class. Here are some quotes from the text highlighting our unique opportunity (emphasis mine):
"For physicians in training to develop an early professional role identity that aligns with the needs of the 21st century health care system, students must be provided with early immersive experiences to learn about and engage in HSS."
"[Most] medical students are exposed to education concepts in HSS that are limited in the range of topics and vulnerable to the ebbs and flows of faculty and institutional resources and interest."
"…there is no way of knowing if HSS teaching and role modeling are appropriate, effective, or even correct."
"Most current-day faculty were not educated within a system that promoted a focus in HSS."
At the Kaiser Permanente School of Medicine, we will provide early immersive experiences, we will embed our students in a delivery system that will maintain its resources and interest, and we will have faculty who will eat, drink, breathe, and sleep health systems science on a daily basis—because this is who we already are at Kaiser Permanente! I hope you can sense the excitement we have on the Curriculum Committee regarding this opportunity. As others have mentioned, we intend to help change the face of undergraduate medical education in the United States and it's a great privilege, pleasure, and responsibility to be to be involved in this groundbreaking work.