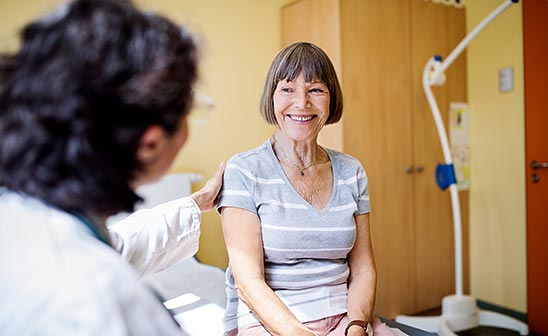 All-Stars: Kaiser Permanente Medicare Plans Among Nation's Best
Highest marks received in Centers for Medicare & Medicaid Services' annual star quality ratings
OAKLAND, Calif. — Kaiser Permanente is again among the nation's elite when it comes to providing care and service to its Medicare members.
According to the Centers for Medicare & Medicaid Services' 2019 Star Quality Ratings, Kaiser Permanente's Medicare health plans in California, Hawaii and the Mid-Atlantic States received 5 out of 5 stars, CMS' highest rating. Kaiser Permanente Medicare plans in the Northwest, Colorado, Georgia and Washington earned 4.5 out of 5 stars, CMS' second-highest rating.
Out of nearly 400 Medicare health plans (with Parts C and D) rated by CMS, only 14 obtained 5 stars, less than 4 percent. In 2019, Kaiser Permanente accounts for 4 of the 14 5-star plans; no other health plan in the nation has more. Along with the 5-star plans in California and Hawaii, Kaiser Permanente has two in the Mid-Atlantic States Region: Medicare Advantage and Medicare Cost.
In addition:
All Kaiser Permanente Medicare health plans are rated highest (or tied for the highest) in every geographic region they serve.
Of the nearly 1.8 million beneficiaries enrolled in 5-star plans nationwide, 71 percent are Kaiser Permanente Medicare members.
All Kaiser Permanente Medicare health plans are rated 4.5 or higher and, according to CMS, outperforming nearly 80 percent of all Medicare health plans in the nation.
For eight consecutive years (2012-19), every Kaiser Permanente Medicare health plan has rated 4.5 stars or higher.
"Kaiser Permanente's consistently high-quality scores in the CMS star ratings signify that we are providing safe and effective care and exceptional service to our Medicare members," said Patrick Courneya, MD, executive vice president and chief medical officer for Kaiser Foundation Health Plan and Hospitals, Inc. "Our integrated systems and evidence-based processes are designed with the patient at the center."
The overall scores for the Medicare star quality ratings are based on care and service quality measures in 9 categories, including staying healthy, member satisfaction, managing chronic conditions, customer service and pharmacy services. The star ratings also measure health plans' compliance performance.
"I am proud of these results as they shine a light on the work being done by our highly skilled physicians, nurses and care teams," said Michael Kanter, MD, executive vice president and chief quality officer for The Permanente Federation, the national organization for the more than 21,000 physicians who provide care exclusively to Kaiser Permanente's members. "Our patients partner with their doctors to make personalized treatment decisions together so they can live full, active lives."
A rating system to make choice easier
CMS created the Medicare star quality rating system — rating health plans on a scale of 1 to 5 stars, with 5 stars representing the highest quality — to provide beneficiaries with a way to assess Medicare plans based on the level of care and service delivery, so they can make an informed decision when choosing a plan.
A leader in quality
Kaiser Permanente's high ratings by CMS are the latest of several quality recognitions the organization has achieved this year. In the "NCQA Health Insurance Plan Ratings 2018-2019" report, the National Committee for Quality Assurance lists all 8 Kaiser Permanente Medicare plans as the highest rated or tied-for-highest in the markets they serve — for the 7th year in a row.
And for the 6th consecutive year, Kaiser Permanente's Medicare website, kp.org/Medicare, was rated one of the top Medicare websites in the nation for providing consumers with an easy, positive and high-value experience.
Medicare beneficiaries can learn more about the star ratings and Kaiser Permanente's Medicare health plans by visiting kp.org/medicarestars.
This is reprinted from the KP Share site.