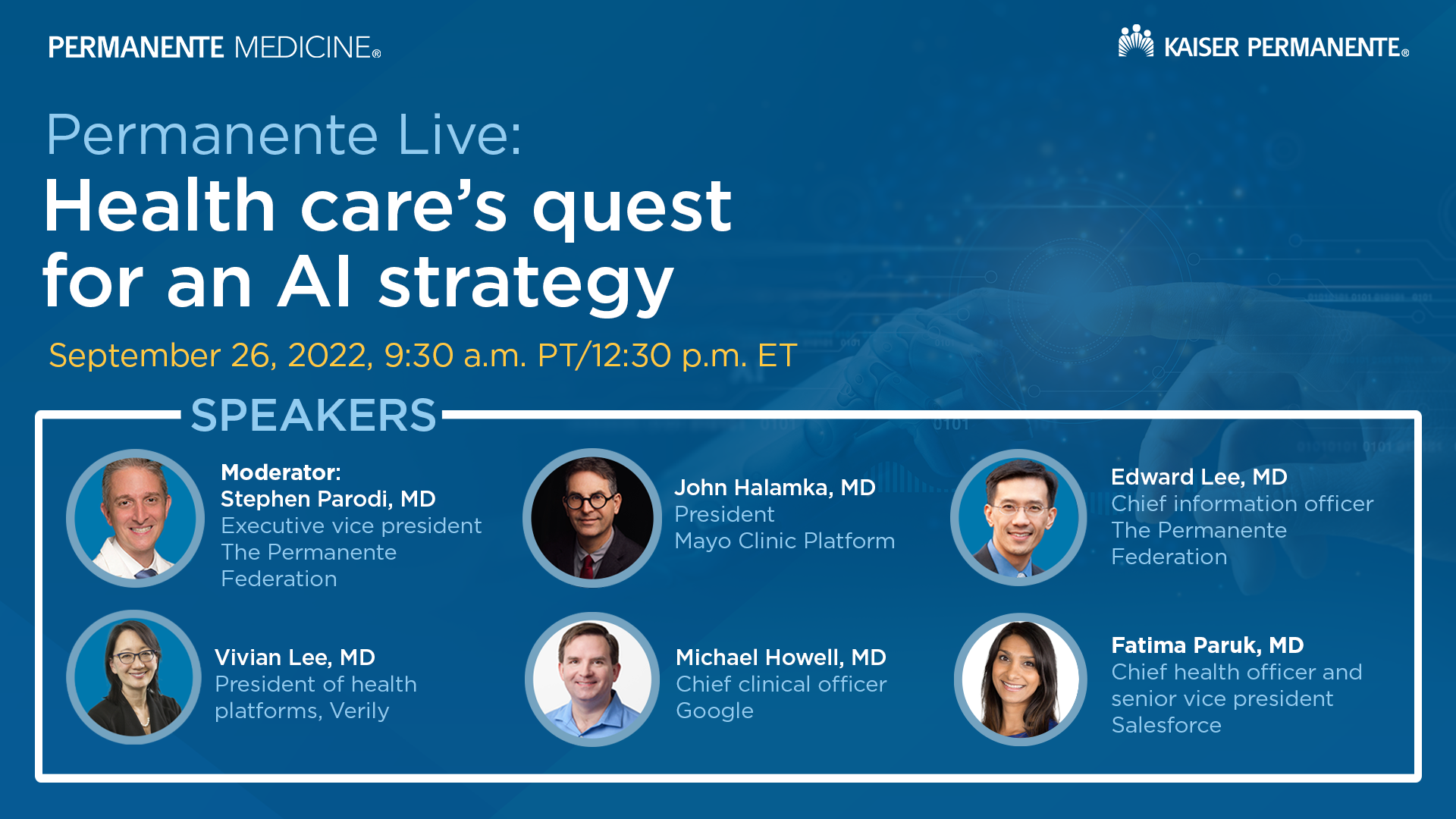 Permanente Live – Health care's quest for an AI strategy
Artificial intelligence (AI) may just be the most hyped innovation this century, with companies scrambling for the next big application or investors funneling billions into a potential Holy Grail of machine learning. Health care isn't immune from the attraction to transform care delivery with AI. Last year, health AI companies raised a record $12 billion in funding. But a healthy dose of skepticism should be paired with scientific evidence to develop the best use of AI-powered applications or systems to care for patients.
In this upcoming Permanente Live webinar, industry physician experts will examine the state of AI in health care. Join this complimentary webinar, "Health care's quest for an AI strategy," on September, 26, 2022 (Monday) at 9:30 a.m. PT/12:30 p.m. ET.
Learning objectives
Learn how industry leaders view the role of AI in health care.
Hear what questions need to be asked to ensure proper assessment of AI programs.
Learn how leading organizations such as Kaiser Permanente, Mayo Clinic, Salesforce, Verily, and Google are incorporating AI in care.
See how AI can be used to relieve the burdens on physicians and health care workers.
Speakers
John Halamka, MD, president, Mayo Clinic Platform
Michael Howell, MD, chief clinical officer/deputy chief health officer, Google
Edward Lee, MD, executive vice president and chief information officer, The Permanente Federation; associate executive director, The Permanente Medical Group
Vivian Lee, MD, president of Health Platforms, Verily
Fatima Paruk, MD, chief health officer and senior vice president, Salesforce
Stephen M. Parodi, MD, (moderator), executive vice president of External Affairs, Communications and Brand, The Permanente Federation; associate executive director, The Permanente Medical Group