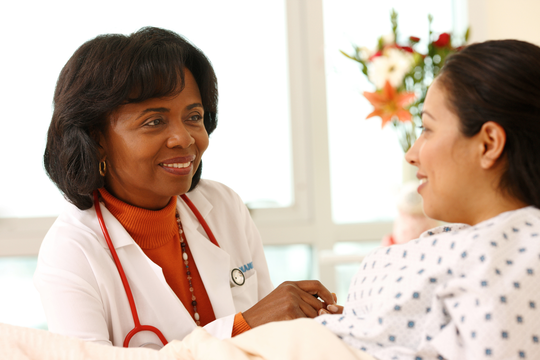 Kaiser Permanente Northern and Southern California Receive High Ratings for Clinical Quality
For the 10th consecutive year, Kaiser Permanente Northern and Southern California are the only health plans in the state to earn a 4-star rating — the highest possible — for overall clinical effectiveness in the annual Healthcare Quality Report Card from California's Office of the Patient Advocate (OPA).
The 2017-18 report card provides California consumers with side-by-side comparisons of the largest HMOs and PPOs in the state. It ranks them on national standard-of-care measures that involve treatment and prevention of a range of conditions that have significant implications for personal health. Ten of the state's largest HMOs and five PPOs are compared in the report card, and Kaiser Permanente is the only organization with the top possible rating for overall clinical performance measures.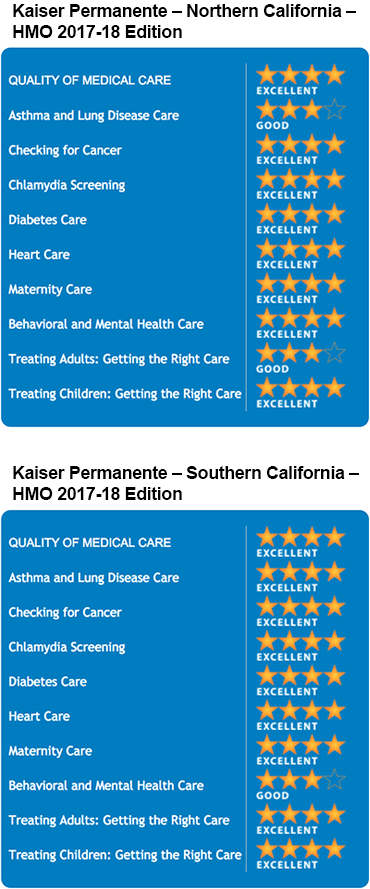 "We are proud to be recognized for the high-quality care we provide to our members," said Michael Kanter, MD, executive vice president and chief Quality officer of The Permanente Federation, the national organization for the more than 21,000 physicians who provide care to Kaiser Permanente patients. "Our physician-led Permanente Medical Groups provide exceptional team-based care, using the latest technology and comprehensive systems to consistently deliver superior outcomes for our patients."
This year, Kaiser Permanente Northern California earned top scores for overall quality of medical care, which includes earning the state's only 4-star plan for behavioral and mental health. Kaiser Permanente Southern California also earned the top score for overall quality of medical care, including the state's only 4-star rating for asthma and lung disease care as well as in the area of "treating adults – getting the right care." Both Kaiser Permanente California plans are also the only ones in the state to have earned top ratings for heart care, checking for cancer, and "treating children – getting the right care."
"The combination of exceptional physicians, integration, and advanced technology is helping us save lives every day," said Richard S. Isaacs, MD, executive director and CEO of The Permanente Medical Group. "I'm very proud of all of our physicians and staff who together have created superior quality outcomes for our patients, which is very deserving of this 4-star rating."
Together, The Permanente Medical Group in Northern California and the Southern California Permanente Medical Group provide care to about 8.5 million Kaiser Permanente members in California.
Learn more about the Healthcare Quality Report Card from California's Office of the Patient Advocate (OPA).
Behind the Numbers
Each year, a random sample of members from each HMO and PPO is selected and their records are reviewed to determine if their medical care meets national standards for care and treatments proven to be effective. The health plan keeps track of the care provided to its members in their medical charts and in health plan billing records for medical services and prescription drugs.
Information from the health plan's records were collected and scored based on standards for quality of care set by the HEDIS® (Healthcare Effectiveness Data and Information Set) performance measurement system to make sure that health plans were offering quality care and service to members.
The Report Cards rate California's 10 largest Health Maintenance Organizations (HMO), 6 largest Preferred Provider Organizations (PPO) and over 200 commercial medical groups on quality, patient experience, and medical group costs. Health plans and medical groups can be searched either alphabetically or by county and their scores can be compared side-by-side. Consumers can also compare how health plans and medical groups performed when caring for patients with specific health conditions such as asthma, cancer, diabetes, and heart care.