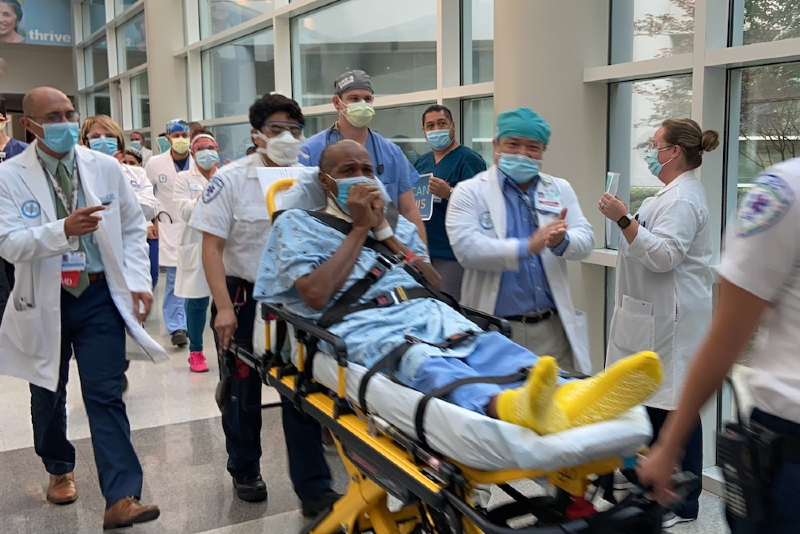 Kaiser Permanente Northern California deepens its COVID-19 research agenda
Division of Research physician researchers and other investigators examine the pandemic's effects from all angles
By Jan Greene
Senior Communications Consultant
Looking back at the first 6 months of the COVID-19 pandemic, it may seem an eternity to those whose lives have been upended by stay-at-home orders. But medical researchers see the passage of time differently, with their work sped up to an unprecedented rate by the urgency of learning how to treat and prevent COVID-19 disease.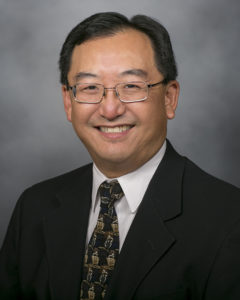 Alan S. Go, MD, regional medical director of the Clinical Trials Program based at the Kaiser Permanente Division of Research (DOR) in Northern California, calls this frantic atmosphere "working in COVID time."
In the spring, while front-line hospital clinicians struggled to treat patients with this frightening new illness, Dr. Go's team rapidly set up clinical trials and compassionate use programs for potential treatments such as convalescent blood plasma. The treatment, which uses plasma taken from people who have clinically recovered from COVID-19, was designed, approved, and used in its first patient in just 13 days.
The Clinical Trials Program also set up studies to test potential COVID-19 antiviral agents remdesivir and selinexor. The program continues to vet potential treatments, and has expanded its work to include intravenous remdesivir to outpatients.
Prevention is the other major strategy to beat COVID-19, and DOR's Vaccine Study Center, directed by Permanente pediatrician Nicola Klein, MD, PhD, has been busy exploring vaccine development projects. "Kaiser Permanente is well-positioned to address this public health emergency," Dr. Klein says, noting the center's more than 30-year history of participating in clinical trials for most vaccines licensed in the United States.
The center chose to participate in a 44,000-patient, phase III trial of a messenger RNA-based vaccine candidate against SARS-CoV-2 being developed by Pfizer and BioNTech, enrolling more than 300 adults out of the Santa Clara and Sacramento medical centers. Importantly, 42% of the participants enrolled by the Vaccine Study Center are racially or ethnically diverse, compared with 27% enrolled by Pfizer/BioNTech trial sites nationally.
DOR's COVID-19 work goes beyond preventing it and treating the virus. Within weeks of the novel coronavirus taking hold in Northern California, Kaiser Permanente researchers and clinicians turned their attention to potential research projects on a wide array of topics. DOR and The Permanente Medical Group (TPMG) set up the COVID-19 Clinical Research Coordinating Team (CCRCT), a panel to review these ideas as they quickly flowed in.
In its first months the panel vetted well over 200 study ideas and proposals; 31 studies were cleared and are under way, 15 drew new external funding, and 4 were funded with grants from within Kaiser Permanente. DOR researchers and TPMG clinicians — with the support of Yi-Fen Irene Chen, MD, TPMG's associate director for quality and research — began publishing research almost immediately after the pandemic began; they now have 14 research papers in journals and more pending publication.
The pandemic under a microscope
As the pandemic evolved, researchers looked at how the health care delivery system is adjusting to shelter-in-place requirements, such as Kaiser Permanente's seismic growth in video visits.
They also developed new predictive models to help the health system's Northern California medical centers anticipate surges in COVID-19 patients. Spearheaded by Vincent Liu, MD, MS, a practicing intensivist with The Permanente Medical Group, research scientist with the DOR, and the Kaiser Permanente Northern California regional director for hospital advanced analytics, this forecasting involves tracking multiple indicators to identify "hot spots" of current and potential virus activity.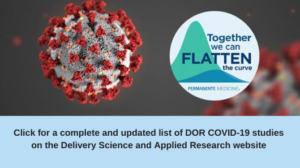 Along those lines, DOR research scientist Gabriel Escobar, MD, works on predictive models for determining which outpatients with COVID-19 might need to be hospitalized, work that could provide useful information for primary care physicians. His team also uses large datasets to assess how race and ethnicity affect coronavirus testing, infection, and patient outcomes such as hospitalization.
At the same time, the CREST Network of emergency medicine researchers, associated with DOR, analyzes COVID-19 patients who are admitted through Kaiser Permanente Northern California emergency departments to better understand which patients are at increased risk for more serious disease.
Existing epidemiology efforts, particularly those with a survey component, are being repurposed to learn more about COVID-19 prevalence and the effects of the pandemic. For instance, DOR research scientists Lisa Croen, PhD, and Assiamira Ferrara, MD, PhD, created a 12-question online survey to be administered to all Kaiser Permanente members in Northern California who have a pregnancy in 2020 — an expected 40,000 to 45,000 women. The researchers want to learn about the women's experience of pregnancy during the pandemic and collect information that could allow researchers to track their medical outcomes over time.
Other epidemiology projects examine the relationship between pregnant women who smoke and COVID-19, how people with autism adjust to virtual visits, and changes in the use of mental health services and mental health outcomes during the pandemic. Another study is establishing a national registry of perinatal COVID-19.
Providing care in a pandemic-changed world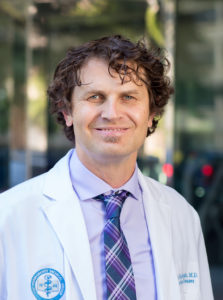 Translating research findings into practice is one of Kaiser Permanente's strengths, and something that's already happening with COVID-19 treatment, says Jacek Skarbinski, MD, a Permanente infectious disease specialist at Kaiser Permanente's Oakland Medical Center. "We're already seeing translations of research findings that are changing what we do," Dr. Skarbinski says. "Our clinical management is very different now than it was several months ago, and our outcomes are better."
The pressure to quickly set up clinical trials for COVID-19 led to process improvements, such as the ability to obtain electronic consent for trial participation from patients using tablet computers in the hospital and from outpatients using their home computers.
DOR researchers are designing research projects for relevance far into the future. For instance, Vaccine Study Center researcher Ousseny Zerbo, PhD is seeking funding to follow long-term outcomes of COVID-19 patients, some of whom are suffering long-lasting cardiac, lung, and other effects of their illness. The center is also working with the Centers for Disease Control and Prevention to use the national Vaccine Safety Datalink system to track patient responses and outcomes to COVID-19 vaccines as they become available.
DOR's work to better understand, treat, and prevent COVID-19 benefits from a deep bench of clinicians and researchers with a history of working collaboratively, says DOR Director Tracy Lieu, MD, MPH. "We are really fortunate to have the bench strength that we do."
Selected published COVID-19 studies from DOR researchers
Pandemic's effect on health care system
Stephen Parodi, MD, and Vincent Liu, MD, MS. From Containment to Mitigation of COVID-19 in the U.S. JAMA, March 13, 2020
Laura C. Myers, MD, MPH, et al. Characteristics of Hospitalized Adults with COVID-19 in an Integrated Health Care System in California. JAMA, April 24, 2020
Joseph Lewnard, PhD, et al (including DOR's Vincent Liu, MD). Incidence, clinical outcomes, and transmission dynamics of hospitalized 2019 coronavirus disease among 9,596,321 individuals residing in California and Washington. BMJ, May 22, 2020
Matthew Solomon, MD, PhD, et al. The COVID-19 Pandemic and the Incidence of Acute Myocardial Infarction. NEJM, May 19, 2020
Elizabeth Suh-Burgmann, MD, et al. Endometrial Cancer Detection During the Coronavirus Disease 2019 Pandemic. Obstetrics and Gynecology, July 21, 2020
Mai N. Nguyen-Huynh, MD, et al. Acute Stroke Presentation, Care, and Outcomes in Community Hospitals in Northern California During the COVID-19 Pandemic. Stroke, Aug. 7, 2020
Clinical trial results
Susan A. Olender,MD,  et al (including DOR's Alan S. Go, MD). Remdesivir for Severe COVID-19 Versus a Cohort Receiving Standard of Care. Clinical Infectious Diseases, July 24, 2020
Specialists' response to pandemic
Derek Satre, PhD, et al. Addressing Problems with Alcohol and Other Substances Among Older Adults During the COVID-19 Pandemic. American Journal of Geriatric Psychiatry, April 22, 2020
Douglas Corley, MD. PhD. COVID-19: What Should Clinicians and Scientists Do and When? Gastroenterology, March 19, 2020
Raymond Liu, MD, et al. Telehealth in Oncology During the COVID-19 Outbreak: Bringing the House Call Back Virtually. Journal of Oncology Practice, May 4, 2020
Jan Greene is a senior communications consultant with the Kaiser Permanente Division of Research in Northern California. This article was originally published on the Division of Research website.