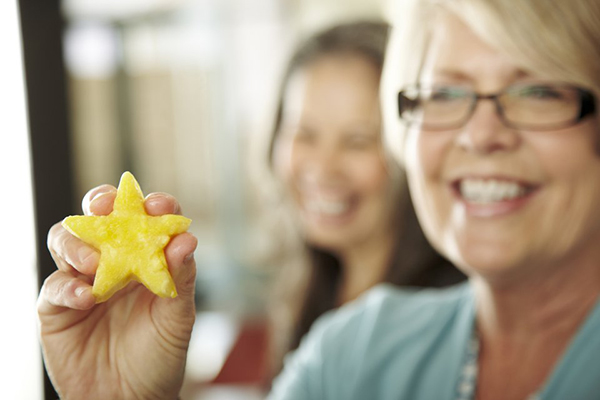 Kaiser Permanente Medicare Health Plans Among Nation's Best for Quality, Service
Organization Receives High Scores for Eighth Consecutive Year
OAKLAND, Calif.
Kaiser Permanente patients have come to expect seamless care, expert medicine, and top-notch service in every interaction they have with their clinicians and care teams. This commitment to quality represents one of the many reasons the organization's Medicare health plans have once again received high scores by the Centers for Medicare & Medicaid Services.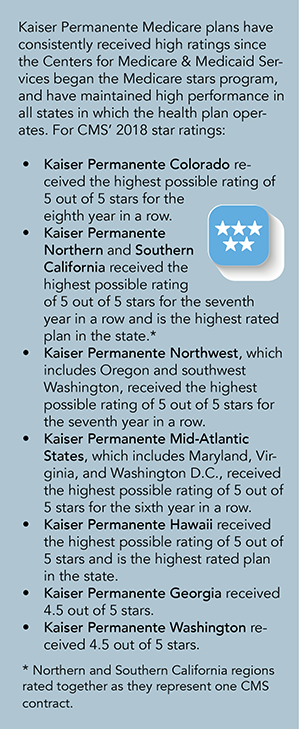 In Wednesday's announcement of the 2018 Medicare star quality ratings by CMS, Kaiser Permanente's Medicare health plans in Northern and Southern California, Colorado, Hawaii, Northwest, and Mid-Atlantic States received 5 out of 5 stars each. Kaiser Permanente in Georgia and Washington earned 4.5 out of 5 stars.
According to CMS, Kaiser Permanente represents five of 15 Medicare health plans (with Parts C and D) that earned 5 out of 5 stars, the highest overall rating. Of the nearly 2 million beneficiaries enrolled in those 5-star plans nationwide, 72 percent are Kaiser Permanente Medicare members.
"By providing excellent, compassionate care, our physicians and care teams are helping our members achieve and maintain total health," said Michael Kanter, MD, executive vice president of quality and chief quality officer for The Permanente Federation, the national organization for more than 21,000 physicians who provide care to Kaiser Permanente's 11.8 million members. "Our patients partner with their doctors to make personalized treatment decisions together so they can live full, active lives. The CMS ratings reflect the success of our person-centered approach to delivering safe and effective care."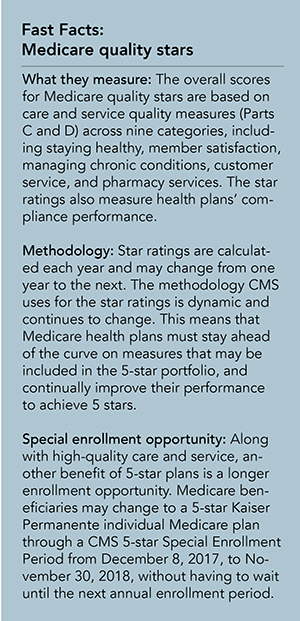 Making Choice Easier
CMS created the Medicare star quality rating system to provide beneficiaries with a way to assess Medicare plans based on quality of care and service delivery, so they can make an informed decision when choosing a plan. CMS uses the star ratings system to rank Medicare health plans on a scale of 1 to 5 stars, with 5 stars representing the highest quality.
Kaiser Permanente Medicare health plans have consistently received high ratings since CMS began awarding them in 2009.
"Our high star ratings year after year reflect the dedicated work of providers and staff throughout our organization to ensure the best care and service experience for our members," said Patrick Courneya, MD, executive vice president and chief medical officer for Kaiser Foundation Health Plan and Hospitals. "Kaiser Permanente's integrated model enables a seamless, coordinated care experience for members, and our commitment to evidence-based practices and prevention measures means we are our patients' partner in becoming their healthiest selves."
Leader in Quality
Kaiser Permanente's high rating by CMS is the latest of several quality recognitions the organization has achieved this year. In the "NCQA Health Insurance Plan Ratings 2017-2018" report, the National Committee for Quality Assurance lists all seven Kaiser Permanente Medicare plans as the highest rated or ranked, or tied-for-highest, in the markets they serve — for the sixth year in a row. And for the fifth consecutive year, Kaiser Permanente's Medicare website, kp.org/Medicare, was rated one of the top Medicare websites in the nation for providing consumers with an easy, positive, and high-value experience.
Medicare beneficiaries can learn more about the star ratings and Kaiser Permanente's Medicare health plans by visiting kp.org/medicarestars.