Kaiser Permanente Once Again Earns 'Leader in LGBTQ Healthcare Equality' Designation
All 38 of the organization's hospitals honored for high standards of care, employment and community engagement.
For the ninth consecutive year, all 38 of Kaiser Permanente's hospitals have been recognized as a "Leader in LGBTQ Healthcare Equality" by the Human Rights Campaign Foundation, the educational arm of the nation's largest lesbian, gay, bisexual, transgender and queer civil rights organization.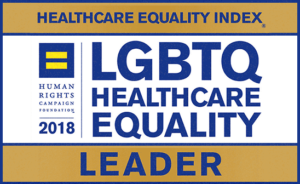 The designation, reported in the 11th edition of the Healthcare Equality Index, demonstrates Kaiser Permanente's commitment to equitable, inclusive care for LGBTQ patients, visitors and employees. Kaiser Permanente, the nation's largest integrated health system, has again earned a perfect score on the annual survey encouraging equal care for LGBTQ Americans.
"This honor reflects our ongoing, unwavering commitment to LGBTQ patient-centered care and continuous efforts toward equitable health outcomes for our LGBTQ members, patients and families," said Ronald L. Copeland, MD, FACS, senior vice president and chief Equity, Inclusion, and Diversity officer for Kaiser Permanente.

"High-quality, compassionate and equitable care is the cornerstone of Permanente Medicine," said Michael Kanter, MD, chief quality officer for The Permanente Federation, which represents Kaiser Permanente's more than 22,000 physicians. "This recognition reflects our care teams' dedication to meeting the complex health needs of the LGBTQ community and the welcoming environment we provide for our members and employees."
In its 11th year, the Healthcare Equality Index is the national LGBTQ benchmarking tool that evaluates health care facilities' policies and practices related to the equity and inclusion of their LGBTQ patients, visitors and employees. The HEI 2018 evaluates more than 1,600 health care facilities nationwide.
Kaiser Permanente has participated in the HEI since 2008 and has consistently moved up in its rankings, achieving a perfect score in 2010 and each year since. For the past decade, Kaiser Permanente has also received a top score on the Human Rights Campaign's annual Corporate Equality Index for its commitment to creating internal policies that foster diversity and inclusion, and providing training and benefits that create a fair and equitable workplace.
For more information about the 2018 Healthcare Equality Index, or to download a free copy of the report, visit hrc.org/hei.