Health, community experts discuss fentanyl crisis in The Permanente Journal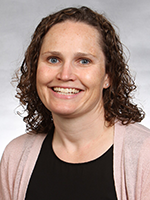 An expert panel discussion published in The Permanente Journal highlighted the nation's current fentanyl crisis. Led by Sarah J. Leitz, MD, addiction medicine specialist at Northwest Permanente, the discussion touched on themes of easier access to life-saving naloxone, finding strength through community support systems, and reducing stigma around substance use disorder.
The participants also questioned why the fentanyl crisis is so much more severe now than in years past. For example, according to the Oregon Health Authority, the state has experienced an influx of counterfeit pills containing fentanyl, and now fentanyl is the second leading cause of unintentional overdose.
 "There is a significant variation in the potency and amount of fentanyl in the counterfeit pills that are being sold in the United States," Dr. Leitz said. "These pills are being manufactured to appear like prescription pills, which is contributing to the increase in overdose deaths. Additionally, we are finding that fentanyl or its analogs are being mixed in with other substances, so patients are experiencing overdoses without even knowing that they've consumed an opioid."
Related story: "Self-described 'knowledge-seeker' leads relaunch of The Permanente Journal"
Along with Dr. Leitz, panelists included the following:
Sarah Bagley, MD, a pediatrician who specializes in the treatment of opioid use disorders in adolescents and young adults for Boston Medical Center
Amy Jo Cook, paramedic firefighter with Oregon's Clackamas Fire District
Christopher Jones, PharmD, acting director of the U.S. Centers for Disease Control and Prevention's National Center for Injury Prevention and Control
David Lawrence, MD, internal medicine physician and addiction specialist from the Veterans Affairs Greater Los Angeles Healthcare System
Pam Pearce, executive director of Community Living Above, an organization dedicated to youth prevention education and awareness of substance use disorders
Dr. Bagley indicated that part of the rising problem of fentanyl is caused by issues on the treatment side. "We simply need more and better options," she said, suggesting that currently available options such as methadone are inadequate in meeting the needs of patients experiencing opioid withdrawal.
Dr. Leitz emphasized that community support systems at all levels need to be engaged in meeting the needs of those affected by the fentanyl crisis. "All of us on the front lines need to support our communities and our schools to be able to provide needed information, and we need the support of policy, funding, and studies to facilitate this," she said.
A full transcript of the dialogue can be found in The Permanente Journal.
Related story: " 'Virtuous cycle' between research and clinical quality promoted by Nancy Gin, MD, in new commentary"