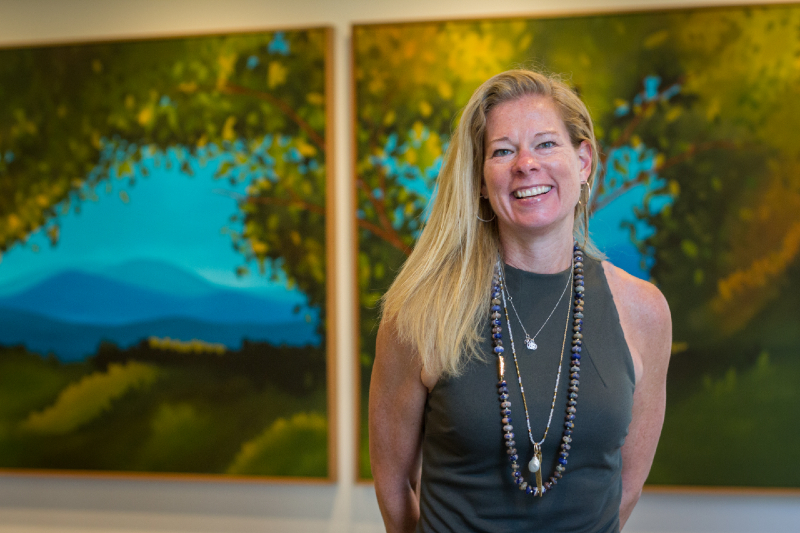 Global education on women's health equity
Kim Warner, MD, supports girls and women in their health journey at home and abroad
By Benjamin Seto
The Permanente Federation
In making career and life decisions, Permanente obstetrician-gynecologist Kim Warner, MD, focuses on one statement that she holds true: If you empower girls and women, you have better cultures and societies.
As early as she can remember, Dr. Warner of Colorado Permanente Medical Group (CPMG) always had an interest in understanding the disparities – educational, economic, social, and health – among girls and women in society. "I was always struck by the inequalities that girls had in education and in their own cultures," she says. "That was what inspired me initially, and then I did a deep dive into the disparities that girls and women find around the world, and locally, and ended up in health care because I also love the science piece of it."
Dr. Warner has a global view of women's health even though she grew up an only child, traveling very little, and spending much of her life in Denver – other than her 4 years of undergraduate studies in Vermont. But her passion for women's health education has taken her to cities in Africa, where she does volunteer work to improve the health of girls and women in places like Niger and Uganda.
Traveling to Africa for more than a decade, Dr. Warner says she initially did volunteer work to perform fistula repair surgeries. But she soon realized that she could help women and girls if she educated them about their health to avoid complications that would prompt the need for fistula surgeries.
"Fistula is a result of this whole downstream cultural lack of value for girls and women in society," Dr. Warner says. "I started doing contraception education, and then deliveries. In rural villages, I was showing midwives how to prevent post-partum hemorrhages, so a lot of maternity care."
Family affair
Dr. Warner's eldest daughter, Kiah, 16, traveled with her on the last 2 trips, and helped start a program providing menstrual cups to teenage girls so they could continue to attend school without the shaming that comes with managing their periods. She also noted that the introduction of menstrual cups is more sustainable for African society, reducing the need for pad or tampon disposal.
Dr. Warner also emphasizes that she tries to make education a component of the volunteer work so that practices continue after she returns home to Colorado. "My philosophy is you have to teach someone how to fish, not just catch the fish for them," she says.
Back home in Colorado, she regularly speaks to high school students on topics such as sexually transmitted diseases and does volunteer work helping teenage girls at shelters.
Because of her passion for helping girls and women, obstetrics and gynecology were a natural fit. "It's lovely to be able to take care of women through pregnancies and continue care through menopause," she says. "You get the full spectrum, and I enjoy being able to educate them throughout their lifetime."
Delving into government relations
Along with seeing patients and her volunteer work on women's health issues, Dr. Warner is CPMG's government relations chair, reporting to Executive Medical Director Margaret Ferguson, MD.
Dr. Warner had served on the CPMG board of directors, and when her second term was nearing an end, the CPMG leadership team asked if she wanted to lead the government relations work. For the last 6 years, she has been working with partners at Kaiser Foundation Health Plan of Colorado to monitor policies that can affect the health of Coloradans, and she has helped to create a CPMG section within the Colorado Medical Society.
If you empower girls and women, you have better cultures and societies.
Policy and government and volunteering work in Africa may seem worlds apart, but Dr. Warner says it's important to understand the forces that shape the society we live in. "It just adds to the richness of what you can offer and the different places you can fill in," she says.
With 3 daughters of her own (including 14-year-old twins), Dr. Warner wants to ensure that they grow up in a healthy and safe environment. She makes a point to talk openly and honestly about any topic and let them decide how much they want to learn.
"I tell them I'll be completely honest with them and answer any questions, as long as they don't tell their friends because their parents may want them to learn it a different way. … But there will be times when they'll have friends coming over for dinner and they'll ask that I not talk about vagina at the table."
It's this combination of candid honesty and awareness of cultural influences affecting women that enables Dr. Warner to connect with everyone from teenagers in Africa to policymakers in Colorado.