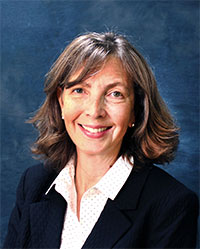 Margaret Ferguson, MD, MBA, MPH
Interim Executive Medical Director and President
Washington Permanente Medical Group
Margaret Ferguson, MD, MBA, MPH, practices hospital pediatrics and is interim president and executive medical director of the Washington Permanente Medical Group (WPMG). One of the state's largest multispecialty medical group practices, WPMG's 1,300-plus clinicians include physicians, physician assistants, optometrists, midwives, and psychologists. Together, the medical group cares for more than 665,000 Washingtonians.
In her interim role, Dr. Ferguson will provide stability through the many changes currently in flight, lead the implementation of certain elements of the region's transformation, and provide a smooth transition to WPMG's permanent EMD.
Dr. Ferguson retired from Colorado Permanente Medical Group (CPMG) in 2021 after leading the organization through a transformation that included monumental operational changes and rapid adaptation in a competitive industry. Dr. Ferguson joined Colorado Permanente Medical Group in 2004 and held various positions including pediatric hospitalist physician lead, physician director of resource stewardship, and vice president of affordability. In her final CPMG role, she was the first woman to lead the region as executive medical director.
While at CPMG, she served as a national sponsor for Kaiser Permanente's Digital Action Team; she has a deep interest in building health care systems that integrate digital and virtual care. The COVID-19 pandemic demonstrated the importance of such systems and her support and encouragement of digital and virtual work continues to accelerate.
A pediatric intensive care and flight nurse for almost 8 years, Dr. Ferguson earned her medical degree at the University of Colorado School of Medicine. She then trained in pediatrics and pediatric critical care and served as the medical director of the pediatric intensive care unit physician at Children's Hospital Colorado.
Dr. Ferguson completed her Master's of Business Administration in 2016 from the University of Colorado at Denver and her Master's of Public Health from George Washington University in 2022.