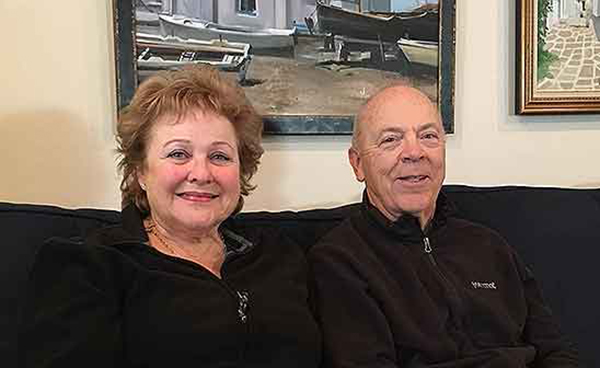 Fast Stroke Treatment Saves Lives
37 Kaiser Permanente Medical Centers Honored with Stroke 'Guidelines' Award
For Kaiser Permanente member Bob Wilms, it was a November Sunday morning like many others: The 69-year-old had played 18 holes of golf and then went home to watch the 49ers game at his home in Cupertino, California.
But when he woke up from a brief nap during the game, he experienced double vision and one side of his face was numb.
His wife, Vickie, immediately drove him to the Kaiser Permanente Santa Clara Medical Center Emergency Department. After being evaluated by neurologist via video conferencing, Wilms was diagnosed as having a stroke and received a shot of alteplase (also known as intravenous r-tPA), the only medication approved by the U.S. Food and Drug Administration to treat acute ischemic stroke. This all happened 22 minutes after Wilms arrived at the hospital.
"Within minutes of getting the infusion, everything started to come back," said Wilms, a retired college admissions officer. "It literally resolved the whole thing."
'Get With the Guidelines' award
Kaiser Permanente stroke patients receive this clot-busting medication more than twice as fast as the national average. Recently, all of Kaiser Permanente's eligible 37 medical centers — in Northern California, Southern California, Oregon and Hawaii — were recipients of a 2017 "Get With the Guidelines" award given by the American Heart Association and the American Stroke Association. The honor, which analyzes nearly 3,000 hospitals in the U.S., is awarded to hospitals that demonstrate high commitment to following guidelines shown to improve patient outcomes, including quick diagnosis and treatment.
Wilms' fast recovery is attributed to Kaiser Permanente's adoption of an integrated, neatly choreographed telemedicine program, which begins when paramedics or other medical staff provide advance notification that a stroke patient may be on the way. Emergency department staff then align their efforts:
Pharmacy staff prepare clot-busting medications early so they're ready to go when the patient needs them.
An on-call, specially trained stroke neurologist uses videoconferencing to examine the patient with a telestroke cart, which includes a video camera and link to test results and the patient's electronic medical record.
A radiologist quickly reads neuroimaging studies.
The stroke alert team reviews a checklist to ensure r-tPA can be administered safely.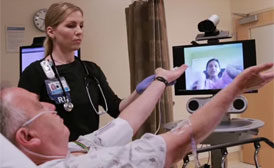 "When a stroke happens, minutes matter," said Mai Nguyen-Huynh, MD, MAS, vascular neurologist and research scientist with the Kaiser Permanente Division of Research. "Faster treatment with r-tPA, which dissolves the stroke-causing clot and restores blood flow to the brain, is strongly associated with better functional outcomes for stroke patients."
The AHA and ASA guidelines recommend "door-to-needle" times of 60 minutes or less for r-tPA. Studies show that less than 30 percent of acute ischemic stroke patients in the United States are currently being treated within this window. In Northern California's 21 hospitals, door-to-needle times for r-tPA averaged just 34 minutes within nine months of implementing the telestroke protocol.
"Processes that used to happen sequentially during a stroke alert, one after another, are now happening at the same time, allowing us to quickly, safely and confidently provide evaluation and treatment with r-tPA to stroke patients who can benefit," said Jeffrey Klingman, MD, chair of chiefs of neurology for Kaiser Permanente Northern California.
"When minutes count, Kaiser Permanente's telestroke model delivers," explains Navdeep Sangha, MD, who leads telestroke efforts in Southern California "If a patient with stroke symptoms arrives to the local emergency department, the care team can connect virtually to a trained neurologist in a couple of minutes. For our patients, our coordinated process provides precious time to receive potentially life-saving care for an ischemic stroke."
'Like watching an orchestra'
After being in the hospital for four days so the staff could closely monitor his recovery, Wilms and wife Vickie were given the all-clear to go home.
Wilms now plays golf every day and hikes as if "nothing ever happened."
"Thanks to the folks at Kaiser Permanente, I'm still alive," said Wilms.
Vickie also commented on her husband's excellent care.
"Even though I was in shock, it was an incredible experience to watch. All the staff that assisted him were so synchronized and knew exactly what to do. It was like watching an orchestra. Everyone knew the steps to take to save my husband's life."
This article originally appeared on KP Share.