Transitions 2022: APG Colloquium
October 31, 2022

-

November 2, 2022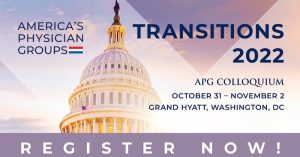 This year's theme, Transitions 2022, reflects the fact that the industry is on the verge of important transitions in health care including in the progression to value-based care, as well as through potential changes in the political environment as a result of the midterm elections. "Transitions 2022: APG Colloquium" will take place from October 31 to November 2 in Washington, D.C. The Permanente Federation's executive vice president of External Affairs, Communications and Brand, Stephen Parodi, MD, is scheduled to present an Innovations in Health Care Delivery session focused on advanced care at home on November 1.
Other conference speakers include Anthony Fauci, MD, director, National Institute of Allergy and Infectious Diseases, and Thomas Insel, MD, executive chair, Vanna Health.
For more information, visit the APG website.