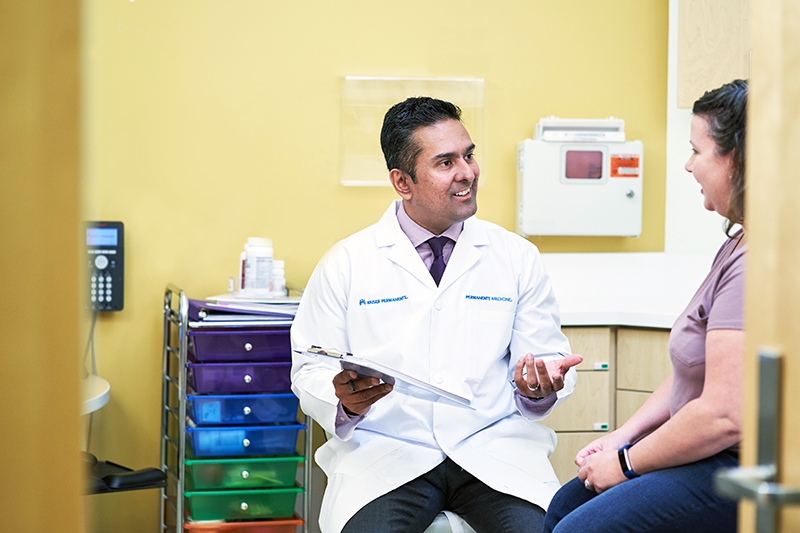 Destination health: Stopping cancer before it starts
Kaiser Permanente is creating more healthy life years with a combined focus on cancer prevention, screening, treatment, and research
By Nancy Gin, MD, and Patrick T. Courneya, MD
The American Cancer Society estimates that 1.8 million new cases of cancer will be diagnosed in the United States, and cancer will take the lives of more than 600,000 Americans in 2020.
For decades, the medical community has focused the fight against cancer on new and improved treatments for a large variety of conditions that are characterized by uncontrolled cell growth. Yet cancer continues to impact far too many people and claim far too many lives. Nearly 4 in 10 Americans will be diagnosed with cancer at some point in their lifetimes, and cancer remains the second-leading cause of death in the United States.
Faced with this immense reach and impact, we must look beyond old models to save more lives.
Many cancers are preventable
Prevention provides the foundation for the next era of cancer care. At least 42% of all cancers are preventable. It is critically important for the medical community to get better at stopping it before it starts.
We know that environmental and lifestyle factors can have an impact on developing cancer. As cancer care evolves, we must address known risks — such as obesity and tobacco use — with coordinated, sustained approaches to lifestyle changes that help patients feel supported, rather than discouraged or shamed. At Kaiser Permanente, we are proud to have helped more than 250,000 members quit smoking in the past 5 years.
For those at risk from cancers that involve genetic mutations passed from parents to their children, advances in genomics provide new tools for prevention. Once a family member is identified with a gene mutation, such as BRCA1 or BRCA2 for hereditary breast cancer, other family members can be tested and, working in partnership with a genetic counselor and physician, opt for careful monitoring or a preventive procedure such as mastectomy.
Traditional screening tests can catch cancer several other cancers before symptoms appear, when treatments are often more effective and less drastic. Early detection reduces the risk of death and gives patients a greater range of treatment options. When caught and treated early, 90% of colorectal and breast cancer patients survive 5 or more years after diagnosis.
Electronic health records and telehealth are transforming the ability to effectively screen large groups of people. At Kaiser Permanente, for example, our members' cancer screening schedules are customized based on their age, health history, and other risk factors to deliver highly effective, personalized care. On the cutting edge, investments in artificial intelligence hold promise to deliver tools that complement physician expertise to increase the accuracy of cancer screening and diagnosis.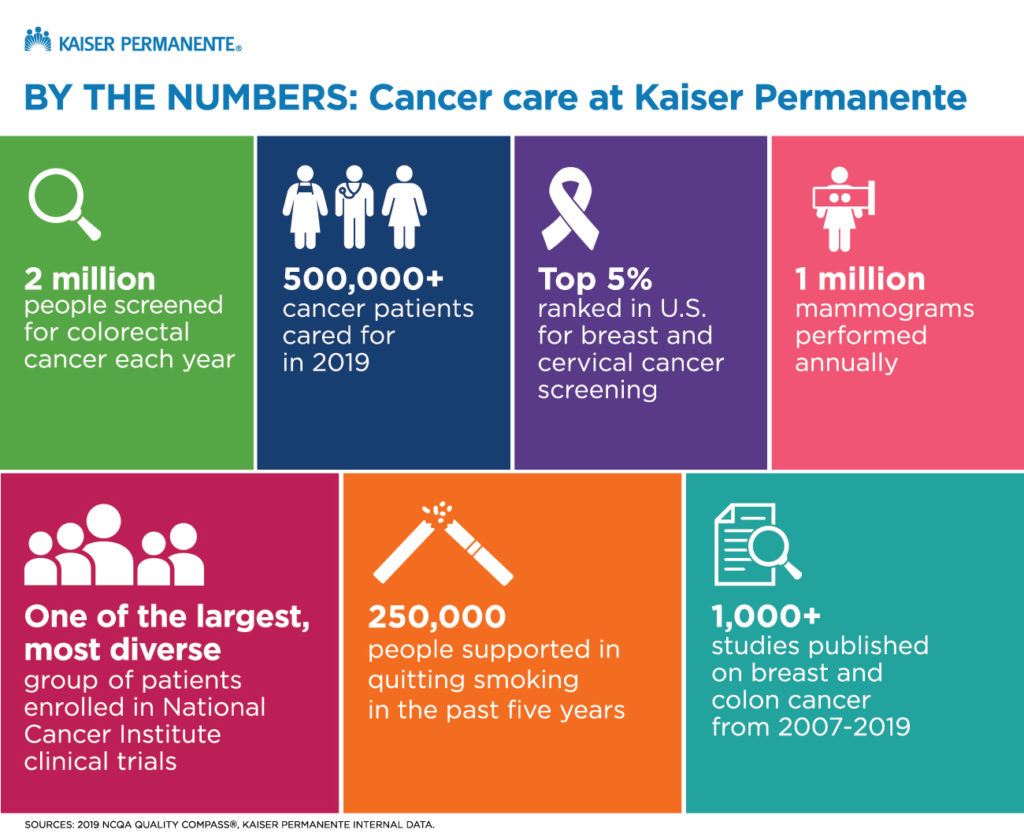 Innovations in treatment
Research and advances in technology are accelerating the development of innovations in cancer treatment. Immunotherapy, as well as other new therapies that target specific cells in individual tumors, have helped improve the 5-year survival rate for lung cancer by 26% in the past decade. But more work needs to be done. The availability of effective treatment increases the importance of preventive screening for high-risk patients, which can mean earlier treatment and increased survival rates.
The lessons learned in prevention, such as using technology to streamline, standardize, and personalize interactions, can be applied at every point in the cancer care continuum – screening, diagnosis, treatment, and the care we provide for survivors as well as those at the end of life. Technology can also increase coordination among all members of the care team to increase timeliness; improve care before, during, and after treatment; reduce medical errors; and ultimately, reduce sleepless nights for our patients.
In addition, Kaiser Permanente's strong connections with the research community facilitate matching our patients to the right clinical trials, another example of our position at the leading edge of treatment while developing the cancer care of the future.
Building on a foundation of prevention, we can ensure that fewer people get cancer and that cancer patients have the information, tools, and treatments they need to fight the disease, so they can celebrate more birthdays, anniversaries, and milestones in their lives.
Nancy Gin, MD, is executive vice president, Quality, and chief quality officer, The Permanente Federation; and Patrick T. Courneya, MD, is executive vice president and chief medical officer, Kaiser Foundation Health Plan and Hospitals.