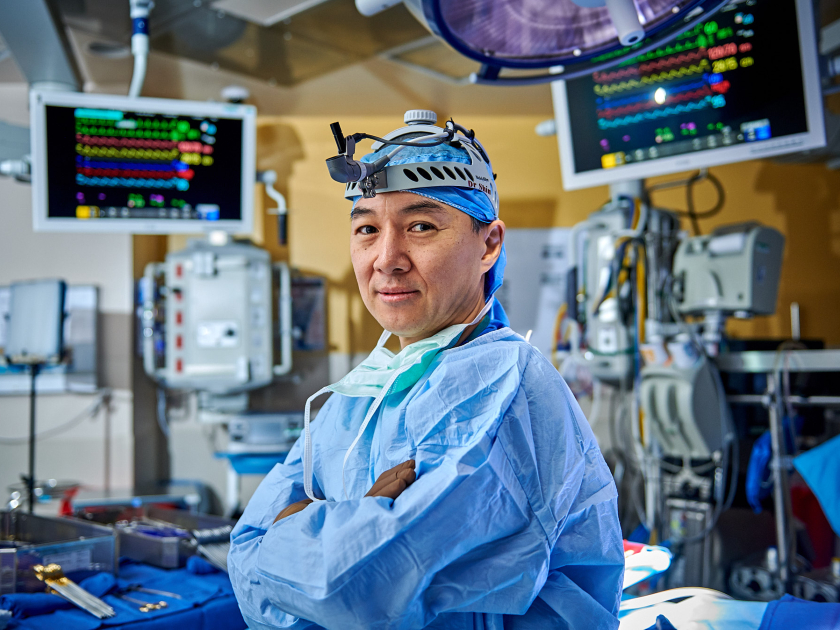 An elite cardiac program with heart
Expert surgeons and cardiologists achieve high-quality care at Kaiser Permanente Northwest
When Kaiser Permanente member David Ford decided to finally see his primary care physician about persistent chest pain, which he had been self-medicating with over-the-counter antacids, he was referred to Yong Shin, MD, chief of Cardiovascular Surgery at Kaiser Permanente's Northwest Center for Heart and Vascular Care in Clackamas, Oregon.
Ford underwent numerous tests so Dr. Shin and his care team could identify the source of the problem and recommend a treatment that would give him the best outcome.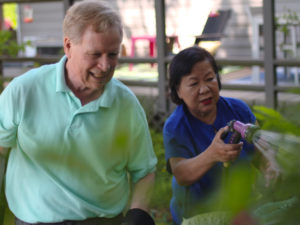 As a retired health care executive, Ford felt out of his comfort zone in his new role as a patient — but he and his wife, Phi, did their homework. They were pleased to learn that Dr. Shin, a cardiothoracic surgeon with Northwest Permanente, had attended Cornell University and trained at Harvard Medical School before leading the launch in 2009 of Kaiser Permanente Northwest's heart surgery program.
Trusted expertise
"We learned that Dr. Shin is committed to providing the least intervention possible," says Ford. "That resonated with us in a good way."
In fact, Ford, who needed a coronary artery bypass grafting surgery, was receiving care at a medical center among the elite for these types of surgeries in the United States and Canada – the Kaiser Permanente Sunnyside Medical Center in Clackamas. Over the years under Dr. Shin's direction, the cardiac program at Sunnyside has received the following recognition:
Three stars (the highest rating) from the Society of Thoracic Surgeons (STS) for patient care and outcomes in coronary artery bypass grafting (for 9 straight years), aortic valve replacement, and mitral valve repair/replacement.
A 3-star rating from the Society of Thoracic Surgeons for patient care and lung cancer resection outcomes.
In 2018, Consumer Reports named Kaiser Permanente Sunnyside Medical Center one of just 18 hospitals in the country to earn top scores in coronary artery bypass grafting and in aortic valve replacement
World-class heart surgery program
Building the Northwest's top-rated heart program took time, dedication, and heart. In Dr. Shin's words, "We looked at what would be best for patients and their families, and we put them at the center of all our decisions. We created a program where we would feel confident sending our own loved ones."
He attributes the program's success to a rigorous focus on multidisciplinary care, evidence-based medicine, recruiting top talent, and teamwork.
We make every stitch a masterpiece. When patients trust us with their lives, we are obligated to do our very best.

– Yong Shin, MD, chief of Cardiovascular Surgery
As for multidisciplinary care, Dr. Shin calls out several specialists that form a patient's care team, such as surgeons, cardiologists, critical care doctors, hospitalists, physician assistants, nurses, pharmacists, dieticians, care coordinators, social workers, physical therapists, respiratory therapists … and the list goes on.
"Just as it takes a village to raise a child, it takes an entire hospital to have a successful heart program," he said.
Ford says he's grateful for the entire "village" who cared for him, from pre-admission all the way through discharge and follow-up. "All the pieces were knitted together to form a team that functioned flawlessly. This says a lot about the integrity — and the uniqueness — of the program that Dr. Shin and his team have built."
Dr. Shin believes Kaiser Permanente's Center for Heart and Vascular Care has achieved — and maintained — clinical excellence because, "We focus on giving the best care possible to our patients. "It's a privilege and a blessing to come to work every day because I know that I have a 100 percent chance of helping somebody," he said.
Learn more about cardiac care at Kaiser Permanente at kp.org/cardiac/northwest.
This is reprinted from the KP Share site.