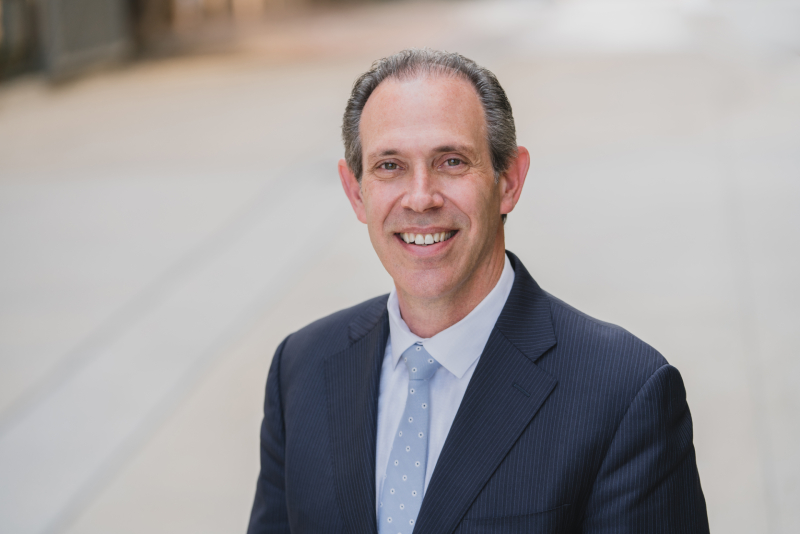 Supporting delivery of care during a time of change
Todd Sachs, MD, emphasizes integrated care through operational role during coronavirus pandemic
By Benjamin Seto
The Permanente Federation
As the medical director of Operations for Southern California Permanente Medical Group with oversight of a vast geography, Todd Sachs, MD, is accustomed to pivoting to the next urgent issue. While his days are typically very busy, the COVID-19 pandemic has provided a new definition for the word.
In the last few weeks, he and a team of other leaders at Kaiser Permanente have been working around the clock to ensure all the logistics are in place to continue to deliver safe, high-quality care to patients in the midst of a "shelter-in-place" order from California Gov. Gavin Newsom. The work also involves planning for a predicted surge in patient demand never seen before even in the most challenging of flu seasons. Coordination of efforts, equipment, supplies, workforce, and ongoing communication is critical to effectively navigate the evolving COVID-19 situation.
"These are unprecedented times. No one, within or outside Kaiser Permanente, has ever experienced anything like this," Dr. Sachs says. "The most important thing we as leaders can do is to make sure we're stepping up to lead in every way possible, assisting our members, patients, staff, and communities to feel safe and stay healthy."
Since assuming his leadership role in Operations in 2012, Dr. Sachs' responsibilities have included overseeing all ambulatory operations across the Southern California region, physician workforce planning, and overall service delivery strategy including primary and tertiary care. He says he approaches this role with an uppermost focus on clinical quality and the financial realities that are part of the business.
During the coronavirus pandemic, Dr. Sachs' vast experience and relationships have helped him focus on connecting the right people throughout the organization to the right resources. The primary work has been on creating capacity to effectively navigate an anticipated surge of patients. He says this involves detailed and extensive preparation, ensuring the right leaders are in the right roles, and that effective communication occurs between stakeholders along the way. "My role is making sure I eliminate barriers and support what our medical centers, physicians, and staff need in order to take care of people during this time," Dr. Sachs says.
An integrated response
In coordinating care delivery and services during a pandemic, Dr. Sachs says Kaiser Permanente has an advantage because of its integrated care model that includes various clinical disciplines and health care services under one system. "The integrated nature of our care delivery is part of our DNA," he says. "Everyone steps up to do the right thing, together. It's a beautiful symphony of talent and leadership."
The uptick in telehealth services – from video visits to phone appointments – is an example of how the organization is mobilizing to implement more instances of virtual care and meet members where it is most convenient for them. This reduces the need for patients to come into facilities, which encourages them to adhere to social distancing. Public health stay-at-home policies have shown to be beneficial in slowing the spread of the novel coronavirus and flattening the curve of infections.
The integrated nature of our care delivery is part of our DNA. Everyone steps up to do the right thing, together. It's a beautiful symphony of talent and leadership.
Dr. Sachs' natural ability to work with people and find solutions is one of the reasons he went into the medical professional instead of following his initial plan to go into a different field of science.
"I always loved science and math courses in school," he says. "But a mentor of mine noticed I cared about the impact of my biochemistry experiments on people more than anything, and he thought my true calling was as a physician, taking care of patients, one on one, instead of behind the scenes."
Being able to see how his efforts changed the lives for people also explains why after medical school Dr. Sachs pursued a career as a general surgeon. "I loved interacting with patients and their families the most. With surgery, you can help people immediately with their needs. I love the ability to make an impact in an urgent way that can make a big difference in people's lives."
Physician leadership
Along with his regional role, Dr. Sachs serves as executive vice president of Corporate Development and Finance for The Permanente Federation, where he has oversight over planning for the organization's strategy and growth. His leadership roles allow Dr. Sachs to affect people's lives in a different way. It's not something he studied in medical school, and often he has to learn on the job.
"It takes a bit of time to learn all the intricacies that are required to move us forward as an organization," he says, "and it's so important to have the physician voice at the table."
His contributions help to transform and improve the way care is delivered to patients. The coronavirus pandemic is forcing organizations to redefine health care for the future, and Dr. Sachs believes Kaiser Permanente, practicing Permanente Medicine, is well positioned to find new ways to efficiently and effectively provide the care people need.
"What I've seen in the 34 years I've been at Kaiser Permanente is that we are an extraordinary organization that can take on any crisis or challenge and come out the other side stronger," he says. "I'm seeing it again even during this difficult and challenging time of COVID-19. I could not be more proud."