Stephen Parodi, MD, writes in STAT about how care at home provides promise for patients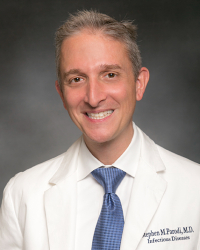 Hospital-level care delivered at home, also referred to as "hospital at home" and "acute or advanced care at home," enables physicians and clinicians to extend high-quality, safe, equitable care to patients where they are most comfortable. This was especially true during the COVID-19 pandemic, which accelerated development and adoption of this model by health systems across the country.
However, this kind of care will stall without Congressional action to extend flexibilities for advanced care at home beyond the public health emergency. The flexibilities issued by the Acute Hospital Care at Home Waiver provide the "stability and certainty that health plans and systems need to offer the personalized at-home care that patients prefer," wrote Stephen Parodi, MD, executive vice president at The Permanente Federation, and associate executive director for The Permanente Medical Group, in STAT.
Related story: "Stephen Parodi, MD, highlights bill extending waivers for hospital-at-home programs"
If data from Kaiser Permanente's Care at Home program is any indication, the delivery model holds incredible promise for improving quality, safety, and equity outcomes for acute-level care. In addition to improving access for patients with social barriers, such as transportation and food insecurity, the program was associated with better quality care. For example, less than 1% of in-home patients enrolled at Kaiser Permanente over a 12-month period from 2020 to 2021 acquired an infection compared to 8.6% of all hospital patients. Patients also said that their care teams were more responsive, that they experienced smoother care transitions, and had overall better experiences than patients who received traditional patient care.
Dr. Parodi and co-author Ceci Connolly, president and CEO of Alliance of Community Health Plans, noted that only a small percentage of the 240 hospitals approved for the waiver program are providing this care. Many health systems and hospitals are reluctant to invest in staffing and resources while the regulatory support is uncertain, they explained. By extending the waiver, Congress can ensure that physicians and care teams are able to deliver high-quality, person-centered care at home.
Note: Read the full opinion piece at STAT News.
Learn more: "Kaiser Permanente Care at Home"