Spring 2019 edition of the Permanente Journal now available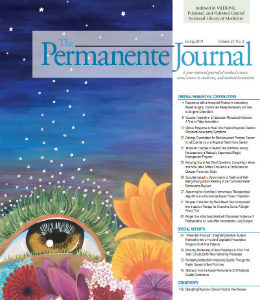 The latest Permanente Journal is now available for download, and includes a variety of peer-reviewed articles and studies on topics from medically supervised weight management programs to physician mentoring of first-year doctors.
Similar to previous years, this edition also includes the 44 abstracts submitted to the 2019 Kaiser Permanente National Quality Conference. The abstracts are published in a special report of the Journal to encourage faster spread of best practices.
Read more about what's inside this quarter's Journal and click on articles of interest below. Or you can download the PDF for the complete edition.
Original research and contributions
Experience with a Nonopioid Protocol in Ambulatory Breast Surgery: Opioids are Rarely Necessary and Use is Surgeon-Dependent 
Kara A Rothenberg, MD; Michelle R Huyser, MD; Joanne K Edquilang, MD; Elizabeth L Cureton, MD; Rita O Kwan, MD, MPH; Peter D Peng, MD; Jonathan D Svahn, MD; Veronica Shim, MD
Surgeons write 1.8% of all prescriptions and 9.8% of all opioid prescriptions. Of a total of 180 patients (median age 63 years), 127 did not receive opioids; 53 were prescribed opioids against protocol. The operating surgeon was the only variable independently correlated with protocol adherence. Ambulatory breast surgery patients tolerated a nonopioid pain regimen well. Surgeons' decisions, rather than patient characteristics, primarily drove the choice of pain management in our study.
Cocaine Positivity in ST-Elevation Myocardial Infarction: A True or False Association 
Ikechukwu Ifedili, MD; Tamunoinemi Bob-Manuel, MD; Siri R Kadire, MD; Britteny Heard, MD; Leah A John, MD; Benjamin Zambetti, MD; Mark R Heckle, MD; Fridtjof Thomas, MD; Showkat Haji, MD; Rami N Khouzam, MD; Guy L Reed, MD; Uzoma N Ibebuogu, MD
Every year, more than 500,000 US Emergency Department visits are associated with cocaine use. In a retrospective analysis, of 1144 consecutive patients with ST-elevation myocardial infarction (STEMI; 2008-2013), 64 patients with suspected STEMI were cocaine positive (CPos) (mean age 53.1, 80% male). True STEMI was diagnosed in 34 patients. Patients with CPos true STEMI were more likely to be uninsured. Among those with suspected STEMI, patients with CPos findings had a higher incidence of false STEMI.
Clinical Response to Real-Time Patient-Reported Diabetic Peripheral Neuropathy Symptoms 
Somalee Banerjee, MD, MPH; Eileen Kim, MD; Melissa M Parker, MS; Lisa K Gilliam, MD, PhD; Rick Dlott, MD; Alyce Adams, PhD
Retrospective cohort study to analyze data from 160,852 patients screened for diabetic peripheral neuropathy (DPN) symptoms from 4/12-3/14. Of patients queried, 50,684 (31.5%) reported symptoms. Patients reporting DPN symptoms experienced a greater increase in new DPN diagnoses and medication use. Women and nonwhite patients were less likely to receive a DPN diagnosis; older patients were more likely. Overall, patients who were older, were Asian, and had lower socioeconomic status were less likely to be treated.
Salvage Cryoablation for Radiorecurrent Prostate Cancer: Initial Experience at a Regional Health Care System 
Seena Safavy, MD; Ramzi B Jabaji, MD; Sharon M Lu, MD; Jeff M Slezak, PhD; Harry A Cosmatos, MD; Stephen G Williams, MD; David S Finley, MD
On retrospective review of patients' medical records (salvage cryoablation 2005-2015), all patients had biopsy-proven local recurrence after radiotherapy. Complete follow-up was obtained for all patients. Seventy-five patients underwent salvage cryotherapy. Mean patient age was 69.3 years. The overall biochemical salvage rate was 50.7% at a median follow-up of 3.9 years. Approximately 50% of the patients achieved biochemical salvage with cryoablation at 5 years. Nadir prostate-specific antigen after salvage was the strongest predictor of biochemical progression-free survival in our cohort.
Temporal Changes in Health Care Utilization among Participants of a Medically Supervised Weight Management Program 
Ashok Krishnaswami, MD, MAS; Stephen Sidney, MD, MPH; Michael Sorel, MPH; Wayne Smith, MD; Rohini Ashok, MD
In a retrospective study of 10,693 weight-management program participants across 21 Kaiser Permanente Northern California centers during a 5-year period, at baseline the participants' average age was 51.1 years, and the mean body mass index was 39.7 kg/m2. At the end of 4 months, there was a significant decrease in primary care visits, with an increase in ambulatory clinic visits and health care touches (because of increased weight management visits). At the end of 5 years, there was a 25% to 35% decrease from baseline in all 3 health care utilization metrics.
Knowing How to Ask Good Questions: Comparing Latinos and Non-Latino Whites Enrolled in a Cardiovascular Disease Prevention Study
Diego X Torres; Wendy Y Lu, MPH; Connie S Uratsu, RN, MS, PHN; Stacy A Sterling, DrPH, MSW; Richard W Grant, MD, MPH
To better understand differences in how Latinos and non-Latino whites (NLWs) experience cardiovascular disease care, the authors examined self-reported activation, engagement, confidence, and communication comparing Latinos (n = 194) and NLWs (n = 208). Latinos were younger, less educated, and had lower incomes than NLWs, and were significantly less likely to report knowing how to ask good questions about their health and to report positive experiences and confidence with several measures of chronic illness care. Interventions should emphasize question-asking skills.
Sociodemographic Determinants of Health and Well-Being Among Adults Residing in the Combined Kaiser Permanente Regions
Matthew C Stiefel, MPA, MS; Nancy P Gordon, ScD; Folasade J Wilson-Anumudu, MPH; Emily L Arsen, MPH
A cross-sectional email-and-phone survey (Winter 2016-2017) with a racial/ethnic group-stratified quota sample (N = 26,304) found 52% in excellent/very good (E/VG) health and 63% were thriving. Blacks were less likely to be in E/VG health than whites, Hispanics, and Asian/Pacific Islanders, but there was little racial/ethnic variation in those who were thriving. Differences in health status and life evaluation are associated very strongly with financial situation and educational attainment, partially explaining racial/ethnic disparities in health and well-being. The lack of strong correlation of health status and life evaluation suggests these are different domains of well-being.
Assessing the Hereditary Hemorrhagic Telangiectasia Algorithms in a Community-Based Patient Population 
Tina Saparia, MD; Marie E Faughnan, MD; Jennifer L Schneider, MPH; Lucy M Almers, MPH; Norma Chow, MS LCGC; Scott D Grosse, PhD; Helen Kim, PhD6; Jonathan G Zaroff, MD
Hereditary hemorrhagic telangiectasia (HHT) is a rare, genetic, and underdiagnosed disease that causes vascular malformations throughout the body. The "HHT Algorithms" (HHTAs) were applied to the patient population of Kaiser Permanente Northern California. Of 3,065,210 records queried, 163 patients met HHTA criteria. After chart review, the study identified 113 patients with possible undiagnosed HHT. Employing the HHTAs in this community-based population resulted in a modest yield of patients with possible HHT.
Relapse Prevention by Plant-Based Diet Incorporated into Induction Therapy for Ulcerative Colitis: A Single-Group Trial 
Mitsuro Chiba, MD, PhD; Kunio Nakane, MD, PhD; Tsuyotoshi Tsuji, MD, PhD; Satoko Tsuda, MD; Hajime Ishii, MD, PhD; Hideo Ohno, MD; Kenta Watanabe, MD; Yu Obara, MD; Masafumi Komatsu, MD, PhD; Takeshi Sugawara, MD
All patients with ulcerative colitis between 2003 and 2017 were admitted for induction therapy. Patients receiving educational hospitalization or treated with infliximab were excluded. A lacto-ovo-semivegetarian diet together with medication prescribed according to ulcerative colitis guidelines was provided during hospitalization. Ninety-two cases were studied (51 initial episodes and 41 relapses). Cases varied in severity (31 mild, 48 moderate, 13 severe). Cumulative relapse rates at 1- and 5-year of follow-up (Kaplan-Meier analysis) were 14% and 27%, respectively, for initial episode cases, and 36% and 53%, respectively, for relapse cases.
Progel Use is Not Associated with Decreased Incidence of Postoperative Air Leak after Nonanatomic Lung Surgery 
Rebecca C Gologorsky, MD; Amy L Alabaster; Simon K Ashiku, MD; Ashish R Patel, MD; Jeffrey B Velotta, MD
This is a retrospective study of 176 patients (age 18-80 years) who underwent video-assisted thoracoscopic wedge resections between 2014 and 2016. Eighty-four (48%) cases using Progel and 92 (52%) non-Progel cases were included. No difference existed between the Progel and the non-Progel groups in the rate of postoperative air leak. The length of time patients had a chest tube was similar, as was the percentage of patients with a less than 2-day hospitalization.
Fractional Exhaled Nitric Oxide-Assisted Management of Uncontrolled Persistent Asthma: A Real-World Prospective Observational Study 
Robert Stephen Zeiger, MD, PhD; Michael Schatz, MD, MS; Su-Jau Yang, PhD; Wansu Chen, MS, PhD
This is a prospective observational study in patients aged 12 years and older with uncontrolled persistent asthma identified during a scheduled visit to an Allergy Department. Compared with standard care, Fractional Exhaled Nitric Oxide (FeNO)-assisted care was not associated with reducing the primary composite outcome, nor with a reduction in asthma exacerbations or dispensing of 7 or more short-acting β2-agonist canisters as separate outcomes. In an atopic subgroup with aeroallergen sensitization, the composite outcome was similar between groups, but the rate of asthma exacerbations was lower with FeNO-assisted treatment.
Health Status of Young Adults with Insurance Coverage Before and After Affordable Care Act Passage
Gelliza B Gervacio, MPH; Margo Sidell, ScD, MSPH; Xia Li, MS; Deborah R Young, PhD, MBA; Michael Batech, DrPH; Lei Qian, PhD; Kristi Reynolds, PhD, MPH; Corinna Koebnick, PhD
For this cross-sectional descriptive study, electronic health record information for young adults (age 18-25 years) enrolled in a large Southern California Health Plan in 2008, 2010, or 2015 was obtained (N = 665,686). The number enrolled in the Health Plan increased by 145,000 (65%) with a shift toward low-income young adults. The prevalences of obesity and other health conditions between pre-Affordable Care Act and post-Affordable Care Act periods essentially were unaltered.
Temporal Trends in Mortality Rates among Kaiser Permanente Southern California Health Plan Enrollees, 2001-2016 
Wansu Chen, PhD; Janis Yao, MS; Zhi Liang, PhD; Fagen Xie, PhD; Don McCarthy, MS; Lee Mingsum, MD, PhD; Kristi Reynolds, PhD; Corinne Koebnick, PhD; Steven Jacobsen, MD, PhD
Trends using data collected at Kaiser Permanente Southern California (KPSC) and those derived through linkage with California State death files were compared with trends in the US and California. The age-adjusted all-cause mortality rate per 100,000 person-years decreased significantly in KPSC, California, and the US. Rates of cancer and heart disease also decreased significantly. No significant difference was found in the trends of race/ethnicity-specific, sex-specific, or race/ethnicity- and sex-specific all-cause mortality rates between KPSC and California or the US.
Effect of Helicobacter pylori Treatment on Unexplained Iron Deficiency Anemia 
Daniel S Tseng, MD, MS, FACP; Dan Li, MD,; Sri M Cholleti, MD; Julia C Wei, MPH; Yves Jodesty, MD; Hung-Viet Pham, MD
Special Report
"Prevention Produce": Integrating Medical Student Mentorship into a Fruit and Vegetable Prescription Program for At-Risk Patients
Jane Marie Forbes, MD; Cameron Russell Forbes, MD; Erik Lehman, MS; Daniel R George, PhD
Fruit and vegetable prescription programs provide increased access to produce to food-insecure, at-risk populations, yet many lack the educational and social components to support long-term disease prevention. Nine families deemed by clinicians as at risk of chronic disease and food insecurity received weekly $40 "prescriptions" for produce at partnering farmer's markets. Participants were paired with medical student mentors who delivered weekly nutrition education modules and assisted in produce shopping. Postprogram fruit and vegetable consumption increased, and more patients expressed efforts to include produce in every meal. Student mentors expressed gratitude for one-on-one interaction and felt empowered to learn and deliver nutrition education.
Ensuring Mentorship of New Physicians in Their First Year: Constructs for New Mentoring Processes 
Wynnyee Tom, MD; Wynnmian Tom, MD; Daisy Albarran; Nina Salman, MSHA; Aneema Van Groenou, MD
We aimed to achieve a structured framework for mentor training, evaluation of the mentor-mentee relationship, and development of a bridge for the knowledge gaps and needs of the individual physicians in their departments. The new mentoring process was improved compared with the current mentoring process. Polling of physician mentees after implementation of the checklist showed a 75% completion rate of checklist competencies from January 2017 to April 2018, compared with a baseline of 0%. This process can lead to active participation and meaningful change in competencies among new physicians.
Promising Methods for Improving Quality Through the Faster Spread of Best Practices
Michael H Kanter, MD; Patrick T Courneya, MD
Abstracts from the Kaiser Permanente 2019 National Quality Conference
These abstracts reflect the critical importance of a forum for presenting promising quality efforts. Meetings focused on quality improvement, such as those hosted by the Institute for Healthcare Improvement, the American Medical Group Association, and many other organizations, represent a relatively small percentage of all scientific medical meetings. The publication of abstracts from a dedicated quality event such as the Kaiser Permanente National Quality Conference allows those inside and outside of Kaiser Permanente to learn about new and potentially unfamiliar practices that could improve care.
Review article
Pain Management Associated with Total Joint Arthroplasty: A Primer 
Michelle J Lespasio, DNP, JD, ANP; AJ Guarino, PhD; Nipun Sodhi; Michael A Mont, MD
This primer presents a synopsis of pain management strategies associated with total joint arthroplasty. Patients considering total joint arthroplasty often experience moderate to severe pain, which places them at risk of opioid abuse or addiction. Currently, the best practice strategies involve the development of individualized multimodal perioperative approaches to pain management.
A Mucinous Cystic Neoplasm Originating from the Gallbladder: A Case Report and Literature Review 
Roberto J Rivero-Soto, MD; Zarrin Hossein-Zadeh, MD; JoAnn Coleman, DNP, ACNP; Vanita Ahuja MD, MBA, FACS
Clinical practice
Acute Convulsive Seizures: When is It Too Early to Treat? 
Omar Hussein, MD
Acute convulsive seizures are overwhelming events that require immediate attention from clinicians and practitioners, especially when witnessed in a hospital setting. Adequate management of inpatient-witnessed seizures lies in understanding the time-related pathophysiologic stages of the seizure. Although investigating and treating the cause of a seizure has high priority, knowing such dynamics allows clinicians to choose the best treatment options in the best time interval when a seizure occurs in an acute care facility.
Case reports
A Rare Case of an Abdominal Aneurysm in a Patient with Lymphangioleiomyomatosis: A Case Report
Iván Chérrez-Ojeda, MD, MSc, PhD(c); José Espinoza-Plaza, MD; Vincent Cottin, MD, PhD(c); Sofía Chérrez, MD
Scalp Intravenous Catheter Infiltration Leading to Subdural and Intraparenchymal Fluid Collection and Severe Neurologic Sequelae: A Case Report
Daniela Alexandru-Abrams, MD; Michelle Paff, MD; William G Loudon, MD
Image diagnosis
Image Diagnosis: Scapholunate Dissociation 
Matthew Stevenson, MD; Joel T Levis, MD, PhD, FACEP, FAAEM
Commentary
Disrupting Physician Clinical Practice Peer Review 
Rajesh Swaroop, MD
The goal of physician peer review has been to assess and improve the quality of care by individual physicians. Unfortunately, this enshrined piece of medical practice suffers from deep flaws that hamper the achievement of assessment and improvement. This institution is in serious need of disruption, both for the safety of patients and the wellness of practicing physicians. This commentary describes the inherent flaws of physician practice review and how physicians and health care organizations can address them.
Narrative medicine
Before and After
Cecilia Runkle, PhD, MPH
The Elderly Couple
William Lynes, MD
Hiding It
Tina Olkowski, MD
Stories for My Daughter
Lindsay Mazotti, MD
Book review
Enlightened Aging: Building Resilience for a Long, Active Life 
Review by Arthur Hayward, MBA, MD
The Deepest Well: Healing the Long-Term Effects of Childhood Adversity
Review by Melvin Belsky, MD
Soul of the healer
On Keyboards
Quentin Eichbaum, MD, PhD, MPH, MFA, MMCH, FASCP, FCAP
The Promise of Spring
Navreet Dhillon, MD
Together
Quentin Eichbaum, MD, PhD, MPH, MFA, MMCH, FASCP, FCAP
View from Hospital Window
Lewis Mehl-Madrona, MD, PhD
On the cover
Land of the Remembered
Navreet Dhillon, MD