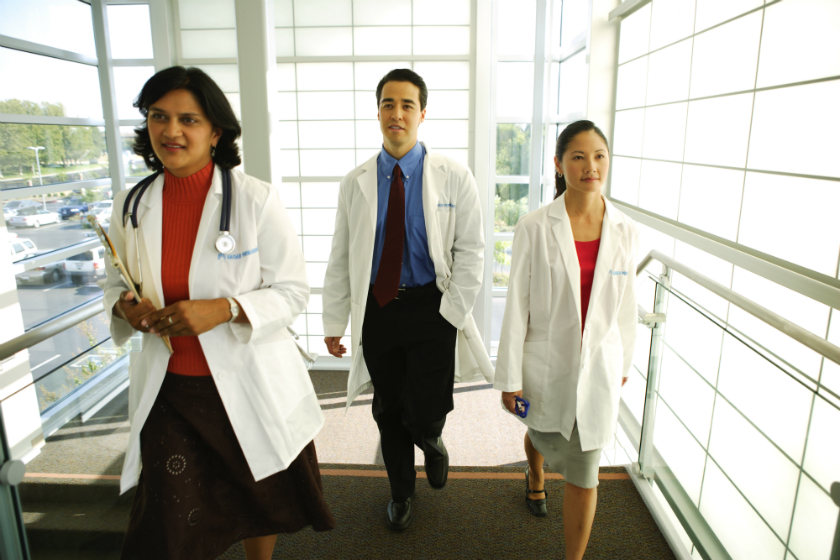 Skills for an Effective Practice in an Integrated Care Delivery System
Study Asks Physicians What It Takes to Work in an Integrated System like Kaiser Permanente
As the demands for health care organizations to be more accountable to quality and costs continue to grow and more accountable care organizations (ACOs) emerge, how should today's physicians prepare for working in an integrated care delivery system?
This was the theme of focus groups conducted among physicians of the Southern California Permanente Medical Group (SCPMG), which is one of the largest medical groups around the country providing care to members of Kaiser Permanente. The results of those focus groups were published in an article, "Physicians' Voices: What Skills and Supports Are Needed for Effective Practice in an Integrated Delivery System? A Case Study of Kaiser Permanente," in the June edition of INQUIRY: The Journal of Health Care Organization, Provision, and Financing.
Integrated delivery systems such as Kaiser Permanente – the nation's largest non-profit integrated system – are networks of organizations that provide a coordinated continuum of services to a defined population. In recent years, with changes to the health care industry, more health organizations have been acquiring or partnering with physician groups to provide care to a dedicated group of patients.
Kaiser Permanente, which operates in eight states and the District of Columbus, is comprised of the not-for-profit insurer, Kaiser Foundation Health Plan; a not-for-profit hospital system, Kaiser Foundation Hospitals; and for-profit physician professional organizations, the Permanente Medical Groups.
Physician Perspective
"It was important for us to hear physicians' perspectives on what it is like to work in this type of health care system, because sometimes care providers on the front lines have a different view of the organization than top executives or policy experts," says Benjamin Chesluk, co-author of the study and a senior researcher at the American Board of Internal Medicine.
According to the study, the physicians identified three primary skills needed to succeed in an integrated care model:
Orienting to teams and systems. They needed to adjust, for example, to working on interdisciplinary care teams and with support staff they have no authority over. They also found themselves for the first time working side-by-side with hospital administrators with set goals.
Engaging patients as individuals and as a panel.
Integrating cost awareness into practice. They needed to be aware of their patient's costs for treatments they prescribe, and to be conscious of the costs to the overall organization since they're now stewards of its resources. This contrasts with the fee-for-service environment where the physician is paid per episode of treatment.
Focus groups were conducted in Fall 2015 with 30 SCPMG physicians who previously worked at a less integrated system. The Southern California Permanente Medical Group, with nearly 7,300 physicians, provides care to more than 4 million Kaiser Permanente patients across Southern California.
"We sought out physicians who had worked inside and outside this kind of system," Chesluk says, "so they could provide a fuller perspective on what they experienced as some of the unique benefits and challenges of this system versus other work environments."
The physicians noted other benefits of working in an integrated delivery system, such as the collaborative environment and the structures that support evidence-based medicine, which aligned with their own goals for quality care.
"This demonstrates that Kaiser Permanente is a model for other integrated care delivery systems," says Marc Klau, MD, co-author of the study and assistant regional medical director of Learning, Education, and Leadership at SCPMG. "Our strong emphasis on evidence-based medicine and providing high-quality care to our patients resonates with our physicians."
Physicians highlighted, for example, the ease-of-use of Kaiser Permanente's electronic health record (EHR), which allowed them to access up-to-date information on a patient in one place. They also valued the ready availability of Kaiser Permanente specialists, who they could reach out through the EHR system and often get speedy responses and meaningful clinical feedback.
Begins in Medical School
The physicians agreed that the skills that make them successful in this type of organization must also be taught in medical school, including business fundamentals so that they could support an organization's goals. They also believed having an understanding of the various types of care models while in medical school will help future physicians decide the type of organizations in which they want to practice.
"It's vital for medical students to be equipped for the new world of health care," says Dr. Klau, who is also vice dean of Education and Clinical Integration for the planned Kaiser Permanente School of Medicine, slated to open in Pasadena, Calif. "Medical education needs to reflect the changing way care is provided today, and physicians need to gain the skills such as working in collaborative teams and understanding the care needs of a panel of patients."
The study also found that while physicians are often skeptical of the institutions they work with, the SCPMG physicians had a high level of trust that Kaiser Permanente was designed to help them provide better care. With this understanding, they say they could meet the demands of the new integrated environment, and any trade-offs of working for a large organization were balanced with the belief that Kaiser Permanente's quality care goals aligned with theirs.
"Many of the physicians we spoke with said they were willing to accept a certain loss of individual autonomy – even that they sometimes welcomed the oversight the system provided," Chesluk says. "That's not what I typically expect to hear from physicians."
In the focus groups, the 30 physicians had 3 to 13 years of experience, and all previously worked outside of Kaiser Permanente. Eleven were women and 19 men, and 16 were in primary care and 14 were specialists.
To read the complete study, visit the INQUIRY site.