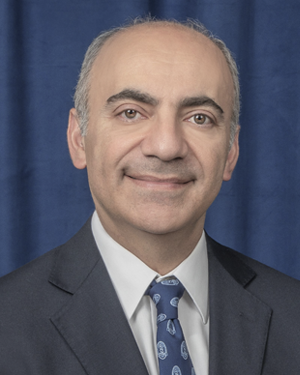 Ramin Davidoff, MD
Executive Medical Director and Chair of the Board
Southern California Permanente Medical Group (SCPMG)

Chair of the Board and Chief Executive Officer
The Southeast Permanente Medical Group (TSPMG)
Chair of the Board and Chief Executive Officer
Hawaii Permanente Medical Group (HPMG)

Co-Chief Executive Officer
The Permanente Federation LLC
Ramin Davidoff, MD, is co-CEO of The Permanente Federation, a consortium of all the Permanente Medical Groups in the nation, supporting the work of nearly 23,000 Permanente physicians in the 8 Kaiser Permanente regions. In this role, Dr. Davidoff and co-CEO Maria Ansari, MD, FACC, provide leadership and strategic direction to the Permanente Medical Groups and partner with Kaiser Foundation Health Plan and Hospitals on Kaiser Permanente's national strategy.
Dr. Davidoff assumed his role on January 1, 2021, as executive medical director and chair of the board for the Southern California Permanente Medical Group. SCPMG is one of the largest self-governing medical groups in the country, consisting of more than 8,500 physicians caring for more than 4.6 million Kaiser Permanente members in 221 medical offices and 15 medical centers across Southern California.
Dr. Davidoff serves as chair of the board and CEO of The Southeastern Permanente Medical Group in Georgia and as a board member of the Kaiser Permanente Bernard J. Tyson School of Medicine. He is also chair and CEO of the Hawaii Permanente Medical Group.
Prior to these roles, Dr. Davidoff was since 2008 an assistant area medical director for SCPMG's Baldwin Park Service Area, which cares for nearly 300,000 members. Dr. Davidoff joined SCPMG in 1992 as an intern in general surgery at Kaiser Permanente Los Angeles Medical Center.
Dr. Davidoff completed his undergraduate and medical degrees at the University of California, Irvine; completed his residency training in urology at Kaiser Permanente Los Angeles Medical Center; and began his practice at Kaiser Permanente Baldwin Park Medical Center in 1998. Dr. Davidoff is board certified in urology. In his spare time, Dr. Davidoff enjoys time with family, including traveling and playing basketball with his 3 sons. He is an avid reader and favors a vegetarian diet.