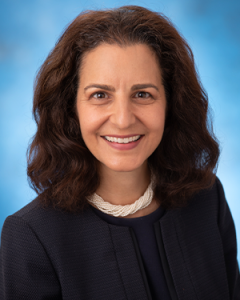 Maria Ansari, MD, FACC
CEO and Executive Director
The Permanente Medical Group
President and CEO
Mid-Atlantic Permanente Medical Group
Co-Chief Executive Officer
The Permanente Federation
Maria Ansari, MD, FACC, is the CEO and executive director of The Permanente Medical Group (TPMG) and president and CEO of the Mid-Atlantic Permanente Medical Group (MAPMG), 2 of the largest and most accomplished medical groups in the nation. Together, TPMG and MAPMG have more than 11,000 physicians and 45,000 staff delivering high-quality health care to more than 5.4 million Kaiser Permanente members in Northern California, Maryland, Virginia, and Washington, D.C.
Dr. Ansari is also co-CEO of The Permanente Federation, a consortium of all the Permanente Medical Groups in the nation. The Federation supports the work of nearly 24,000 Permanente physicians and 80,000 staff who serve 12.7 million Kaiser Permanente members.
Previously, Dr. Ansari had served as the physician-in-chief for the Kaiser Permanente San Francisco Medical Center since 2014. Under her transformational leadership, Kaiser Permanente in San Francisco designed and implemented numerous advances in medical practice in primary care and specialty care by empowering physicians and staff to create and sustain a culture of trust, innovation, and teamwork. During the early stages of the COVID-19 pandemic, she was the chief medical office liaison to the San Francisco Department of Public Health COVID Vaccine Taskforce.
Dr. Ansari has served on the boards of directors for TPMG and MAPMG, and she continues to serve on the San Francisco General Hospital Foundation Board.
She became chief of the Cardiology Department at Kaiser Permanente San Francisco in 2007, and she has also served as chair of chiefs of cardiology at regional and national levels.
Originally from Michigan, Dr. Ansari earned her Bachelor of Science and medical degree and completed her residency in internal medicine at the University of Michigan. She completed a cardiology fellowship at the University of California, San Francisco (UCSF), and is a graduate of the Kaiser Permanente Executive Leadership Program from Harvard Business School.
Dr. Ansari is a fellow of the American College of Cardiology, a member of the American Society of Echocardiography, and an assistant clinical professor of medicine at UCSF.