Ramin Davidoff, MD, says COVID-19 surge is pushing hospitals to the brink
Ramin Davidoff, MD, co-CEO of The Permanente Federation, was quoted Sunday in The Wall Street Journal about the recent holiday surge in COVID-19 patients, which has pushed many metropolitan hospitals to their brink.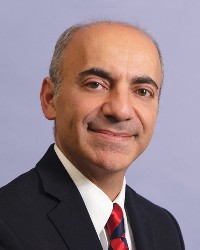 In Los Angeles County, more than 7,600 people have been hospitalized with COVID-19 and more than 1,590 of those patients were in intensive care units (ICUs), according to The Wall Street Journal article.
"What we've tried to do is to prepare for absolute worst-case scenarios," said Dr. Davidoff, who also serves as executive medical director and chairman of the board of Southern California Permanente Medical Group. "We're right at that worst-case scenario."
Dr. Davidoff added that the Kaiser Permanente Baldwin Park Medical Center, which usually manages 150 to 160 ICU patients, has held more than 200 in recent weeks.
To accommodate the influx, the hospital quickly expanded from 1 to 4 ICUs, Dr. Davidoff said, and nurses across multiple Kaiser Permanente departments were pulled in to work on ICU teams so the hospital could care for more patients.
Note: To read the complete story, visit The Wall Street Journal website (subscription required).