Ramin Davidoff, MD, shares his career journey with Managed Healthcare Executive
In a recent leadership interview with Managed Healthcare Executive, Ramin Davidoff, MD, co-CEO of The Permanente Federation, talked about the threats of violence and anti-Semitism that led his family to flee northwest Iran when he was 11 years old for the United States, where he eventually forged a medical career with Kaiser Permanente.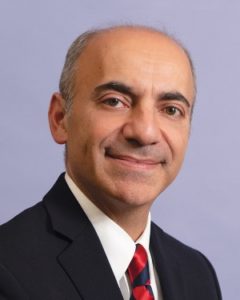 As the Iranian revolution unfolded in 1979, the Davidoff family headed to northern Utah, where they stayed with a family member, Dr. Davidoff told Managed Healthcare Executive. As the Iranian revolution continued the family's U.S. stay became permanent, setting the young Davidoff on a path that eventually led to medical school at the University of California, Irvine, and residency training in urology at Kaiser Permanente Los Angeles Medical Center.
"Medicine for me truly was, right from the beginning, about what's best for the patient," Dr. Davidoff said. "When that happens in training, then it stays with you, and I truly appreciated that brand of medicine."
He chose to remain with Kaiser Permanente and the Southern California Permanente Medical Group, practicing medicine at the organization's Baldwin Park Medical Center in 1998. When the opportunity arose to assume the role of physician director of risk management and patient safety at Baldwin Park, he saw a way to improve patient care more broadly. In 2008, he became an assistant area medical director for Kaiser Permanente's Baldwin Park service area, and was subsequently elected to the SCPMG board of directors.
Dr. Davidoff now serves as executive medical director and chair of the board of SCPMG; chair of the board and CEO of The Southeast Permanente Medical Group; and chair of the board and CEO of Hawaii Permanente Medical Group.
Throughout his career, Dr. Davidoff said the values he learned as a child are the same ones he encourages people in the medical field to follow today.
"There's no substitute for working hard and to always treat your people kindly, professionally, and respectfully," he said. "That will allow them to be who they are in work environments and brings out the best in them."
Note: To read the full story, visit Managed Healthcare Executive.