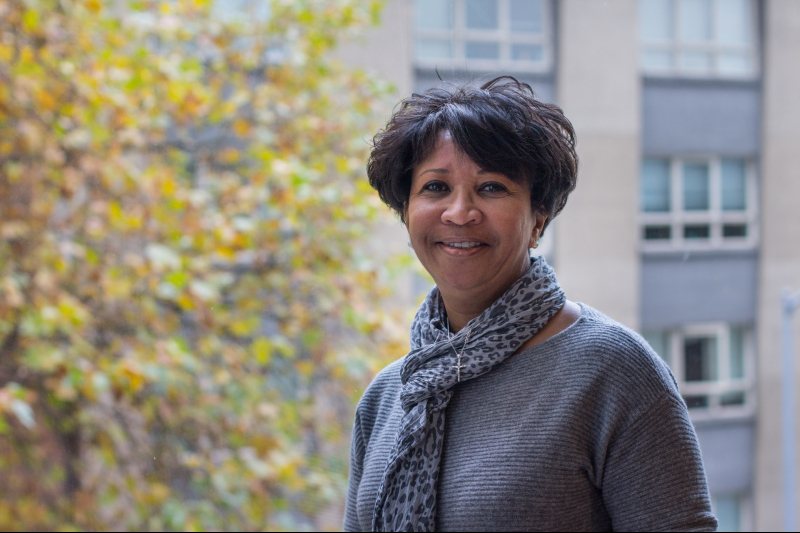 Promoting healthier lives for women
Permanente ob-gyn, leader Fonda Mitchell, MD, connects with different communities for a diverse medical career
By Benjamin Seto
The Permanente Federation
As an obstetrician-gynecologist, Fonda Mitchell, MD, realizes that the 40 weeks of pregnancy may be her only chance to talk to a patient about living a healthier life.
"Many of my patients, even though they may have access to health care, may not utilize it," she says. "They think of health care as 'sick care.' When they're pregnant, I get them for 40 weeks and we can talk about everything."
Pregnant women, she says, can be vigilant about staying healthy in order to deliver healthy babies. Dr. Mitchell uses pregnancy visits to discuss maintaining a healthy weight, eating right, and monitoring vitals such as blood pressure. This helps to build a solid foundation for the woman's health long after giving birth.
Full spectrum of care
Dr. Mitchell is a Permanente physician with The Southeast Permanente Medical Group, which provides care to Kaiser Permanente members in the Georgia region. Born and raised in Augustus, Georgia, by 2 science teachers, Dr. Mitchell had an inclination for science and pursued a biology degree from the University of Georgia in Athens, Georgia.
But it was only after she shadowed a local physician, who happened to be an ob-gyn, that she opened her eyes to the opportunities in the medical field. "I loved the busy-ness of obstetrics," she says, "whether you're working in the office seeing patients or at the hospitals making deliveries. I also enjoy talking to women through different stages of life."
We want to make sure that if you are the primary caretaker for people, then you are healthy, too.

— Fonda Mitchell, MD, ob-gyn
She says she pursued obstetrics-gynecology because of the diversity and breadth of care issues that it covers. A message Dr. Mitchell reinforces with her patients is that they must take care of themselves first before they can take care of others.
"Women put others ahead of themselves," she says. "With their child, they take them to appointments or get their immunizations, or they're making sure that elderly parents get the care they need. They may not seek care for themselves until it's too late to intervene."
The importance of prevention
Dr. Mitchell spends time educating patients about the importance of prevention, a cornerstone of the practice of Permanente Medicine at Kaiser Permanente, where an integrated care delivery model supports frequent touches to patients about important preventive screenings such as mammograms.
"We want to make sure that if you are the primary caretaker for people, then you are healthy, too," she says.
Working in a diverse community such as the Atlanta metropolitan area, physicians must be aware of the competing priorities patients face, Dr. Mitchell says. Even when people want to access health care, they may have other challenges such as finances, transportation, or child care.
"It's not that they don't realize their health is a priority, but they have to struggle with things like 'I can't take time off for this appointment,' or 'I have to pick up my kids.'"
At Kaiser Permanente, Dr. Mitchell says, physicians and the entire care team help members connect with resources that support needs outside of health — partnering with community organizations and programs that provide supplemental support and resources. Kaiser Permanente also brings care to the community through educational programs on diabetes and other chronic health conditions.
The business of health care
Dr. Mitchell also says the increasing use of telehealth — with features such as video visits and secure email conversations — allows patients to get critical health information from their physicians when they need it at a time convenient for them.
Soon after Dr. Mitchell joined TSPMG in 2001, she moved into operational leadership roles, which allowed her to learn about the financial side of the health care business. She eventually pursued an MBA to support her leadership roles, including chief of Women's Services and member of the TSPMG Board of Directors.
As a board member, she helped develop the medical group's nascent government relations program, which trained 21 political ambassadors to advance Kaiser Permanente's work in Georgia through local and state medical societies. She says the goal of the political ambassadors is education — building awareness among elected officials and policymakers about Kaiser Permanente's integrated care model and the value of Permanente Medicine.
"We always have a conversation about our organization and help them understand the 'P' in Kaiser Permanente," says Dr. Mitchell.
Balancing her leadership roles with clinical work can be challenging, but Dr. Mitchell feeds off the gratitude from her colleagues and patients. She also works to develop the necessary skills for each role. "Sometime there's overlap, but most times it requires a different set of talents. I'm grateful to work in an organization that allows me to develop those skills."