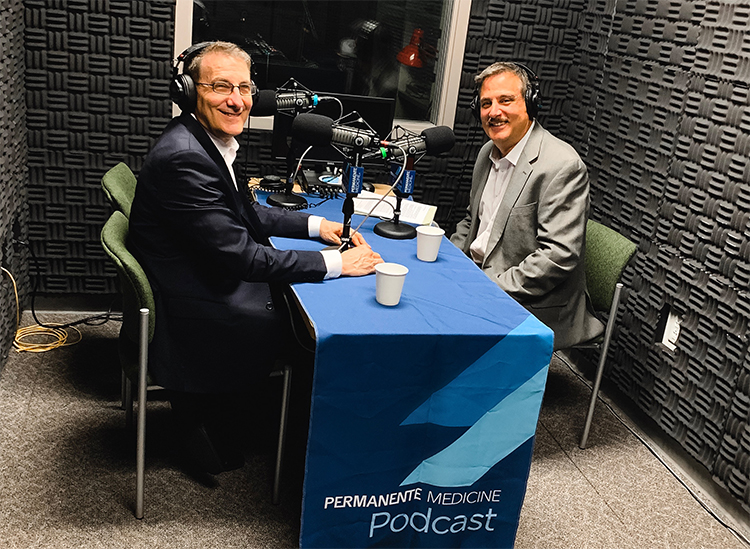 Podcast: Educating tomorrow's doctors – A conversation with Mark Schuster, MD, PhD
Kaiser Permanente School of Medicine dean talks 'holistic' approach to medical education
Mark A. Schuster, MD, PhD, founding dean and CEO of the Kaiser Permanente School of Medicine, joins Chris Grant in the latest episode of the Permanente Medicine Podcast to discuss the newly accredited school, which will be welcoming its first class of students in August 2020.
Dr. Schuster, a pediatrician, previously served as the William Berenberg Professor of Pediatrics at Harvard Medical School and chief of general pediatrics and vice chair for health policy in the Department of Medicine at Boston Children's Hospital. Appointed the founding dean and CEO in late 2017, Dr. Schuster is changing the dialogue about medical education.
He has since helped to build the Kaiser Permanente School of Medicine from the ground up and successfully guided its preliminary accreditation from the Liaison Committee on Medical Education. He has been named to Modern Healthcare's 50 Most Influential Clinical Executives for 2019 and 100 Most Influential People in Healthcare for 2018 lists (ranking No. 3 and 100, respectively).
This latest podcast is part of an ongoing series hosted by Grant, executive vice president and chief operating officer of The Permanente Federation. In the episode, Dr. Schuster addresses the school's holistic approach to medical education and its impact on the curriculum. For example, students will take 4 separate week-long breaks from the regular curriculum to participate in "REACH Weeks" (reflection, education, assessment, coaching, health and well-being). During this time, students will meet with physician coaches to reflect on progress and develop personalized learning, and health and well-being plans.
When asked for his biggest piece of advice for incoming Kaiser Permanente School of Medicine students, Dr. Schuster emphasizes his hope that students remember what gave them the drive to pursue medicine in the first place – even when they may feel overwhelmed by the rigors of medical education.
"I would most want to tell them or advise them to hold on to their passion. When students show up at medical school, they want to save the world, they want to change everything. They want to be phenomenal doctors, they want to be advocates and leaders. And I would love for our students to still feel that way when they graduate," he says.
Stay tuned for more as the Permanente Medicine Podcast brings some of the brightest minds together to discuss how to address other current health care challenges and prepare for the future of medicine and care delivery.
Listen to the podcast above on Soundcloud or below on YouTube, or download it on iTunes or Google Play. Connect with Dr. Schuster on Twitter at @DrMarkSchuster and Grant at @cmgrant.