Perspectives on leadership from the C-suite
Imelda Dacones, MD, and Richard S. Isaacs, MD, FACS, focus on different aspects of leadership at Becker's CEO+CFO Roundtable
Permanente physician leaders Imelda Dacones, MD, and Richard S. Isaacs, MD, FACS, last week spoke about the roles of disruption and innovation in leadership from different perspectives at Becker's Hospital Review's 8th Annual CEO+CFO Roundtable in Chicago.
Amid record-cold temperatures and appearances by several high-profile political leaders, Dr. Dacones, president and CEO, Northwest Permanente (NWP), shared insights into what it takes for women to ascend to leadership positions in health care on a panel, "Rethinking Leadership Strategies of Women in Healthcare."
In a presentation the next day titled, "Leading in the Future: Driving Quality Care through Intelligent Technologies," Dr. Isaacs, co-CEO of The Permanente Federation and CEO and executive director, The Permanente Medical Group, shared a range of disruptive technologies that Kaiser Permanente has implemented and that are transforming the practice of medicine to drive quality care.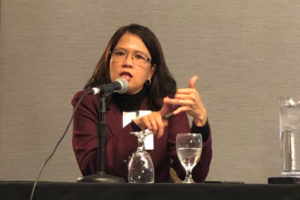 The physician executives conveyed their leadership messages as plunging temperatures broke records and dampened attendance at the conference. At a time when health care has emerged as a top issue among voters for 2020, among those braving the cold were high-profile political luminaries including former President George W. Bush and former U.S. Ambassador to the United Nations, Nikki Haley, who both made formal appearances at the event. Also attending the conference was President Trump's personal lawyer Rudy Giuliani.
During her presentation, Dr. Dacones called out key qualities required of anyone who wants to rise through the ranks as a Permanente physician leader. "You cannot go up the ladder in a Permanente Medical Group if you don't have street cred as a doctor," she said. Other key qualities include self-awareness and self-management, and the ability to maintain and forge relationships. "You can't go it alone," Dr. Dacones added.
Acknowledging that many women continue to encounter a glass ceiling that keeps them from advancing in the workplace, Dr. Dacones added that for many Asian and Pacific Islander Americans (APIA) – male or female – "there is the bamboo ceiling," she said. "You're supposed to be quiet and obedient and not rock the boat, and you encounter those biases all the way down to people who are your advisers and mentors."
She said it remains rare to see APIA leaders in top roles; they currently fill just 0.7% of hospital CEO roles, while African-Americans, Native Americans, and Latin Americans combined fill 7% of those roles.
To ensure more diversity in NWP, she asked for a change to the bylaws of the organization so that she could choose her team without board approval. As a result, there are now 7 women among her 13 direct reports, whereas previously, there were just 2.
During his presentation, Dr. Isaacs said Kaiser Permanente's unique structure enables it to lead in leveraging science, data, and technology to enhance the quality of care and the patient experience. The organization is composed of the 8 physician-led Permanente Medical Groups across the country, Kaiser Foundation Hospitals, and Kaiser Foundation Health Plans.
The organization's innovations range from the industry-leading implementation of an electronic health record that serves as the central nervous system of its care delivery program, to its extensive telehealth services.
"In 2018 in Northern California, we delivered over 16 million secure emails from patients to clinicians, and that drives trust, because patients get the care they need when they need it," said Dr. Isaacs.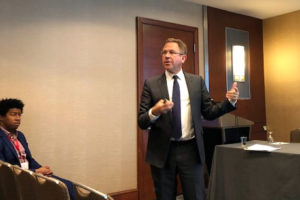 He added that Permanente physicians increasingly use smart phones to provide high-quality care in ways that offer patients more convenience. For example, "70% of dermatology visits are now conducted via smartphone," he said. If a patient has a suspicious mole, he or she can snap a picture of it and send it to a Permanente physician via the member website, kp.org. If it looks suspicious to the physician, the patient is invited in for a closer look.
Among the additional innovative technologies Dr. Isaacs highlighted are an acute stroke care program that was recently redesigned by physicians in The Permanente Medical Group in Northern California. The program features several telestroke neurologists who direct the evaluation and treatment of suspected acute ischemic stroke in patients arriving at any Kaiser Permanente Emergency Department in Northern California. All emergency departments are equipped with telestroke carts, which include a video camera and access to scans and test results, enabling the stroke specialist to conduct a patient's neurological exam remotely.
"This program has reduced door-to-needle time for most stroke patients to less than 30 minutes – which is two times faster than the national average," said Dr. Isaacs.