Permanente Scientists Partner with Johns Hopkins Medicine
Research Grants Awarded to Four Studies on Medical Best Practices
While delivering excellent health care every day to our patients, Mid-Atlantic Permanente Medical Group (MAPMG) doctors and scientists at the Mid-Atlantic Permanente Research Institute are also working to transform the future of health care through innovative research and collaboration.
Kaiser Permanente and Johns Hopkins Medicine recently awarded a total of $300,000 in grants to four research studies that began in April 2017 and will run through March 2018. The research is part of a wider effort between the organizations to support the concept of a "health care learning system." Based on clinical care data, researchers could innovate new patient health care best practices that improve quality and effectiveness of physicians and medical treatments.
The collaborative studies are: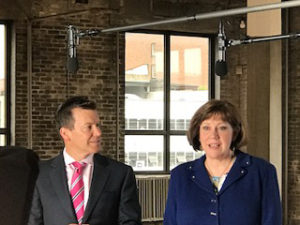 "We are thrilled to be advancing science that will change the way care is delivered across America," says MAPMG Associate Executive Director Bernadette Loftus, MD. "In less than a year, we have already begun to incorporate our discoveries into practice, and are seeing a meaningful impact on our patients. The future of this research collaboration is incredibly bright."
These projects mark the second round of studies between Johns Hopkins and Kaiser Permanente. In 2016, three initial studies received more than $200,000 in cooperative grants. One study looked at how to use electronic health record data to reduce medical errors, while two other studies focused on the quality-of-care and treatment effectiveness of sickle cell disease and the cost-effectiveness of chronic hepatitis C virus treatments.
In 2014, Kaiser Permanente and Johns Hopkins formalized an enhanced strategic collaboration focused on fostering research that will deliver quality health care and potentially change the way medicine is practiced across the nation. The Johns Hopkins/Kaiser Permanente Research Collaboration Committee (RCC) was launched in 2015, co-chaired by Drs. Loftus and Peter Pronovost, director of the Armstrong Institute for Patient Safety and Quality at Johns Hopkins Medicine.
"The strength of the science, the innovation of new treatment interventions, and our ability to leverage our integrated care systems to support these research efforts are truly breathtaking," said Dr. Pronovost. "These projects will help spur innovation, deliver new knowledge and, most importantly, expedite new quality patient benefits from this knowledge to improve their outcomes."
More information about the collaboration and members of the RCC can be found at https://jhkpresearch.johnshopkins.edu/
---